1:1 Device Scheme
Dene Magna – Student Chromebook Programme
Dene Magna is running a Programme to enable 1:1 access to technology for its students to enhance the learning experience for our students and enable us to continue to provide the best levels of education. At this moment in time, we are only offering the Student Chromebook Programme to upcoming year 6, year 7 and year 8.
We are looking to utilise Chromebooks which help pupils organise, communicate, learn and study both at school and when at home. Individual access to technology is not something that should happen in a few rooms in a school, it should be for everyone, everywhere and at any time. Young people are used to having access to the Internet at all times, in all places – school should not be the exception. We want our pupils to have access to the greatest source of information ever assembled and to study and research in their own innovative and personalised ways.
We need to make full and effective use of technology for learning. Pupils need to learn about safe, effective, and productive use of technology learning tools. We want to make the educational experience for pupils at Dene Magna as varied, dynamic and stimulating as possible.
WHY HAVE WE OPTED TO CONSIDER THIS PROGRAMME?
Easy student-teacher workflow within a safe environment
Large numbers of computers that can be managed centrally
Excellent collaboration tools
Works seamlessly with Google Apps for Education and other cloud-based applications
Comprehensive warranty and repair service for 36 months at no extra cost
Affordable monthly payments
We can manage the devices and provide the best levels of eSafety for our students (in school)
WHAT ARE WE LOOKING FOR FROM YOU?
To enable this project to be a success the School will be investing heavily into the infrastructure at the school to ensure that every student can reliably access the network and all of the digital content required for us to deliver educational excellence. We will also be investing in software and associated services to enhance the way that we deliver the curriculum throughout all subject areas.
With this large investment required from the School for the infrastructure to support 1:1 learning, we require the support of the parents and families of students at Dene Magna to help fund the Chromebooks for students.
Working with some of the largest and most experienced suppliers within the IT industry Dene Magna will offer families the ability to procure a device for an affordable monthly direct debit payment. Using our buying power and working with these strategic partners the package will be significantly cheaper than the equivalent package available on high street.
Without your support, we will be unable to deliver our vision for 1:1 learning.
WHAT'S INCLUDED?
In return for an affordable monthly payment, we will provide a Chromebook, that can be used at school and at home, a protective carry case, full repair service for 3 years with on-site spares to be used whilst the damaged device is being fixed free of charge, warranty, software and on-site support for the duration of the scheme whilst your child remains a student at Dene Magna.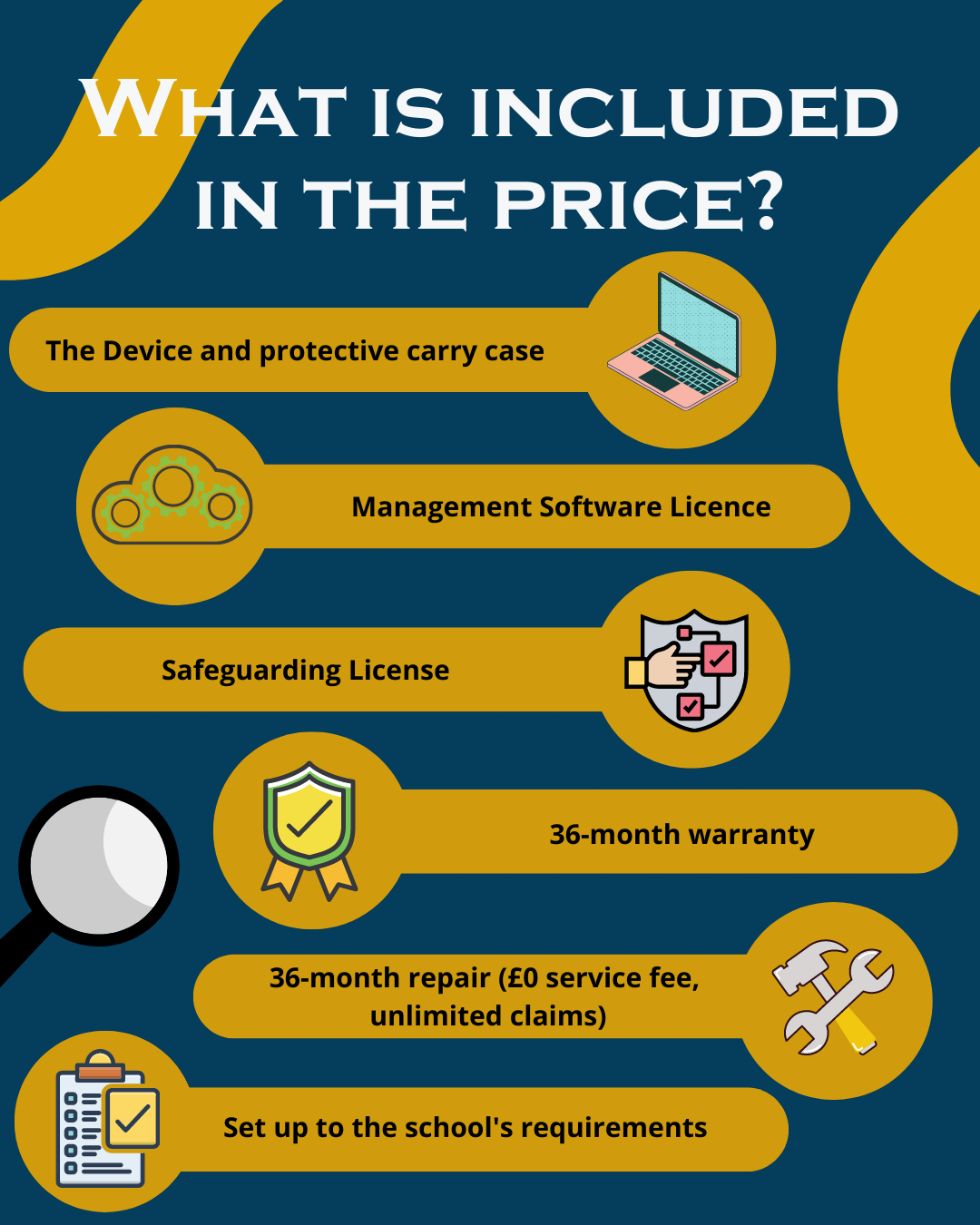 The benefits the parents would receive are the following:
— Education discount Vs the high street
— Devices are better build quality & more robust
— Comprehensive warranty and repair service that allows for the student to have access to a device throughout the life of the programme
Click here to see the device
Click here to see the FAQs
Any questions? 121qs@denemagna.uk