Art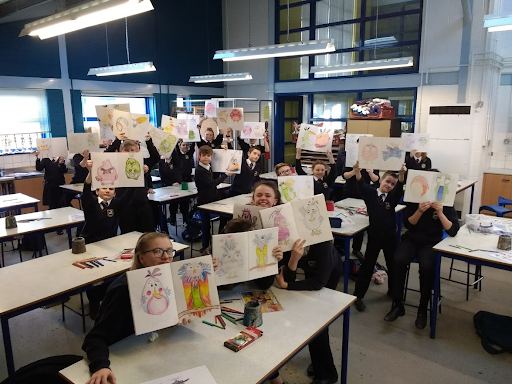 Key Stage 3
KS3 Topics:
Year 7: Introduction to colour, still life, Manga, Franz Marc, Henri Matisse and Hundertwasser
Year 8: Angry Birds - ceramic outcome, beetles and other bugs, Jon Burgerman, Funky Fish, still life- natural forms, Super Heroes
Year 9: Picasso and Guernica, realistic self-portrait, native American art, Andrea Joseph, cameras and abstract pattern
How many lessons per fortnight? 2
ILT information: Termly research activities to support the current theme
Assessment: Preparation studies and extended personal response (final piece) inform the termly assessment
Out of classroom opportunities: Artists, designers and makers visit throughout the KS3 to share their practice during a workshop lesson. Year 9 who are planning to take Art GCSE have the opportunity to attend the Art / MFL trip to Paris or Barcelona.
Key Stage 4
GCSE Course: AQA Art and Design: Fine Art (Controlled Assessment 60%), externally set task. 40%)
Year 10: Our year 10 topics include: Organic forms and structures, Tim Burton and portraits.
Year 11: Autumn term: Students choose 1 topic from the trial exam paper as a starting point for their first self-directed project. Spring term: AQA exam paper (externally set task) is released, students choose 1 topic as a starting point for their final project.
How many lessons per fortnight? 5
ILT information: ILT is set once a fortnight and we recommend approximately 2 hours to be spent completing.
Assessment: Students receive verbal and written feedback throughout each project. At the end of each project, they receive a breakdown of their marks which is a clear indicator of how they will perform when their work is submitted for the final assessment.
Out of classroom opportunities:
Students have the opportunity to visit either Paris or Barcelona during the summer term of year 10.
We regularly invite artists to our school who have shared their practice with our students through workshops and presentations.
Past students return to share their experiences of studying art at university.
Intent
We aim to create opportunities for students to think and act like artists.
Learners should engage with 'making' alongside learning about Art
To create an environment that enables students to fully explore the breadth of our subject and specialise as they mature
We support students to develop their creativity, whilst also developing socially, morally, and culturally.
To engender patience and resilience; skills that will help build self-esteem and prepare them for further education in the Arts, articulate in the world of work and to have creative futures
We support the development of visual awareness, dexterity, visual communication, aesthetic assessment, fine and gross motor skills.