Art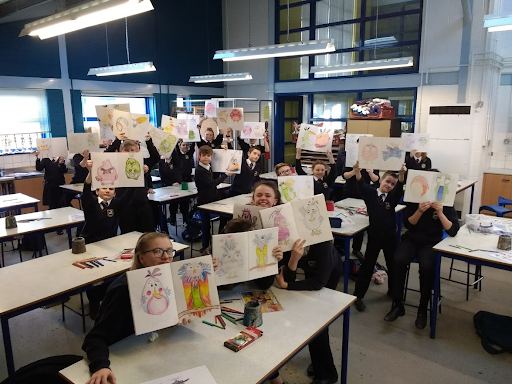 Dene Magna Art Curriculum Intent Overview
The Art and Design curriculum offers students the opportunity to engage with a breadth of creative practices in specialist art studios. Through a structured, skills driven learning journey, students build knowledge that enables them to become independent, self-aware, critical thinkers. Students build their technical skills and gain more confidence and control when working with media through teacher-led direct instruction and modelling. This is balanced with opportunities for open interpretation, encouraging all students to think and act like artists.
We aim for all students to develop a lifelong appreciation for arts and culture as well as being a platform for them to express thoughts and feelings, on a personal level and about the world around us. In a constantly evolving subject, we draw upon both local, regional and global artists and other sources for inspiration that spans from ancient times to the present day. As our students move through the Key Stages they are presented with more choices and opportunities to produce personal and meaningful artwork, eventually they will self-direct their own projects. Through close collaboration with their teachers, each student begins leading their own project when the time is right for them.
The Forest of Dean is a hub of creative industries. Art built on the context of the natural beauty of our surroundings and a critical self-understanding of ourselves as members of the community. On top of this there are a vast range of cottage industries developing a range of Art and Design products and students have the opportunity to see art in their everyday lives. Our curriculum is supported by wider experiences including international art trips and workshops led by visiting artists from the local area.
As students mature, they often specialise their art practice and we aim to support them in their transition to future learning or employment in creative industries. Throughout the lock downs, Art and Design has been an important anchor for students. We have minimised the impact on learning by creating and distributing 'Art Packs' for all key stages so that students have high-quality resources readily available at home. This has been enhanced with google meet lessons and instructional time-lapse videos that students can watch again through their art google classroom.