Assessment & Tracking
A Brief Guide to Interim Reviews Enclosed is your daughter/son's first Interim Review of this year. To help understand how our tracking system works, we have placed a couple of resources on our website. Firstly there is a 'video' presentation from Mr Brady. In this, he goes through some PowerPoint slides to explain how the system works and how you can use the data to have the best impact on raising your son/daughter's achievement. Secondly, there is a detailed written document. I hope that you find these helpful. The Basics: On entry, students arrive with Prior Attainment from their primary schools. These are reported as 'Scaled Score' results from the KS2 SATS tests taken at the end of Year 6. Dene Magna is then accountable for the progress that each student makes from these results (simplified as an average of their Reading Scaled Score and their Maths Scaled Score) to their GCSE results taken at the end of Year 11. At Dene Magna, we set our targets for each student based on the expectation that they will achieve a minimum of 'Four Levels of Progress'. As the government has changed both the KS2 testing system and the GCSE system we have had to create our system, focusing on the same rigour and high aspirations as our previous 'Four Levels of Progress' model. Below is a table that gives an outline of how we have set targets for each child:

You can use this table to see what the subject teacher judges that your daughter/son will achieve at the end of Year 11.
A graph to show the 'Dene Magna' model of progress from KS2 to KS4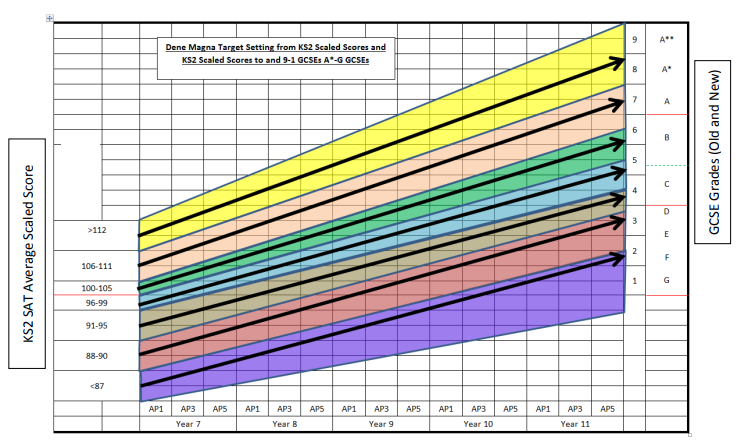 We passionately believe that every student has an aspiration to "achieve their maximum potential". We, therefore, set individual students, as well as the whole school, challenging targets. As we no longer have KS3 Levels, we are using the new GCSE grades for tracking progress across KS3 and KS4. The graph above gives a rough indication of how the new systems 'line up'. You will notice that the new and old GCSE grades do not correlate exactly. For example, the new grade 5 is equivalent to the top third of the current C grade and the bottom two-thirds of a grade B. As more information has been released about the new grading structure we have fine-tuned our target setting procedures. How do the Interim Reviews work? The Interim Reviews are based on the progress that each student is making. We have four 'categories' of progress:

What you are looking for in your son/daughter's report is that all subjects are making at least 'Expected' progress and many are making at least 'Good' progress. If a subject says that progress is 'Good' it means that your daughter/son is on target to make 4 Levels of Progress and to achieve their aspirational target grade at the end of Year 11. Each subject teacher has been asked to track grades accurately. This is so that appropriate intervention can be put in place to ensure at the end of Year 11 each student achieves the grades they are capable of. This may mean that your daughter or son has some 'Below' grades for progress, please do not worry about this. This is essential so that we can put support in place. Although 'Prior Attainment' is a good predictor of future outcomes, it is less accurate for some subjects than others. Good examples of this are Music, Art or PE, where the skill sets are often very different from the Maths and English that are tested in SATS. Also, please be aware that some subjects are taught for the first time in KS3 e.g. MFL, Technology and ICT and so, therefore, students may make a slower start in these subjects.