COVID-19 Information
Along with many of you,e UK Gloucestershire has had to reconfigure the way we deliver support to Gloucestershire's older people.
We are currently providing support in 3 main ways: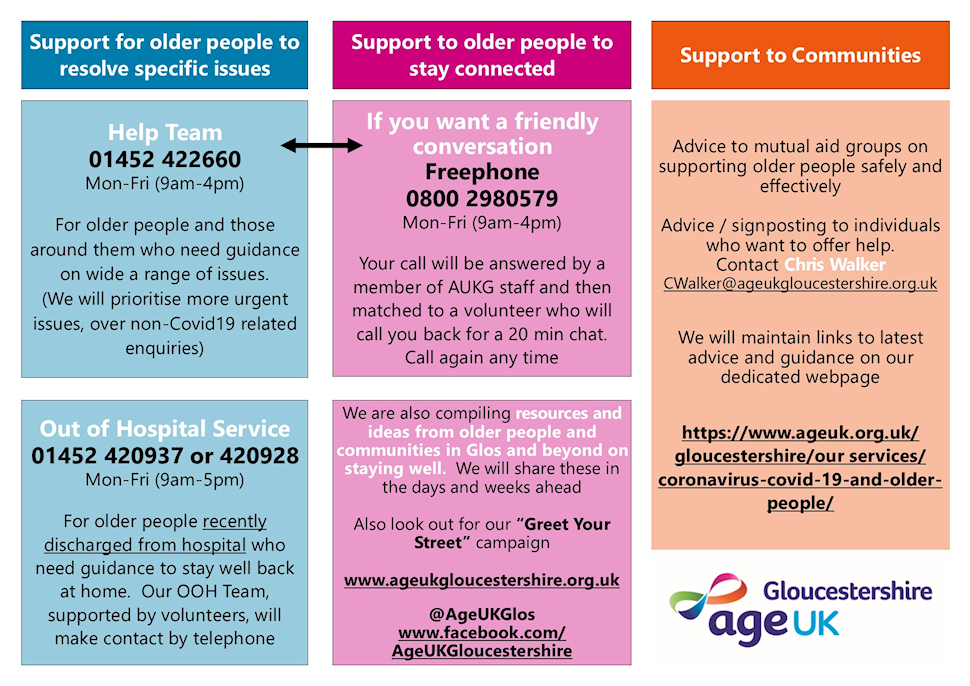 Supporting Older People to resolve specific issues:
Our Help Team are available Monday – Friday 9am – 4pm to help older people resolve specific problems. We have up to date information about local resources and support. Call us on 01452 422660 to access the Help Team, or email essentialinfo@ageukgloucestershire.org.uk to let us know about essential services you are offering locally.
Our Out of Hospital Team continues to support older people recently discharged from hospital who need guidance to stay well at home through in depth welfare calls.
Supporting Older People to stay connected:
We recognise that social isolation and the associated wellbeing issues are a real and serious issue for older people. We have set up a new Freephone telephone number for people who are alone and who want to have a friendly conversation with a staff member or volunteer. Call us on 0800 2980579, Monday – Friday 9am – 4pm
Look out for our Greet Your Street Campaign. We are encouraging everyone to make a cup of tea, open your windows or front door and Greet Your Street at 11am every day. Wave, smile, say hello to your neighbours, share a joke, reassurance and stay connected, just remember to stay at least 2 metres apart.
We are compiling tips from our Older People's Springboard Groups about how to stay connected, including virtual 'Get Connected' workshops and one-to-one telephone support to help older people make the most of the resources and social opportunities access to technology can offer. Call 07511 223995 to find out more.
Support for Communities who want to help:
Signposting individuals to existing local groups, and central hub resources.
Support and advice for local community groups to support older people safely and effectively.