Exam Results

Exams 2023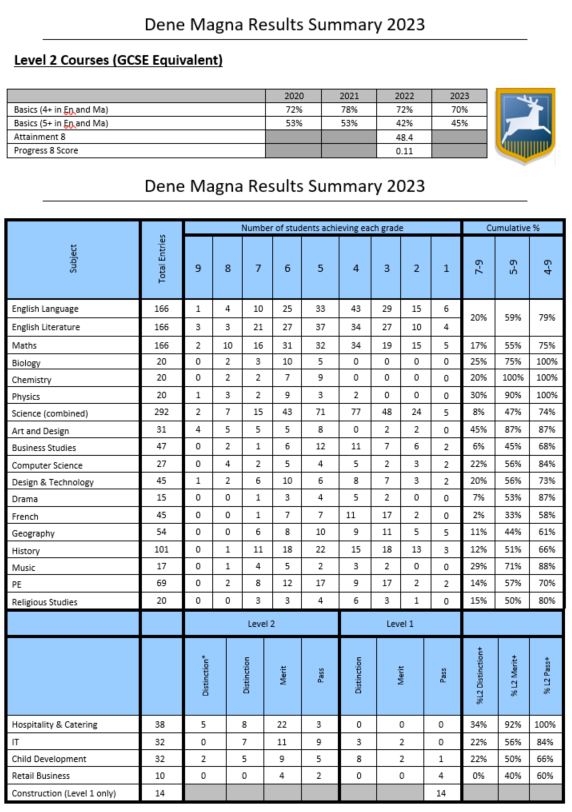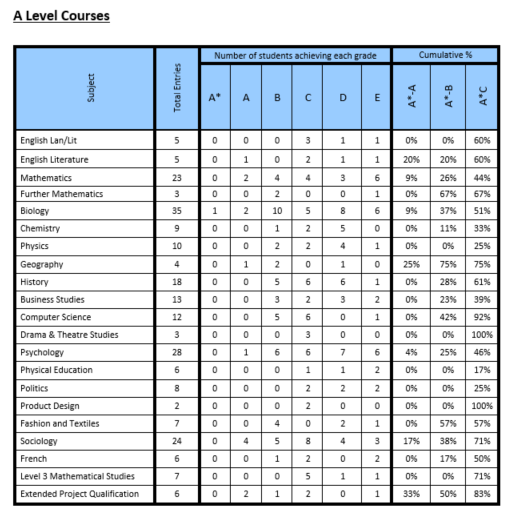 Exam Results 2022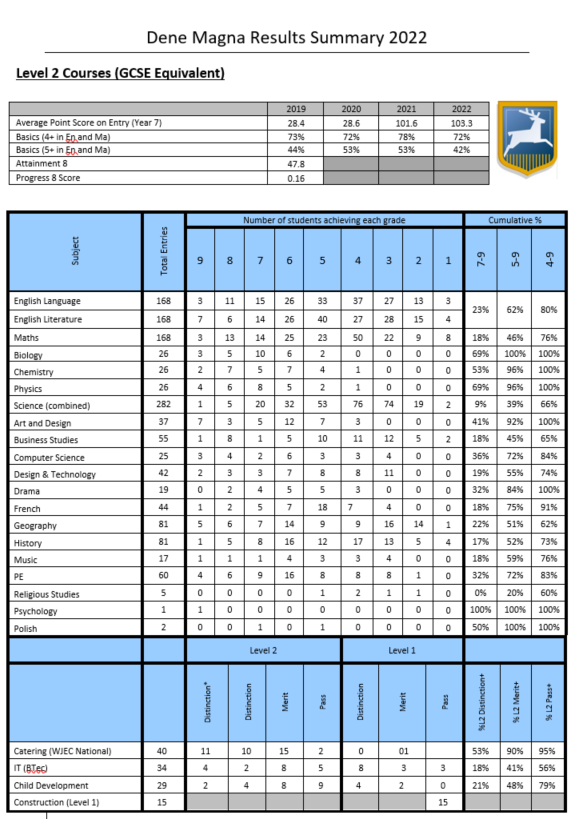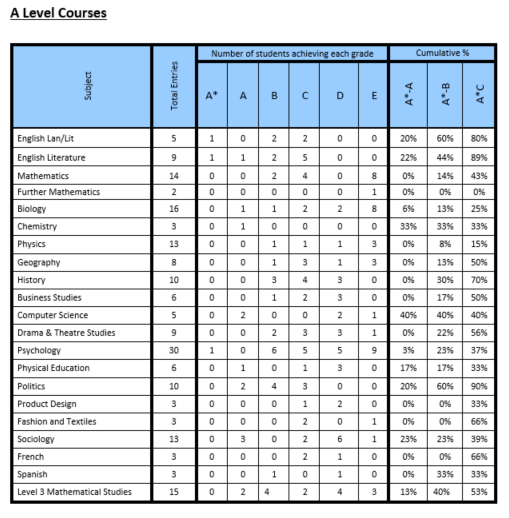 Key indicators for KS5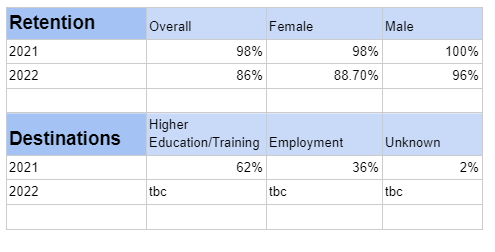 Exam Results 2021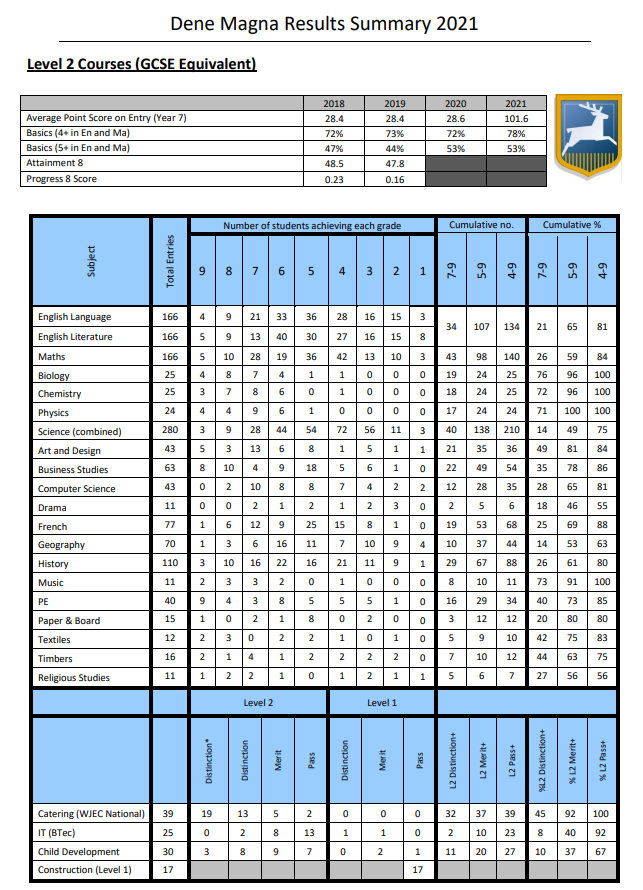 Exam Results 2020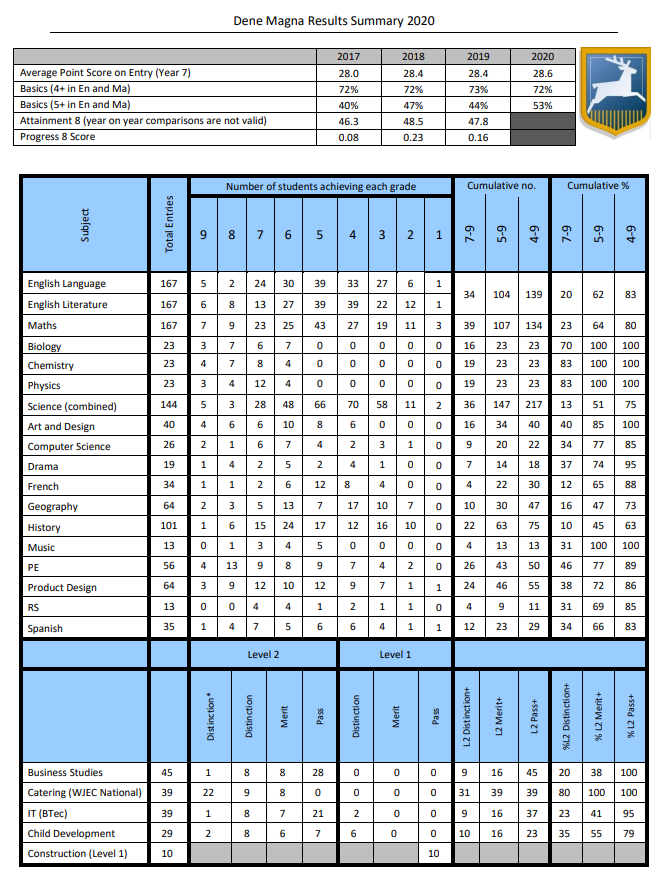 GCSE Results 2019
Dene Magna press release 24/09/19
GCSE Results 2019
A huge congratulations to each and every Year 11 student at Dene Magna. They have worked so hard and have achieved outcomes that they can be proud of, setting themselves well for the next stage of their learning journey.
GCSE results for 2019 are our strongest ever results. There are two themes going on here: Consistency over time and continual improvement. These are our headline measure:
Students achieving Grade 4+ in both English and Maths: 73%
Students achieving Grade 5+ in both English and Maths: 44%
Progress measures are looking in line with last year, however, these are dependent on national trends, so will not be fully known until January 2020.
There were some superb departmental results. The bedrock of this is a strong performance from the core subjects: English 82% Grade 4+, Maths 79% Grade 4+ and Science 76% Grade 4+. In addition to this, showing our commitment to a broad and balanced curriculum, 11 subjects achieved greater than 80% Grade 4 and above. These outstanding results were across the Arts, Technology, Languages, PE and Humanities.
There are many highlights and superb individual outcomes, at all levels of attainment. We are particularly pleased to see the gap in performance for our disadvantaged students continue to diminish.
With the new grading system in place, we are delighted that 49 grade 9s have been awarded, including some students who achieved a number of grade 9s. 276 Grade 7+ were awarded to students and 24 students achieved 5 or more grade 7+. 79 students achieved at least one grade 7+ and all of these are continued improvements on last year.
Below are some highlights from the last two years, demonstrating those twin themes of consistency and continued improvement (the bracketed figure refers to 2018)
15% (15%) students achieved 5+ Grade 7 or above
48% (46%) students achieved at least 1 Grade 7+
49% (51%) students achieved 5+ Grade 5+
79% (72%) students achieved 5+ Grade 4+
53% (53%) grades were 5+
76% (75%) grades were 4+
The average grade for every result was 4.7 (4.7)
Headteacher Steve Brady said 'we are delighted for the students, staff and parents/carers who have worked so hard to ensure that our students are set to take their next steps into adult life. We are a truly comprehensive school and this was a real team effort and shows the strength of the community and curriculum at Dene Magna. We are particularly excited about welcoming the students to our new sixth form in September and congratulate everyone in their role in this success against the backdrop of these new, tougher GCSEs'.
Well done to all!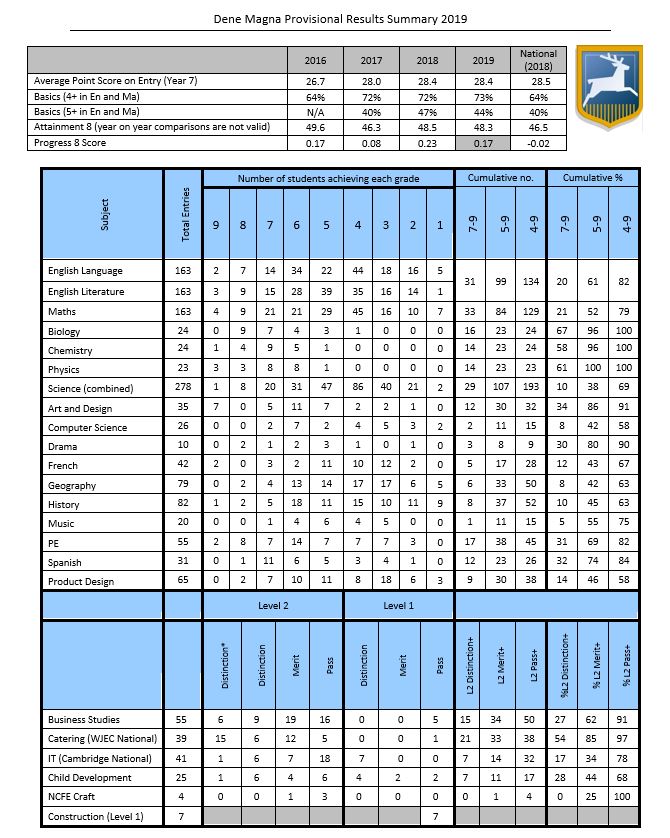 GCSE Results 2018
Year 11 have once again recorded our best ever results in GCSE. Our students maintained their excellent results of 72.4% (up on last year) Basics English and Maths (grade 4+) as well as a 6% improvement on Basics English and Maths (grade 5+) to 48%.
With the new grading system in place, we are delighted that 28 grade 9s have been awarded, including some students who achieved 6 or 7 Grade 9s. 223 Grade 7+ were awarded to students and 60 students achieved at least one Grade 7+.
There were superb departmental results. 80% of students passed English (grade 4+) and 81% passed Maths (grade 4+). Triple Science and Spanish achieved 100% pass rates and 13 subjects achieved pass rates over 85%. We are committed to maintaining a broad and balanced curriculum, where students are able to achieve their maximum potential and enjoy the process. The continued success of our non EBacc subjects such as Art, Music, Drama, GCSE PE, Technology, Computing, Business Studies, Child Development, RS and Construction demonstrates our commitment to providing high-quality qualifications that meet the needs of students above the needs of the school.
Best of all has been the progress made by students of all abilities, many of whom have achieved top grades when they came to us below the national average. We are delighted to say that we have significantly diminished the difference between students in receipt of the pupil premium.
An important extra feature of this year group is that 25 of them did not start their secondary education at Dene Magna and have gone on to succeed with us.
Thank you to the students, parents/carers and staff who have worked in partnership to make these results possible. Well done to all and please keep in touch!
Reflections on the DfE Performance Tables for 2018
Each Year the Department for Education (DfE) publish the results of every Secondary School for students at the end of KS4. The 'final' version of these results is published in January and this takes account of any remarks for individual students, as well as national changes.
Dene Magna is delighted that our 2018 outcomes are, yet again, superb. Here are some of the headlines from the DfE tables1 and an explanation of what they mean: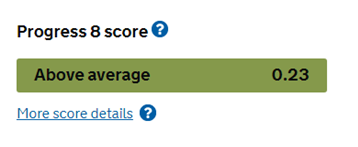 Our Progress 8 Score for 2018 was 0.23. This is an excellent achievement and means that we are the only school in the Forest of Dean to achieve a Progress 8 outcome that is 'Above-average'.
If we dig a bit further we see that our boys (with a P8 of 0.14) were in the top 18% of schools in the country and our girls (with a P8 of 0.35) were in the top 30% of schools. Also of interest is that there were 80 boys in the year group and 54 girls.
So, our boys did very well compared to other boys in the country. The next challenge is for boys to achieve as well as the girls. As can be seen from above this is a national issue that Dene Magna is leading the way on!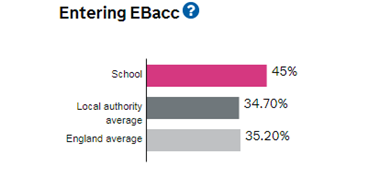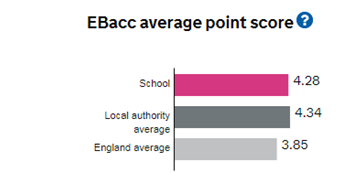 We are really proud of the number of students who enter the EBacc subjects for GCSE. This pathway is not for everyone, however, it shows our firm commitment to a high quality, broad and balanced curriculum. Our high aspirations for each and every learner run through our curriculum and our Average Point Score (APS) for our EBacc subjects (English, Maths, Science, Humanities and Languages) of 4.28 puts us in the top 30% of schools for Attainment. It is also the highest EBacc APS in all the Forest Schools.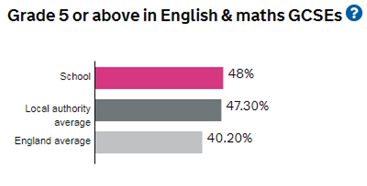 Grade 5 (equivalent to a top C and bottom B grade in the old GCSEs) in English and Maths (5+ Basics) provides a key measure for the DfE.
In 2018, we saw an 8% increase in our 5+ Basics measure. This speaks for itself, however, there is more to be proud of here.
Looking at this measure we are in the top 28% of schools. However, this does not take account of Prior Attainment. The progress our students made to this measure is 8% above expectation and puts us in the top 20% for progress (FFT data2). It also pleasing to note that our 5+ Basics is the highest in the Forest and, looking at Comprehensives across Gloucestershire, is the 6th highest.
This measure is so important because it opens up the door to A Levels and higher study. What a brilliant foundation for our students as they begin the next step on their learning journey
We also still use the measure of students achieving a grade 4 (equivalent to a grade C in the old GCSEs) or better in English and Maths (4+ Basics). In 2018 this figure was 72%, a school record. Again, looking at progress, this is 9% above expected and ranks us on the 13th centile nationally. (FFT Data).
The 4+ Basics measure is really important. These students can now access a range of courses and apprenticeships and know that they have reached a benchmark, which will open so many doors in the future.
It is important to note that 12 subjects had 4+ results above 80% and 11 subjects had 5+ results above 60%.
Results over Time
Creating a sustainable environment where each and every learner achieves their maximum potential is the central aim of everything we do. It is really pleasing therefore to see that over time our outcomes reflect the hard work of students, parents and staff.
Looking over the last three years our results show the following: (all from FFT Data)
Progress to 4+ Basics +9% (top 11% of schools in the country)
Progress 8 0.17 (top 30% of Schools in the country)
Progress 8 in English 0.18 (top 30% of schools in the country)
Progress 8 in Maths 0.43 (top 13% of schools in the country)
Although no longer a measure, it is interesting to note that our progress to 5+ GCSEs including English and Maths over the last three years puts us in the top 9% of schools nationally.
And so much more…
Of course, it is not all about results, it is also about '…enjoying the process'. So let's not forget the trips, both near and far, the visitors, the sports successes, the school productions, the Technology and Art shows, the Science competitions, the clubs, the work with partner schools, the teacher training, work experience, the sponsored walks, the enrichment… the list is endless. All of this is what Dene Magna is all about.
Well done the Year 2018. You were a pleasure to teach and an inspiration to the whole school. Good luck for the future and let us know how you get on and how you have gone out into the world and made a difference.
Mr Fred Mitchell
January 2019
---
DfE Performance Tables:
FFT is an educational charity providing analysis of all data across England & Wales.
www.fftaspire.org
---
Reflections on the DfE Performance Tables for 2018
---
Results Insert 2018
GCSE Results 2017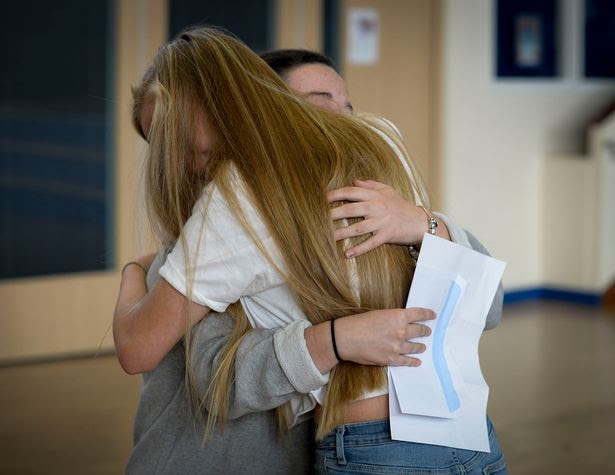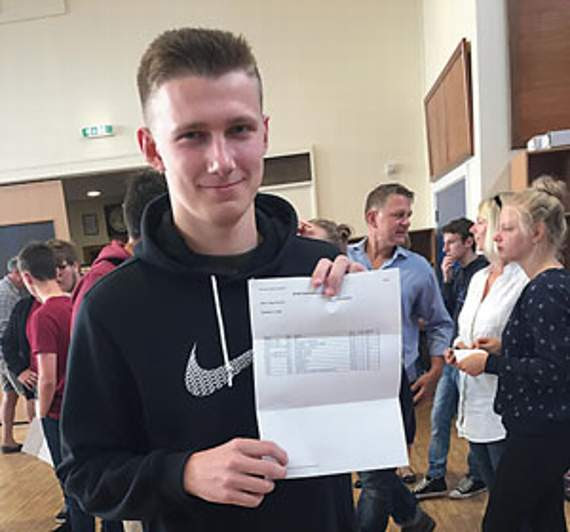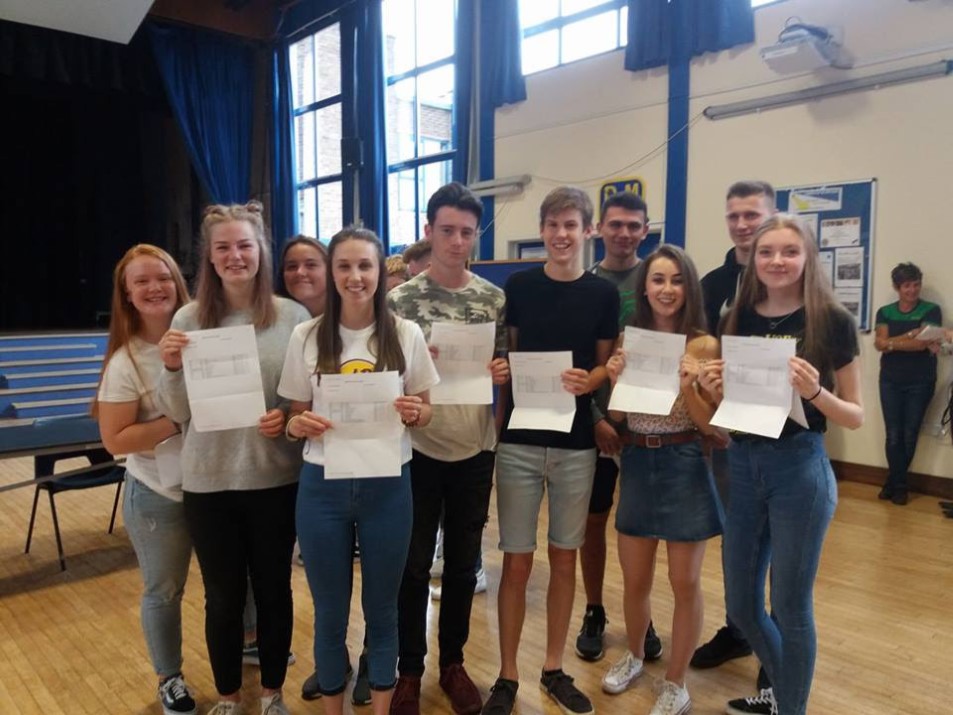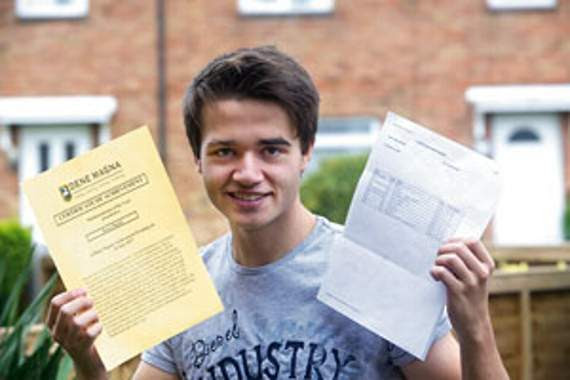 As Thomas Edison said, 'there is no substitute for hard work' and the Year of 2017 has demonstrated what the fruit of that hard work is all about. Congratulations to each and every one of them. It was an excellent set of results and a huge thank you and well done to all parents and carers for the unending support that they have given.
So let's look at some figures. First of all our key measure is the number of students who achieved at least a grade 4 in both English and Maths. In 2017 that figure was the highest the school has ever achieved at 72% (8% higher than in 2016).
Of particular note were the results in Maths, where over 80% of students achieved a 4+ grade.
Our next measure is our 'Progress 8', which measures the progress that all students make compared to students who achieved the same SATS results at KS2 as they did. The final figure for P8 is 0.08.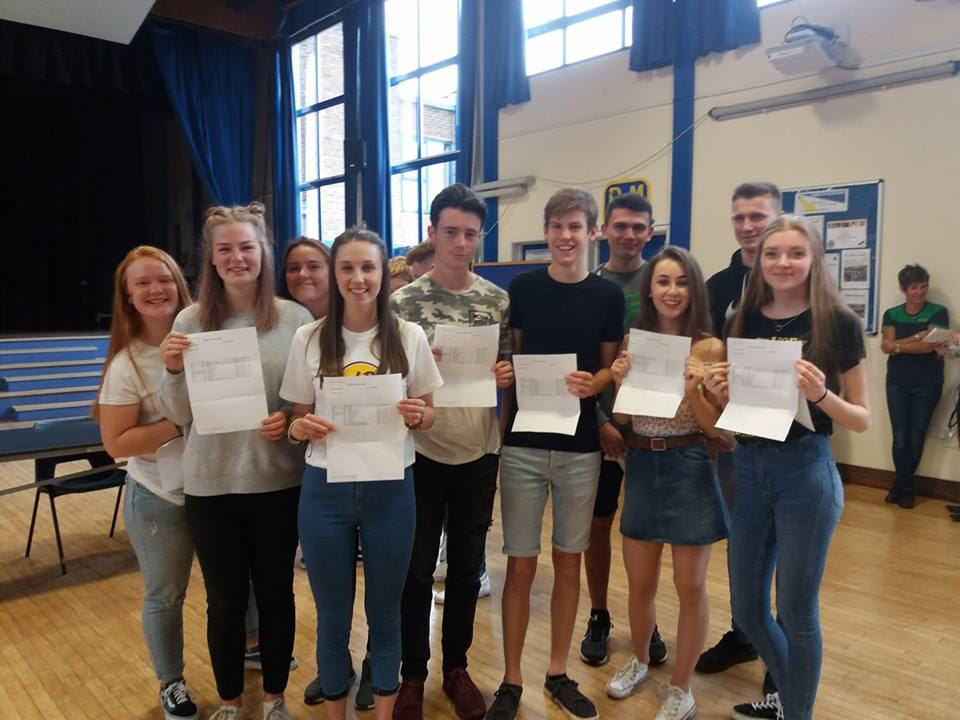 Results are important and achieving our maximum potential is the key that opens the door to the next stage of our students' learning journey. Many have already returned to tell of their courses at Sixth Form, College or Apprenticeships. Dene Magna is so much more than that. What was most pleasing on results day was to hear students and parents/carers talking about their time at Dene Magna and how much they had 'enjoyed the process'.
Well done the Year of 2017. You were a fantastic Year and you made us all feel very proud. Each Year after you will be inspired by your example and we wish you well for the future.
In January 2018 the detailed DfE Performance tables were published. They can be reached here.
A brief reflection on the data in the DfE tables can be reached here.
Fred Mitchell
Deputy Headteacher
The provisional results summary for 2017 can be viewed below.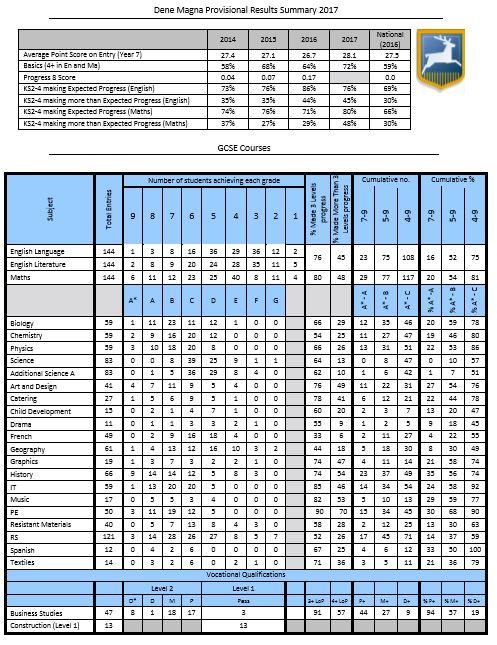 ---
Reflections on the DFE Performance tables 2017 (Published in January 2018)
Each year the Department for Education publishes 'Performance Tables' for both KS2 (Year 6), KS4 (Year 11) and A-Level (Year 13) performance for each school in England. The tables can be found here: https://www.gov.uk/school-performance-tables
These provide a vast amount of data about the performance of each school and groups of students within schools. They include key 'Headline Measures', as well as the ability to look in more depth at the subtleties of a school's performance.
The measures used by the DFE have changed over the last couple of years and the impact of these changes is only just becoming apparent. Also, as each school knows, every year group has its own 'peculiarities' and these are rarely shown in the headline measures. A good example is Dene Magna's Year 11 in 2017, where the cohort consisted of 98 boys and 46 girls!
2017 was the first year that the new grading system was used for English and Maths GCSEs. Other GCSEs will move to this format for 2018 and the final few in 2019. The Progress 8 score is based around a score of 0.00. Achieving a P8 score of 0.00 means that the students, on average, meet their 'Attainment 8 targets'. A positive P8 score shows that the school has a positive progress measure across all the subjects studied.
Dene Magna Headlines:
Progress 8 Score: +0.08 (this includes a student who did not sit any exams. If removed Dene Magna's P8 is +0.11)
Attainment 8 Score: 46.3
5+ Basics (GCSE Grade 5+ in English and Maths): 40%
4+ Basics (GCSE Grade 4+ (equivalent to old GCSE grade C)): 72%
If we look at the Secondary Schools in Gloucestershire we get an interesting picture. If we rank all schools, including the Grammar schools, by Prior Attainment (at KS2) we see that students, when they arrived at Dene Magna, were 30th out of 39 Schools. If we use Attainment 8 as an equivalent measure at the end of KS4 then Dene Magna was 19th. This movement of 11 places is the most movement of any school in County.
If we look at the 4+ Basics measure (which is the closest to the old 5+A*-C inc English and Maths) Dene Magna moved from 30th to 14th (16 places). Again this was the most movement in the county. The pattern is also repeated with 5+ Basics, where Dene Magna moves from 30th to 18th (12 places).
Therefore, in the three key measures of performance, Dene Magna has the most positive impact on its cohort of any school in the county.
On top of this, after we remove the Grammar schools from the list, Dene Magna's P8 puts it at 5th in the County. Furthermore, without our 'ghost student' we would have been 3rd. These are outcomes for which all of us can be extremely proud.
As you can imagine we pour over the information in great detail. Each day we constantly work to and ensure that each learner achieves their maximum potential. Using the data allows us to reflect on what worked last year. If it has worked in the past we will do it again, if it did not have any impact then we will try something else. We still have areas to work on. We have aspirations for all students to achieve and are disappointed that our Pupil Premium students are not yet achieving at the level of other students. This is a challenge for us and one that we are working hard to improve on.
For the coming year, we have set challenging targets for the Year 11 Cohort. They have responded well in their trial exams and we have a clear focus on how we can move each learner on to achieve their own challenging expectations. Parents/carers have been very supportive and challenging, they understand all too well how critical this time is. Attendance at revision sessions is excellent and we see a real sense of purpose and determination within each and every lesson.
Our next 'Cheese and Wine' event for Year 11 Parents/Carers is on Thursday 8th March. Our focus here will be on target students and the final push for revision and planning. Please put the date in your diary now and we look forward to seeing you all.
GCSE Results 2016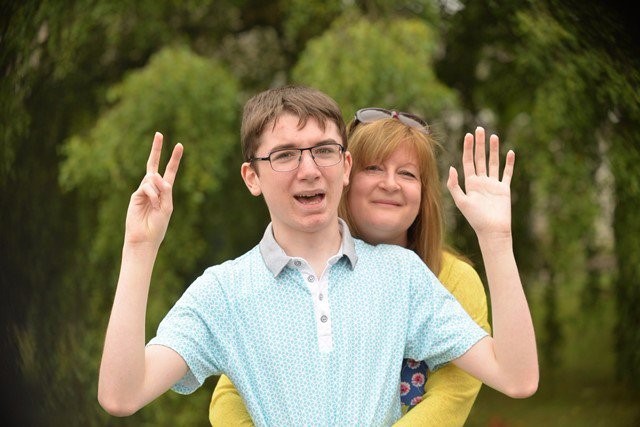 August 25th was a significant day for Year 11 students across the country. It was the day that they got their reward for all their hard work, determination and learning. It was results day.
Results day is a culmination of 149 different stories. It is the day when our twin aims of achieving our maximum potential and enjoying the process come together. There a few things more enjoyable than knowing that you have worked hard learnt well and achieved a great set of results that have opened the door to the future that you aspire. That is what it means to be a Dene Magna student.
Throughout the day the constant refrain, from parents/carers, students and teachers, was that 'the hard work had been worth it'. There were sparkling individual results, amazing progress made and a real sense of pride that they really had done everything they could to 'be the best that they could be'.
As staff at Dene Magna we are so proud of each and every student and know that each student worked not just for their own achievement, but also to make their school and their community proud of them. To all of you we say, we are very proud of you.
As a year group, the students achieved well beyond what their data would suggest. One of the challenges they faced was that they arrived at Dene Magna with significantly lower Prior Attainment at KS2 than other Year groups. This didn't get in their way though, indeed the progress that they made was well above National Averages. So let's look at the figures:
Students who achieved a good pass in English and Maths: 64%
Attainment 8 score: (average score across 8 subjects) 49.6 (equivalent to a C grade), the national average is C-
Progress 8 figure: 0.17 (national Average is 0.0) this means that at Dene Magna students achieved a quarter of a grade higher in their GCSEs than across the country as a whole.
It was also really pleasing to see that across the ability range every group of students achieved better than nationally. Here is a flavour of this: (the levels refer to the average grade achieved in Year 6 SATS).
| | National (2015) | Dene Magna (2016) |
| --- | --- | --- |
| Level 5s achieving A*/A (all subj) | 41% | 55% |
| Level 5 achieving to 5A*C inc E/M | 90% | 97% (99% last 3 Years) |
| Level 5 achieving A*/A English Lang | 38% | 49% |
| Level 5 achieving A*/A Maths | 46% | 54% |
| Level 4s achieving to 5A*C inc E/M | 51% | 63% |
| Level 4s achieving to A*/B (all subj) | 28% | 38% |
| Level 4s achieving to A*/C (all subj) | 65% | 74% |
| Level 3s achieving to A*/C (all subj) | 24% | 39% |
So, well done to the Class of 2016. You did us proud and you are an inspiration to every student at Dene Magna, who will work every day to emulate your success. Good luck for the future and, as our challenge to you states, go out into the world and use your qualifications wisely and we look forward to you returning and making a difference.
---
Dene Magna Results Summary
---
DfE Performance Table