Forest Teaching Alliance

For any further information or enquiries please contact Tom Derrick
Email: fta@denemagna.gloucs.sch.uk
Call Reception: 01594 542370
About the FTA...
The Forest Teaching Alliance has been led by Dene Magna School since 2014. FTA currently works with a range of schools providing both support and opportunities for collaboration. We aim not only to provide training and support for our alliance partners but to identify and co-ordinate expertise across the country and beyond using the best leaders and teachers to:
•The lead continued professional development
•Support the development of school-led Initial Teacher Training (ITT) system
•Provide support for other schools through school to school support and the deployment of specialist leaders of education (SLEs)
Initial Teacher Training...
Throughout the Forest Teaching Alliance, Dene Magna School works with GITEP (Gloucestershire Initial Teacher Education Partnership) to offer routes into teaching.
Secondary Level ITT
Teacher training at the secondary level in Gloucestershire is coordinated by GITEP (Gloucestershire Initial Teacher Education Partnership). GITEP is a unique collaboration between all the secondary schools in Gloucestershire and the University of Gloucestershire. GITEP and its associated partners offer PGCE, QTS, School Direct and School Direct Salaried routes into teaching.
GITEP offers its places for teacher training in most subjects – for more information click here.
The Forest Teaching Alliance further supports Initial Teacher Training by running the following events:
Scaling the Peak

Mentor Training

Behaviour Management Course

ITT Network Meetings

Subject Enhancement Days

Teacher taster days
School to School Support...
The Forest Teaching Alliance is committed to school improvement through a system of partnerships that draw upon the wide expertise of SLEs and NLEs within our alliance of schools in the area. We have a proven track record of working with other schools and the capacity and integrity to undertake support for schools in challenging circumstances. This is provided by senior and middle leaders from a wide range of school settings. We have a track record of working with outstanding and underperforming schools in all contexts. We have a great deal of expertise in every area from improving the quality of teaching to leadership coaching, behaviour management, policies and systems, data and tracking, curriculum design, timetabling, financial management, and individual subject support.
We are equipped and committed to providing a personalised, yet robust, support package within the Secondary and Primary school sectors. Support work can involve a single visit to a long relationship in a wide variety of formats from lesson observations to coaching or multiple SLEs being involved depending on need.
The School to School Support Process
1. Request made for support to the Forest Teaching Alliance.
2. The request goes to Tom Derrick (TSA Lead) - fta@denemagna.gloucs.sch.uk or Steve Brady (Headteacher) - s.brady@denemagna.gloucs.sch.uk.
3. Forest Teaching Alliance contacts school to broker support. Needs are confirmed and costs are presented. SLEs/others are identified to support the school. First meeting arranged with TSA lead and client school to confirm the focus of work, outcomes, expectations, frequency and types of support and time scales.
5. Action plan of support created.
6. All parties sign up to the contract agreement.
7. Support begins including regular meetings which are documented.
8. Mid-point review to assess progress and any changes required (depending upon the situation).
9. Final review by TSA lead and Headteacher of client school written up and passed onto the Forest Teaching Alliance board.
CPD...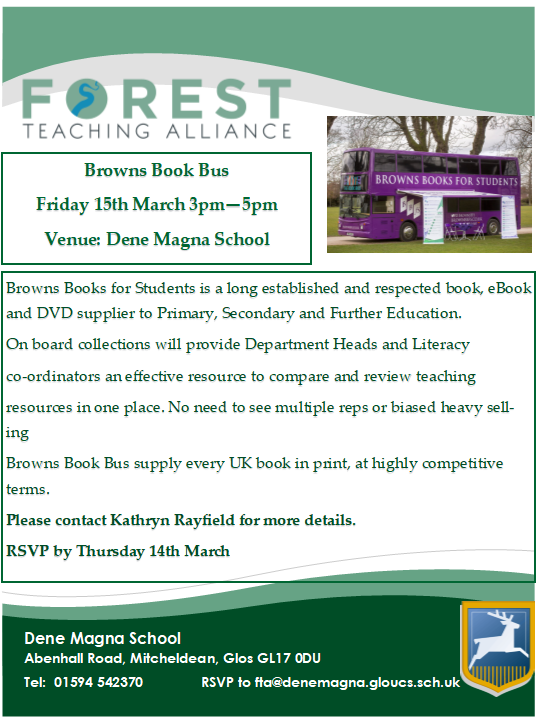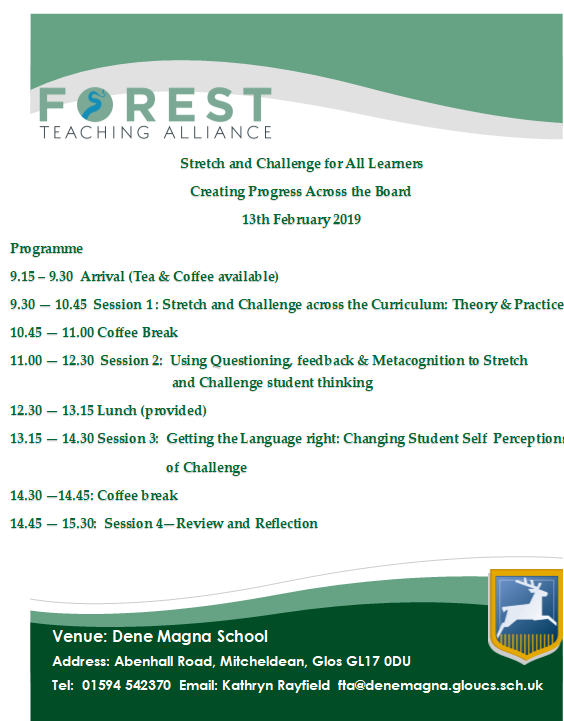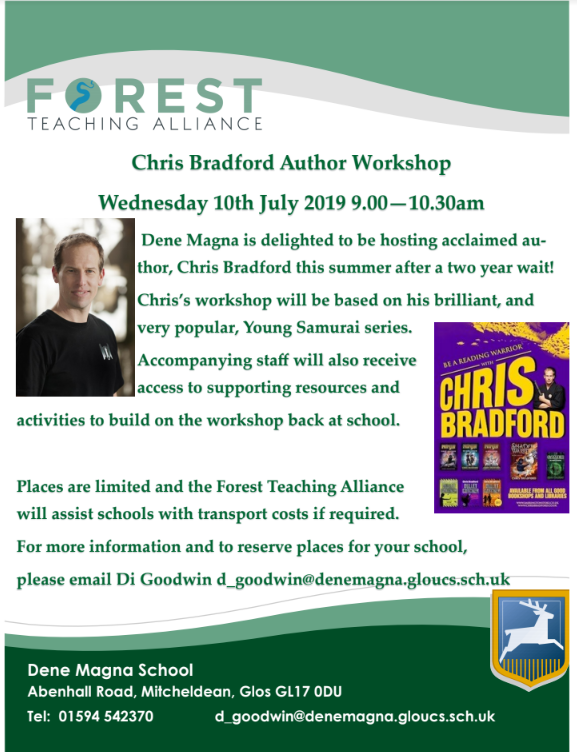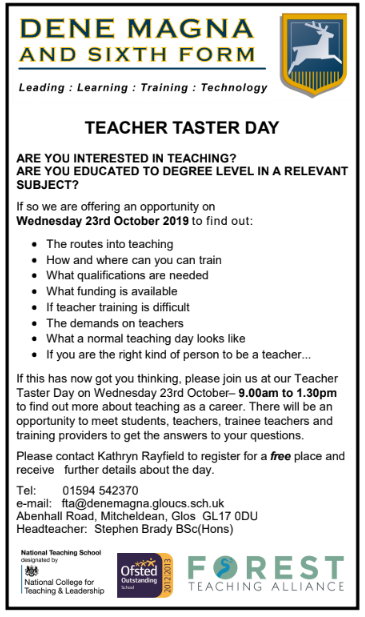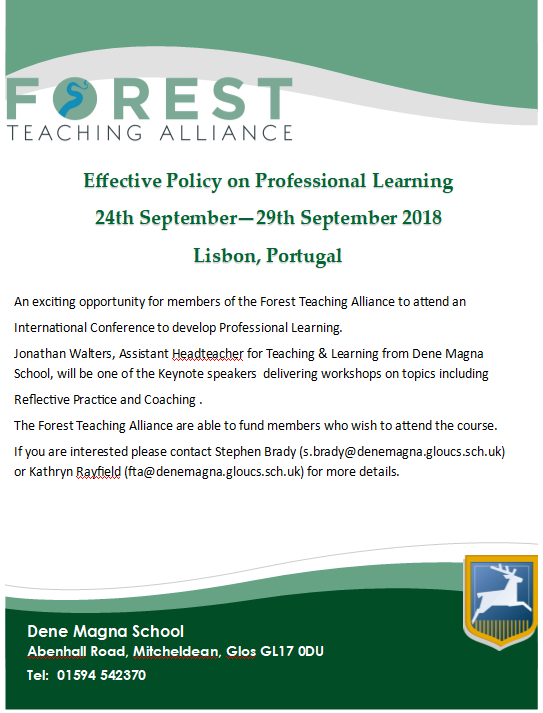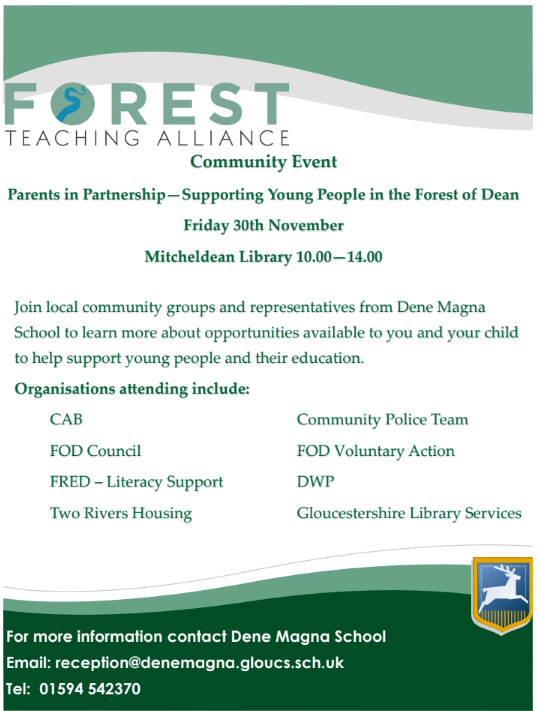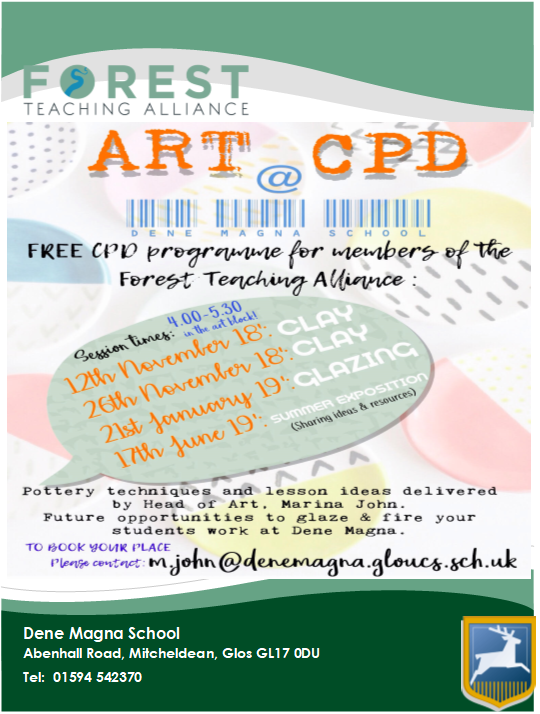 Specialist and National Leaders of Education...
Specialist Leaders of Education (SLEs) are 'outstanding' middle and senior leaders who have the skills to support individuals or teams in similar positions in other schools.
SLE will be deployed into schools to develop the leadership capacity of individuals and teams using coaching and/or facilitation that draws on the knowledge and expertise in their specialist area. Their work will contribute to improving outcomes for students in other school settings.
The Forest Teaching Alliance currently has SLE's in the following areas:
Business and Finance Management
Science
Maths- Secondary and Primary
English
Stephen Brady, Head Teacher is an NLE.
Upcoming Events...
Events coming soon...