History
Year 12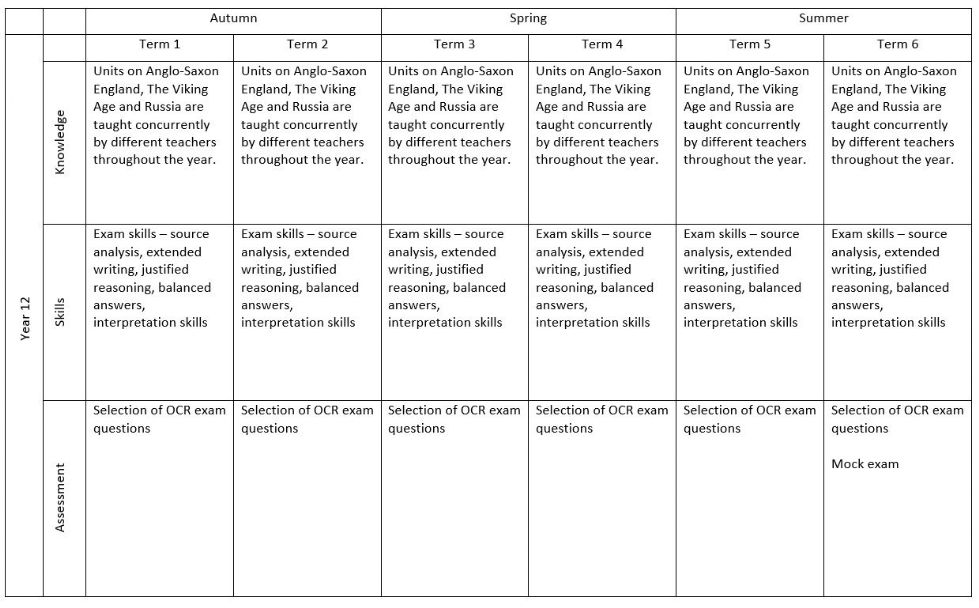 Year 13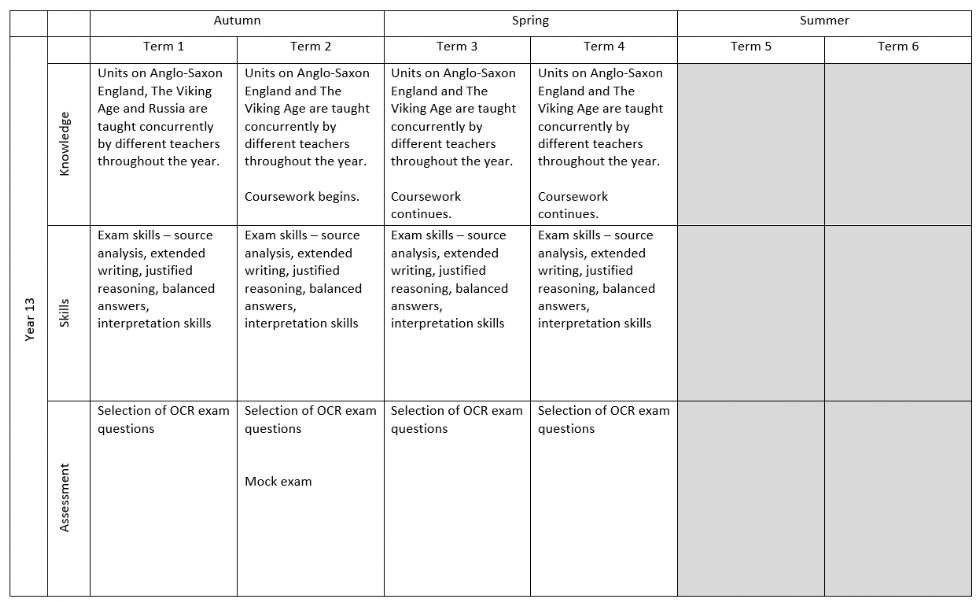 Syllabus Title: History A
Examination Board: OCR
Assessment Outline:
| | | | |
| --- | --- | --- | --- |
| A Level | | | |
| Unit 1 | British period study and enquiry | 25% of total A-Level 1hr 30 minute paper | Anglo-Saxon England and the Norman Conquest 1035-1107 Enquiry topic: Norman England 1087-1107 |
| Unit 2 | Non-British period study | 15% of total A-Level 1 hour paper | Russia 1894-1941 The end of Tsarism and the start of Revolution |
| Unit 3 | Thematic study and interpretations | 40% of total A-Level 2 hr. 30 minute paper | The Viking Age c.790-1066 Raids on England, Danelaw and the Vikings in Ireland |
| NEA | Topic based study | 20% of total A-Level NEA | An independent study of learner's choice |
Studying A level …..
There are 3 units which make up the A-Level course, consisting of British, non-British and thematic studies. In addition, students will be expected to complete an assessed topic based essay of 3000-4000 words.
To study History at Dene Magna, students must be committed to engaging in further reading outside of the classroom to establish their own opinions about all of the topics studied. This will aid lively classroom debates and develop the deeper analytical thinking which is required at this level.
Entry Requirements:
Students must have achieved a Grade 6 or above at GCSE History and either English Language or Literature.
Future Career Options:
With an A-Level in History, you will have a wide range of Further Education or employment opportunities. Universities love Historians because of their analytical, written and debating skills. Studying History at A-Level may lead you into courses such as law, sociology or history at university.
History graduates can go on to careers as journalists, archaeologists, archivists, solicitors, teachers or working in historic buildings or galleries.