KS4 Options
Year 9 will soon be going through their options' process for their KS4 courses. This is a vital moment for students. It is an opportunity for them to reflect on what they want their future to be like and take ownership of their studies. We should never underestimate the importance of this process. It is about them learning that their choices have consequences; the subjects that they choose will define their experience over the next two years. There is no opportunity to change their minds halfway through.
So how can we help your daughters and sons make the most of this process? Firstly, they need to dream big. This is an opportunity for parents and carers to engage in a discussion about what each child wants to be. That is not just about careers, it is more fundamental than that. This choice is about the person we wish to become as much as about the career we think we may choose.
So whilst we ask them to dream big, we also ask them to step small, to ensure that they undertake subjects that will challenge them, that they will enjoy and that will allow them to achieve their maximum potential.
The detailed course booklet will be available on the website after Christmas and all Year 9s will attend the Options' Evening and Subject Fair (date to be confirmed). Prior to this, we will ask them about their initial thoughts so that we know where we need to guide them.
In your discussions with them please take account of the following advice and guidelines:
Each student's choice must be 'broad and balanced', as this allows them the widest choice when they come to further studies Post 16
As part of the push on EBacc subjects and the government's drive to ensure that all students have a rigorous and world-class education, there is a presumption that the majority of students will study a humanities (Geography or History) and a language
Choosing a subject because you like the teacher or your friends are choosing it are not good reasons
Each student will be asked to make five preferences. It is essential that they are happy to study all five of these.
Rest assured that your son/daughter will be well supported through the process by their tutor and subject staff. We have been through this many times and are aware of where the pitfalls are and how to make good decisions. We know too that you will support and challenge them and ensure that they understand the importance of the decisions they make.
Fred Mitchell
Deputy Headteacher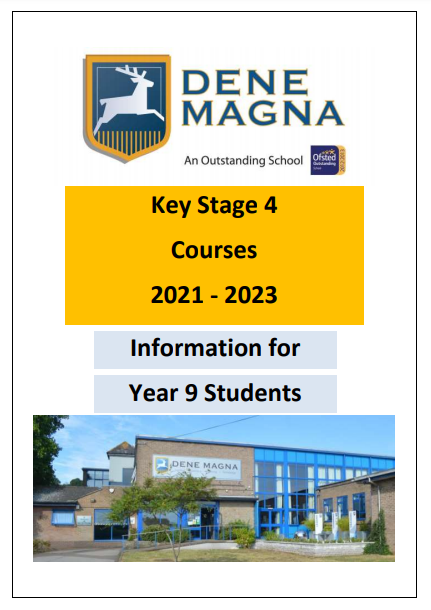 Please click on the options booklet above to view it...