Music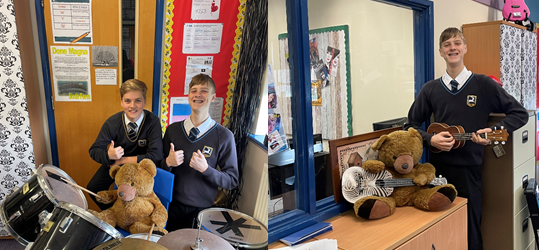 As the Forest of Dean has limited provision for the study of and engagement with music, due in part to the lack of a local, accessible music opportunities, one of the duties of the Music department at Dene Magna is to enthuse and attract students who, in other contexts, might have had the means to participate in music enterprises outside of school. It is important that students who may wish to study the subject further by attending university or music college are not disadvantaged in comparison to their peers from other parts of the country.
Following the COVID-19 pandemic, the Music department feel it is important that students are also given ample opportunity to perform on variety of instruments, learning new musical skills, performing in groups and making music.
The Key aims of each Key Stage can be summarised:
KS3
The aim of KS3 Music at Dene Magna is two-fold:
to provide students (particularly potential GCSE) with an understanding and appreciation of music performance, composition and appraising.
to ensure that any students who choose not to pursue Music further are equipped with some degree of cultural capital through the subject, along with 'soft' skills which can be applicable to a variety of workplaces and careers, including (but not limited to) communication, group work and performance skills.
A high- quality music education should engage and inspire pupils to develop a love of music and their talent as musicians, and so increase their self-confidence, creativity and sense of achievement.
KS4
The aim of KS4 Music is:
to provide students with the theoretical subject knowledge required to access, and excel at, the written elements of the GCSE
to give students the confidence and skills to perform solo and ensemble performances on their chosen instruments to a high standard
to give students the confidence and skills to compose music, using knowledge of different genres and styles.