Psychology
Head of Department: Mr MC Osborne
Syllabus Title: Psychology
Exam Board: AQA
Length of course: 2 years
Entry requirements: GCSE grade 5 (or above) in English and Maths plus GCSE grade 6 (or above) in Science.
Description :
A-Level Psychology is a fascinating study that has many practical applications in daily life. Psychology allows students to explore the science of behaviour, and broadens their understanding of the influence of nature and nurture on human development. An A-Level in Psychology teaches students to understand themselves, and encourages them to challenge the stereotypes and "quick fix" answers often provided by the media - for example in relation to questions around mental health and the effect of violent videos on children's behaviour.
Topics Studied:
Introductory Topics In Psychology:
Memory

Social Influence

Attachment

Psychopathology
Psychology In Context: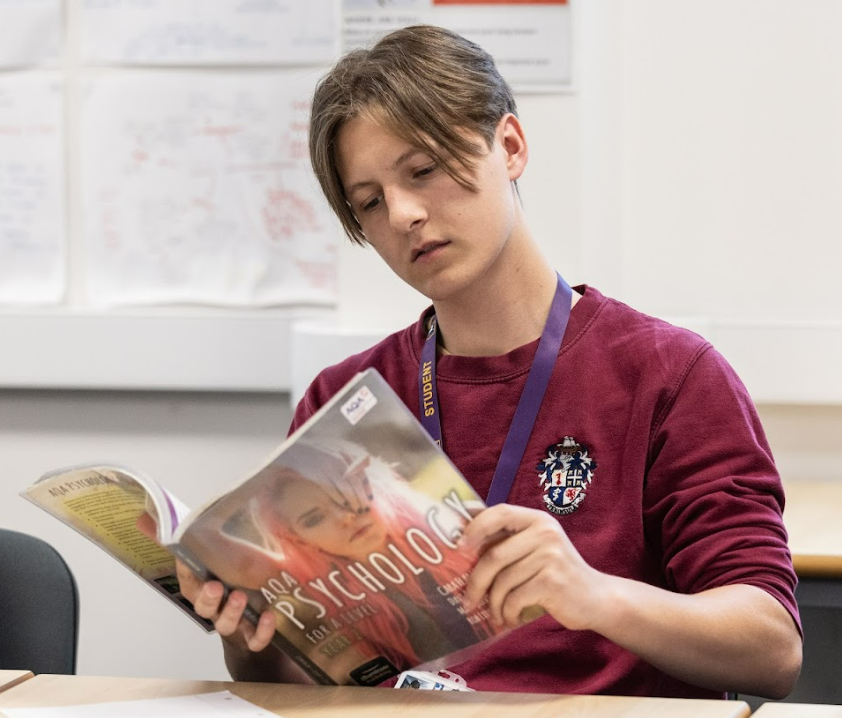 Approaches to psychology

Biopsychology

Research Methods
Issues and Options:
Issue & Debates

Forensic Psychology

Relationships

Schizophrenia
Exam structure:
Paper 1: Introductory Topics in Psychology - 2hrs, 96 marks (⅓ total grade)
Paper 2: Psychology in Context - 2hrs, 96 marks (⅓ total grade)
Paper 3: Issues and Opinions - 2hrs, 96 marks (⅓ total grade)
Post A Level:
A-Level Psychology can lead into many interesting areas of further study or career development. Future roles could include becoming a psychologist, psychotherapist or counsellor; a criminologist, a social worker or a human resource manager; remaining in academia or pursuing research roles. A-Level Psychology provides a good foundation upon which to become more specialised inside this fascinating area of study.
What the students say about this course:
"I have found that studying psychology not only develops a variety of skills that are transferable to other subjects and professions, but provides a fascinating insights into people and their lives"
"Psychology has many interesting topics that are
applicable to experiences in everyday life, such as how relationships develop and how our memory works. The teachers are helpful and always have the information and resources needed."
"I enjoy the practical applications of psychology to everyday life and find the range of topics fascinating. Studying A-level Psychology has inspired me to study Psychology at university and pursue a career using my knowledge to help other people."
"I enjoy the variety of teaching within Psychology lessons, which helps to bring the subject to life"
What past students went on to do after getting this qualification:
LC - went on to do comparative literature in London however misses psychology so much she plans to do a masters conversion course and looks to pursue a career in clinical psychology.
EL - Social anthropology in Essex
Specification Links: