School Games
School Games & Forest Games Linked Competitions Across the Forest of Dean
Dene Magna's School Games Organiser is Alan Beard, based here at Dene Magna School, however the role covers all Primary, Special, Secondary Schools & Colleges in the Forest of Dean linked to activity.

Alan can be contacted on his email: a.beard@denemagna.gloucs.sch.uk or the main school number of 01594 542370.

ALL SCHOOL GAMES & FOREST GAMES EVENTS & DENE MAGNA COMMUNITY BOOKINGS ARE PLANNING A PHASED RETURN OVER THE NEXT FEW MONTHS.

School/Forest Games will offer a series of virtual events between October and January perhaps beyond, depending on the latest Government advice.

Mr Beard has a series of roles at Dene Magna including managing The Duke of Edinburgh Awards at Bronze & Gold level. He also oversees the community bookings with other staff which are currently restricted, we plan to reopen our sports hall and outdoor facilities with conditions in early 2021. We will follow all national advice and open and close with guidance.

Please contact Alan Beard for further information
SportsHall Athletics Engagement & Panathlon
Sports Hall Athletics Engagement: The Pentathlon 5 Closing Date 11th Jan
| | |
| --- | --- |
| School Entered | Pupils |
| Drybrook | Results in. To be sorted. |
| Yorkley | Yr 5: 11B 11G =22 Yr 6: 9B 8G=17 |
| Severnbanks | Yr 5: 11B 19G =30 |
| Hope Brook | Planning Jan 21 |
| | |
| | |
| | |
| | |
| | |
Panathlon Entries
| | | |
| --- | --- | --- |
| School | | Number of Pupils & Key Stage |
| Yorkley | | 56 KS1 |
| Severnbanks | | 43 Year 1 |
| | | |
Fun Football Warmup Table (As results come in)
On Going Fun Football skills Competition from School
FOD Virtual Cross Country 2020
Primary Engagement and Score Board 2020
| | |
| --- | --- |
| Schools Involved in Cross Country | Total Number of Pupils |
| Coalway Juniors - T1 | 220 |
| Drybrook - T1 | 98 |
| Sevenbanks - T2 | 26 |
| Ann Cam - T1 | 76 |
| Highnam- Own Distance (Mile) | 216 |
| Mitcheldean Endowed -T1 | 196 |
| Yorkley - T2 | 46 |
| Ruardean - T1 | 16 |
| Newnham St Peters -T1 | 95 |
| Parkend Primary - T1 | 69 |
| Ellwood Primary - T1 | 114 |
| Forest View - T1 & T2 | 308 |
| Berry Hill - T1 | 60 |
| Tutshill - T1 & T2 | 210 |
| Blakeney - T1 | 30 (yr5/6) |
| Primrose Hill - T1 -2- 3 | 181 |
Final Deadline Day for all: November 19th 2020.
TIER 1 - Boys Primary Score Board

Final Times

800M, 1000M, 1500M

Year
Pos
School
Pupil Initials
Time
1&2
1st
Drybrook
JZ
3.57
1&2
2nd
Parkend
FH
4.08
1&2
3rd
Primrose Hill
RN
4.19
3&4
1st
Primrose Hill
JK
3.57
3&4
2nd
Newnham
JB
4.01
3&4
3rd
Newnham
JD
4.10
5&6
1st
Parkend
FB
5.42
5&6
2nd
Parkend
JL
5.48
5&6
3rd
Coalway
JJ
5.50
TIER 1 Girls Primary Score Board

Final Times

800M, 1000M, 1500M

Year
Pos
School
Pupil Initials
Time
1&2
1st
Primrose Hill
CP
4.10
1&2
2nd
Primrose Hill
SH
4.19
1&2
3rd
Parkend
BS
4.28
3&4
1st
Newnham
IC
4.21
3&4
2nd
Newnham
ICr
4.50
3&4
3rd
Mitcheldean
KC
5.01
5&6
1st
Forest View
AL
6.06
5&6
2nd
Forest View
BL
6.07
5&6
3rd
Primrose Hill
PO
6.43
Tier 2 Boys Primary Score Board

Final Times

400M, 800M, 1200M

Year
Pos
School
Pupil Initials
Time
1&2
1st
Tutshill
RV
2.03
1&2
2nd
Tutshill
RJ
2.05
1&2
3rd
Tutshill
DHD
2.09
3&4
1st
Tutshill
MG
2.53
3&4
2nd
Tutshill
JT
2.57
3&4
3rd
Tutshill
MH
2.59
5&6
1st
Severnbanks
CR
5.32
5&6
2nd
Severnbanks
BM
5.35
5&6
3rd
Yorkley/Severn
MH & CG
6.13
Tier 2 Girls Primary Score Board

Final Timings

400M, 800M, 1200M

Year
Pos
School
Pupil Initials
Time
1&2
1st
Tutshill
MD
2.07
1&2
2nd
Tutshill
MO
2.16
1&2
3rd
Tutshill
DS
2.19
3&4
1st
Forest View
QB
3.34
3&4
2nd
Forest View
LH
3.44
3&4
3rd
Forest View
IG
3.47
5&6
1st
Yorkley
BM
5.25
5&6
2nd
Yorkley
DL
6.02
5&6
3rd
Yorkley
AB

6.06
Some Schools have carried on with second rounds in December onwards of Cross Country, including Yorkley & Severnbanks Primary to improve peformances.
Secondary Engagement and Score Board 2020
| | |
| --- | --- |
| Schools Involved so far | Total Number of Pupils |
| Five Acres High | 650 |
| Dene Magna | 624 |
| Newent | 743 |
| Wyedean | 179 |
Lengths: Yr7: 2000m Yr8 &Yr9: 3000m Yr 10 Girls: 3000m Yr 10 B: 4000m
Year 7 Boys/Girls Secondary Score Board Tier 1

Final Time

School (Boys)
Student Initials
Time
1. Dene Magna
JL
7.45
2. Dene Magna
MC
7.56
3. Dene Magna
CG & TS
8.12
School (Girls)
Student Initials
Time
1. Dene Magna
IH
7.52
2. Wyedean
AG
9.04
3. Wyedean
NN
9.05
Year 8 Boys/Girls Secondary Score Board Tier 1

Final Times

School (Boys)
Student Initials
Time
1. Dene Magna
OM
7.27
2. Dene Magna
AL
8.07
3. Dene Magna
ST
8.08
School (Girls)
Student Initials
Time
1. Wyedean
FC
8.42
2. Wyedean
PH
9.13
3. Dene Magna
AS
9.16
Year 9 Boys/Girls Secondary Score Board Tier 1

Final Times

School (Boys)
Student Initials
Time
1. Newent
JJ
11.03
2. Dene Magna
RP
11.26
3. Dene Magna
KFP
11.36
School (Girls)
Student Initials
Time
1. Dene Magna
EH
12.53
2. Dene Magna
CS
12.58
3. Dene Magna
ZC
13.07
Year 10 Boys/Girls Secondary Score Board Tier 1

Final Times

School (Boys)
Student Initials
Time
1. Dene Magna
DJ
13.45
2. Dene Magna
ATA
13.47
3. Dene Magna
RE
14.25
School (Girls)
Student Initials
Time
1. Newent School
P.T
11.27
2. Newent School
I.B
11.35
3. Newent School
E.P & M.W
12.52
All times given in by staff at each school
Cross Country: Secondary - Year 11 - Unofficial Scores:
Some Schools did run unofficial Yr 11-Not in main Competition results
Girls 1st: Time: 10.16 JH Newent -3,000m
Boys 1st: Time: 18.10 AW Newent -4,000m
Special Olympics SEND Event (Last Face to Face Event 2020)
We ran a new Special Olympics SEND Forest of Dean event at Newent School on the 10th March 2020. Our SGO, Mr Beard joined forces with Gloucestershire Special Olympics team and many sports to offer a day of SEND styled sport open to all who attend.
150 pupils and students from Primary and Secondary Schools across the Forest of Dean came to the event. We were fortunate to have Mel Nicholls, paralympic speed cyclist & athlete open the event and speak to all the participants.
All could try different sporting activities including, wheelchair rugby, golf, bowls, boccia, cricket, cycling, powerchair football, reaction boards and new age kurling. We would like to thank all the Gloucestershire Special Olympics committee members, Active Gloucestershire, Newent School & Freedom Leisure.
We cannot run these events without all the coaches from the NGB linked sports and local clubs, the amazing Newent and Hartpury College leaders who helped aid the smooth running of this event. Thank you all.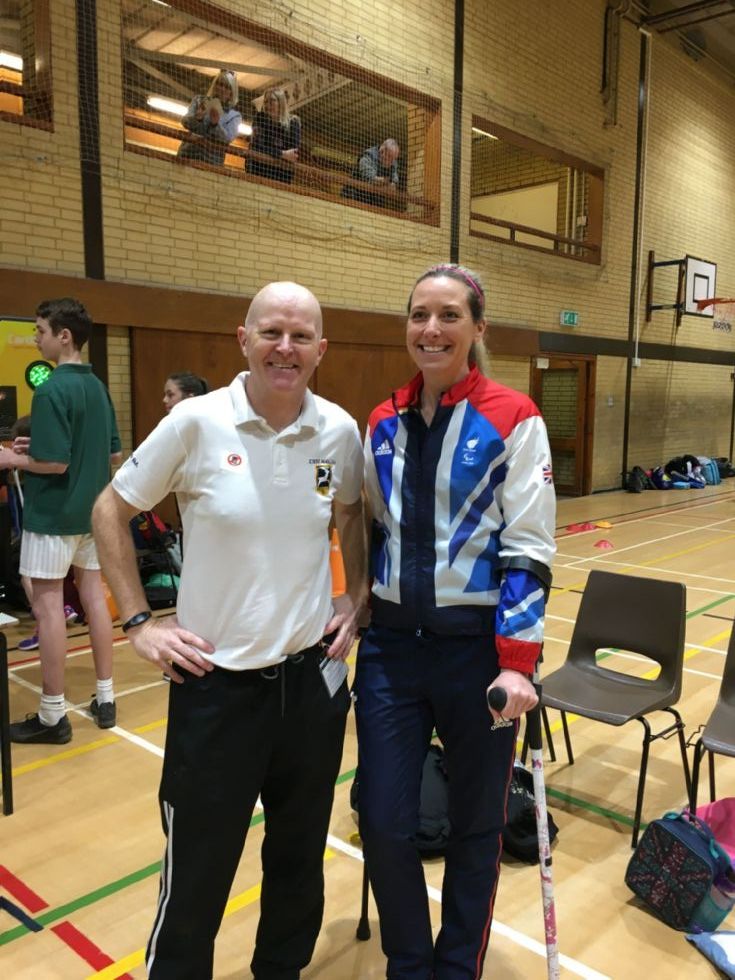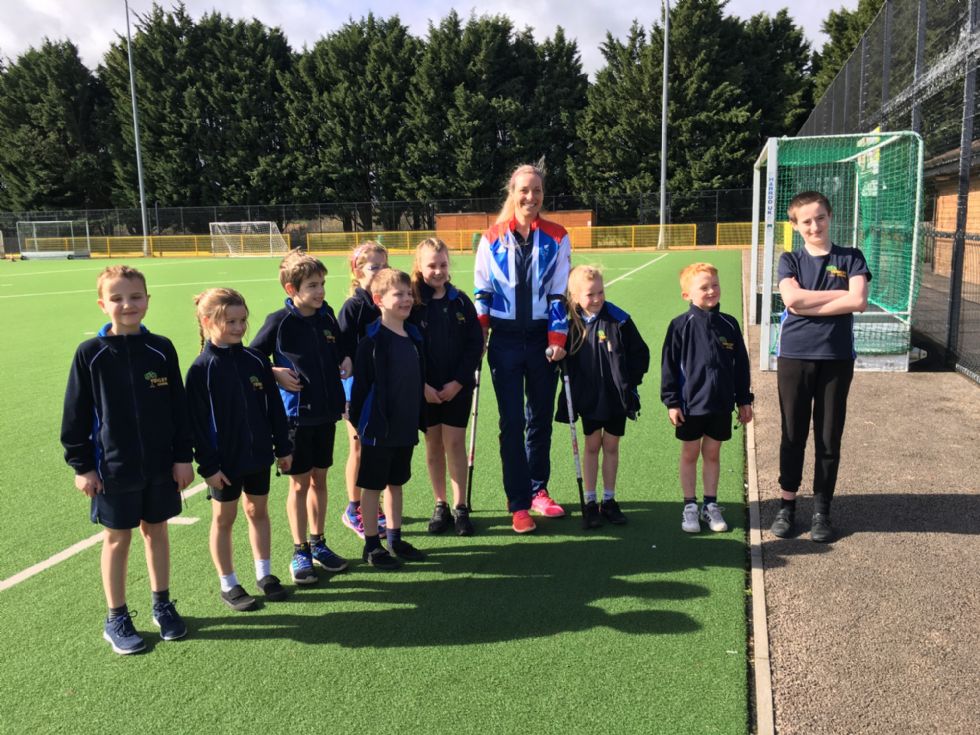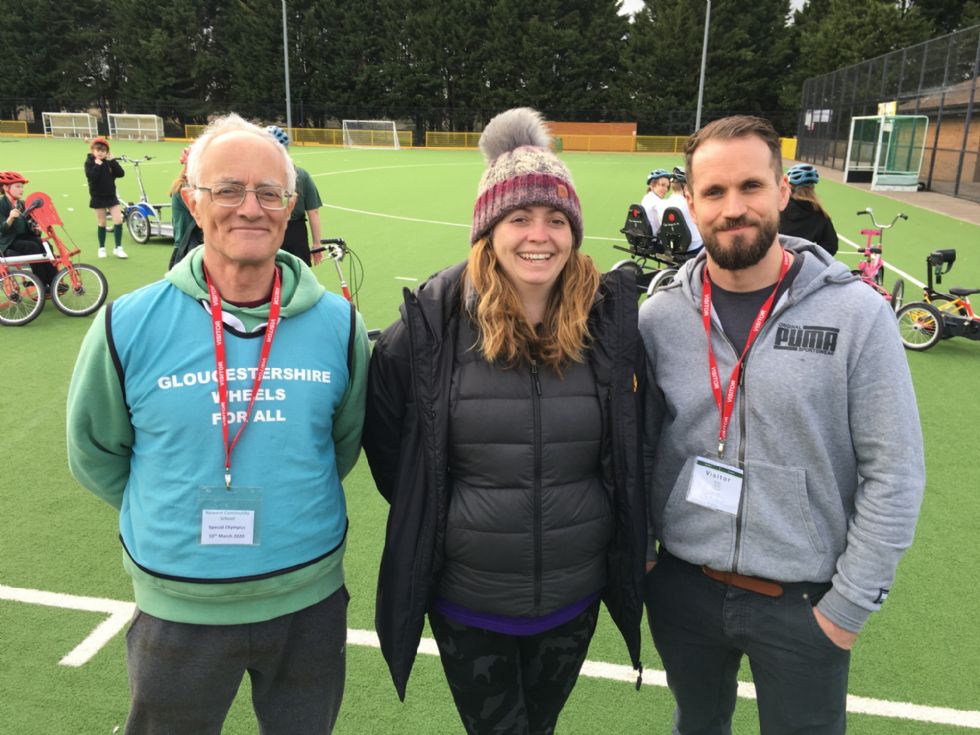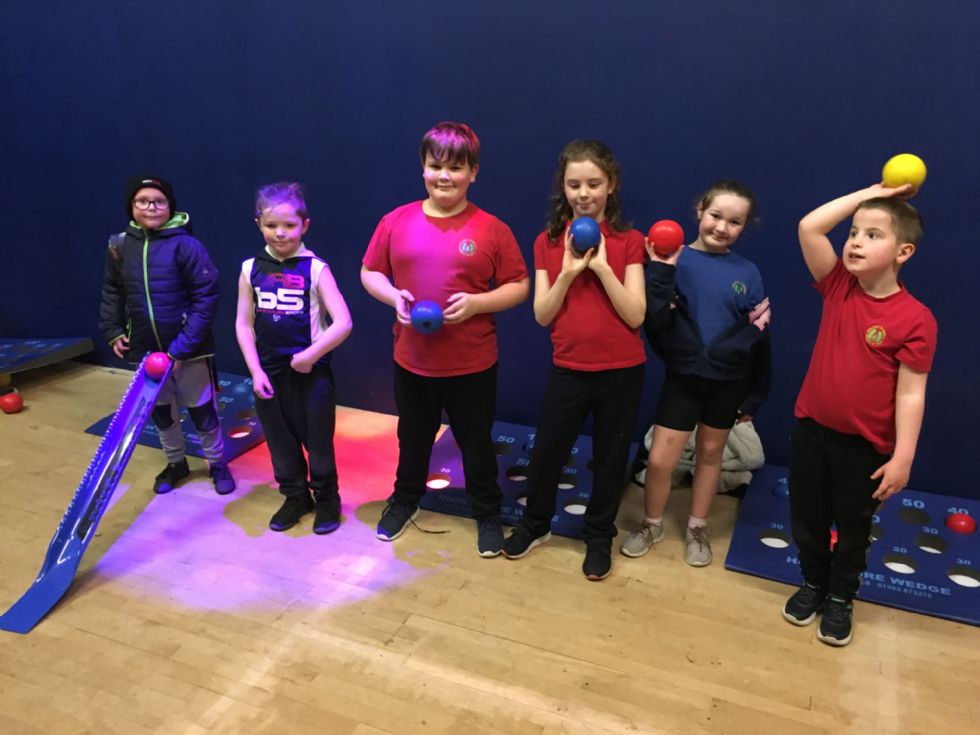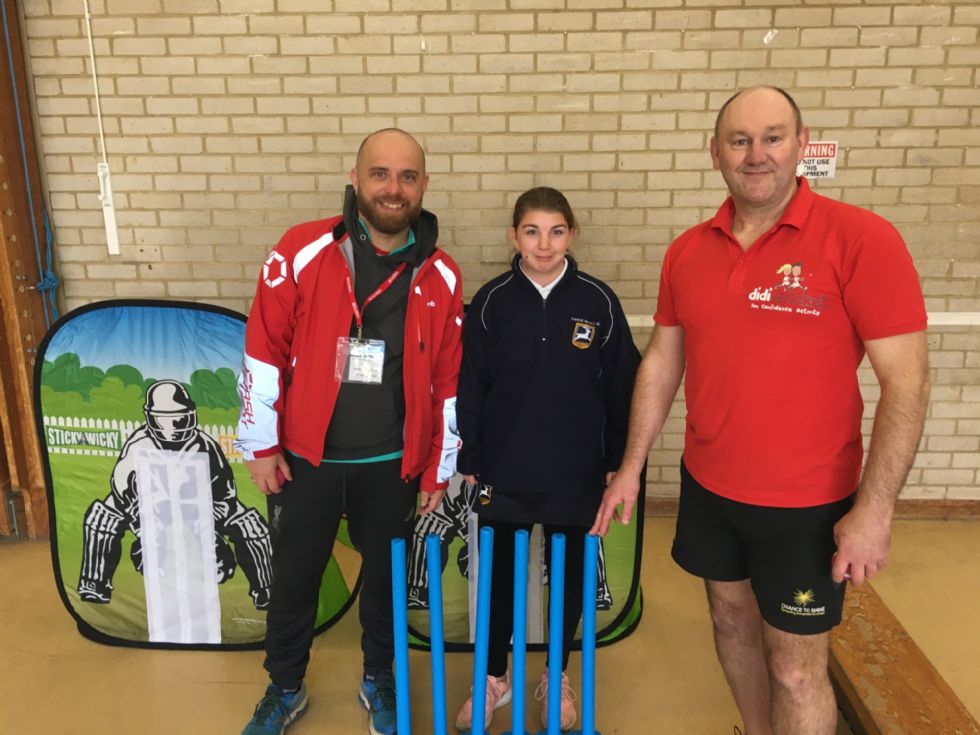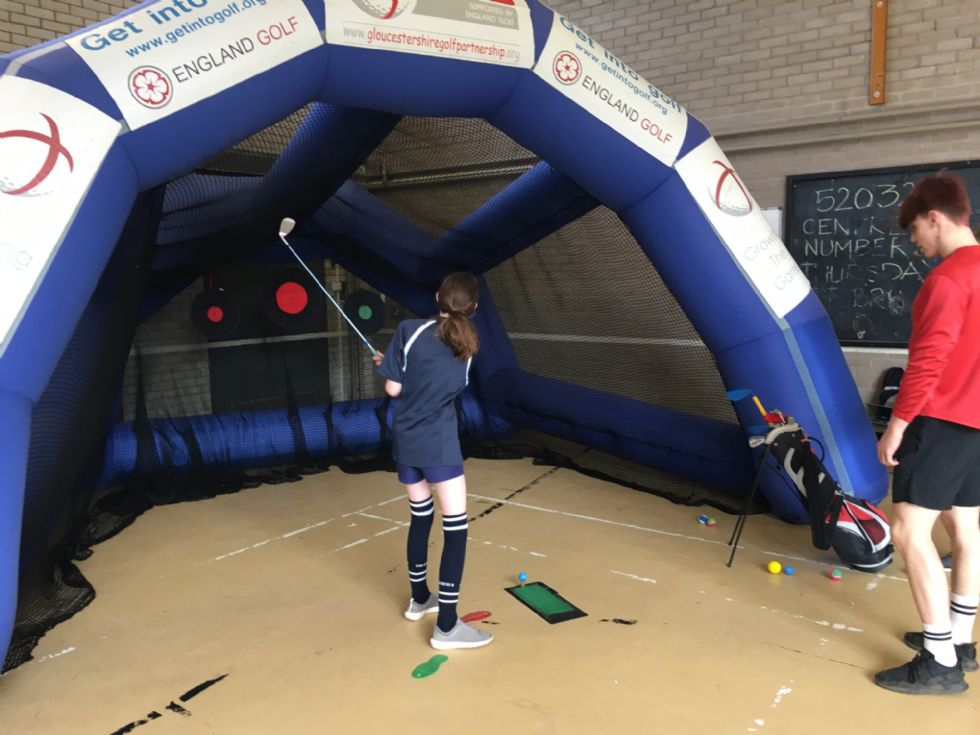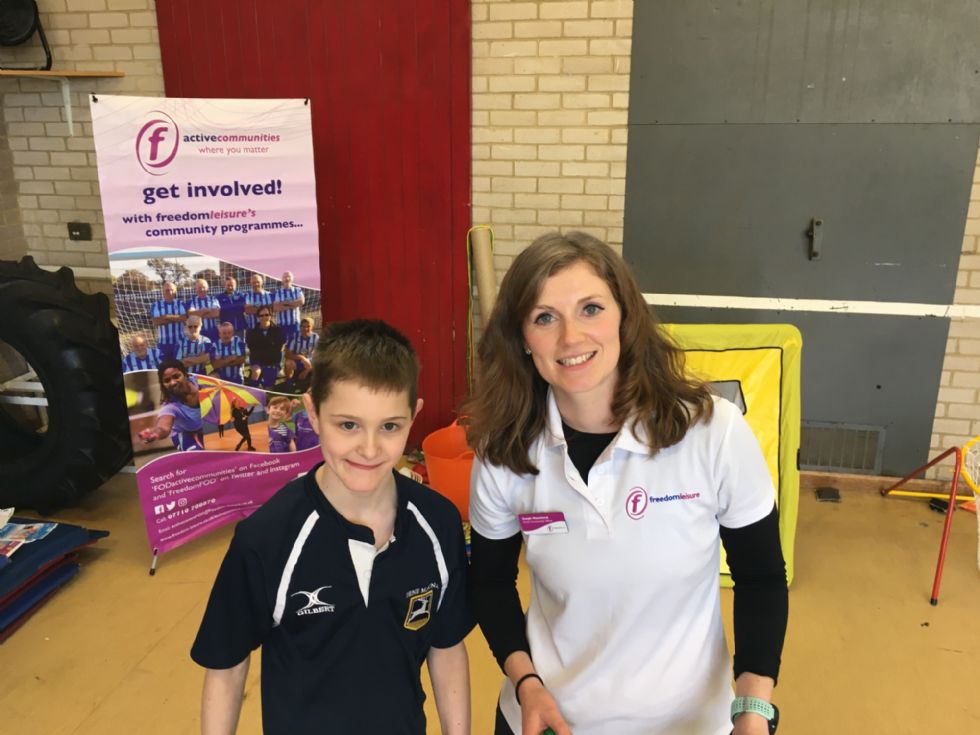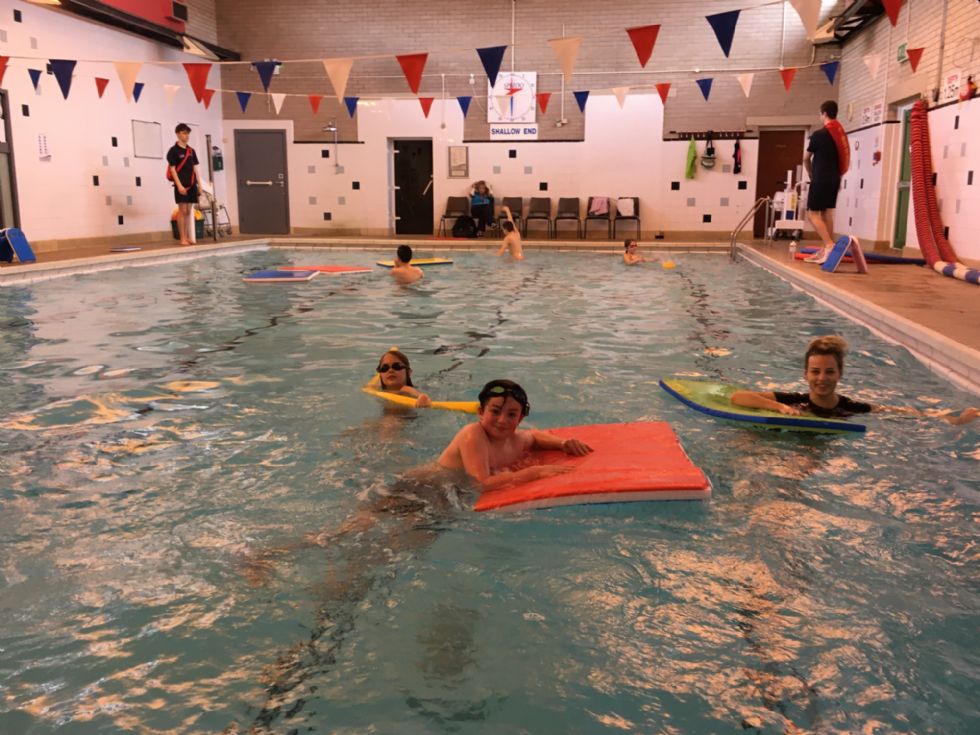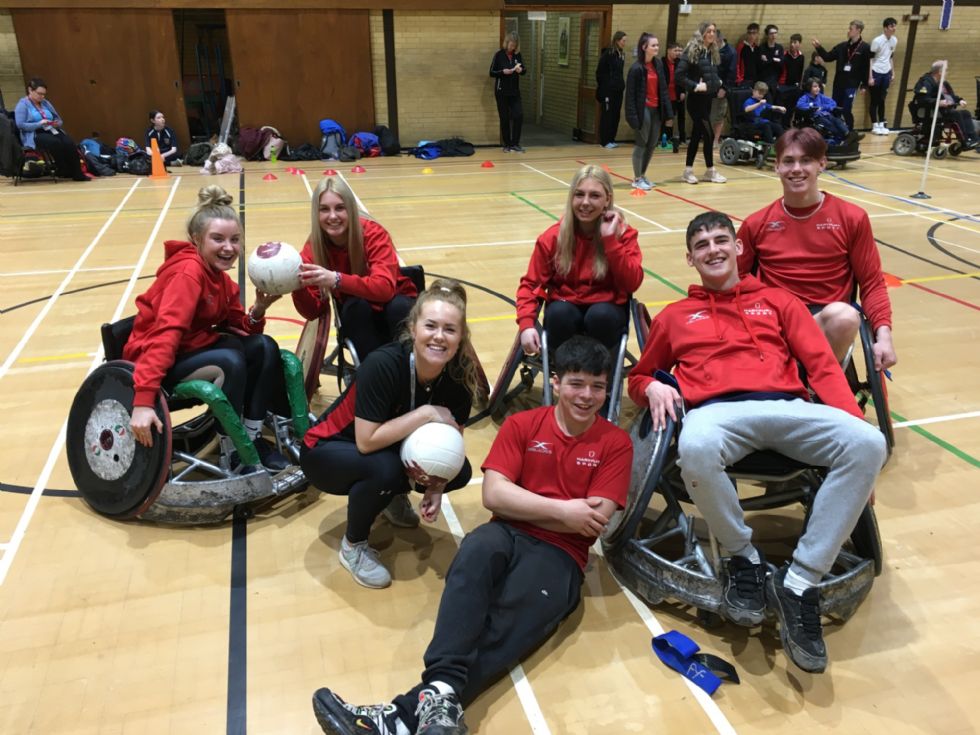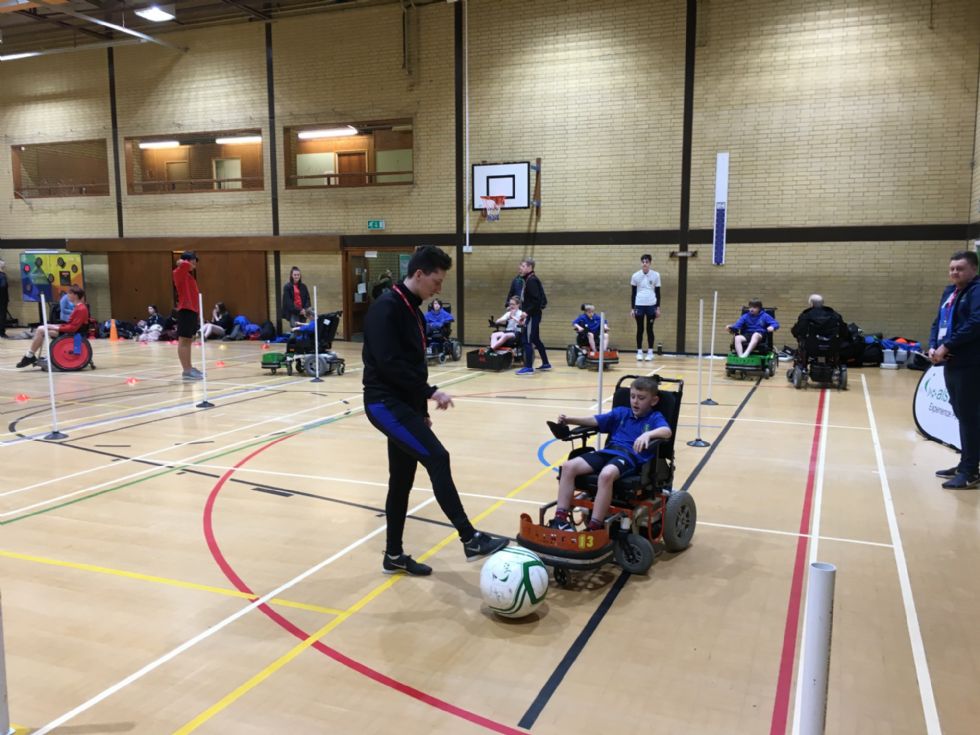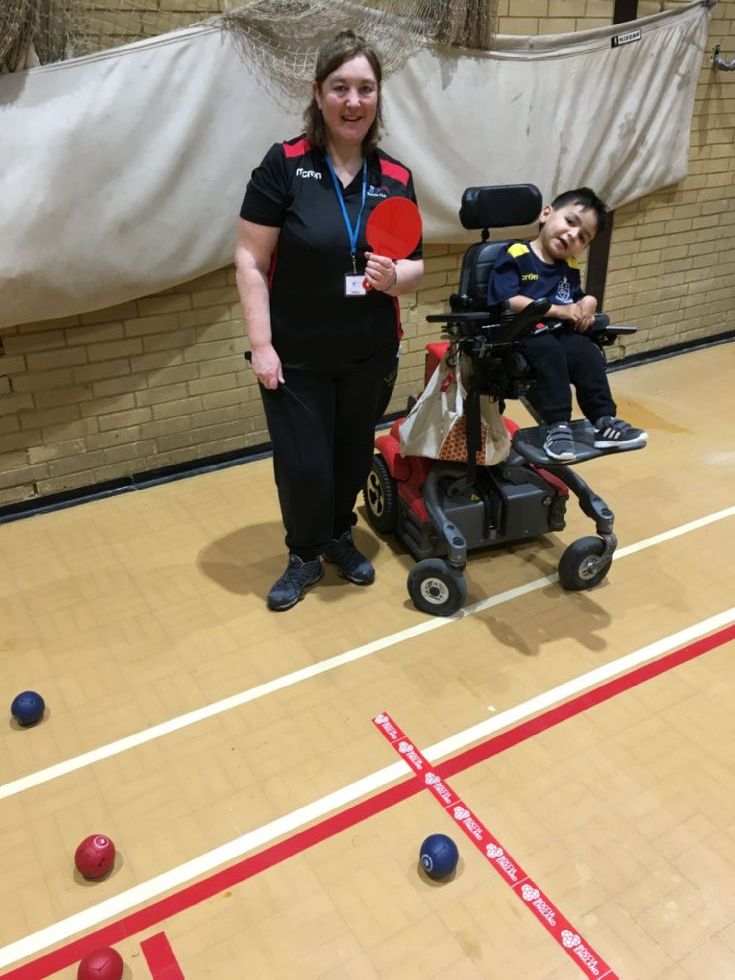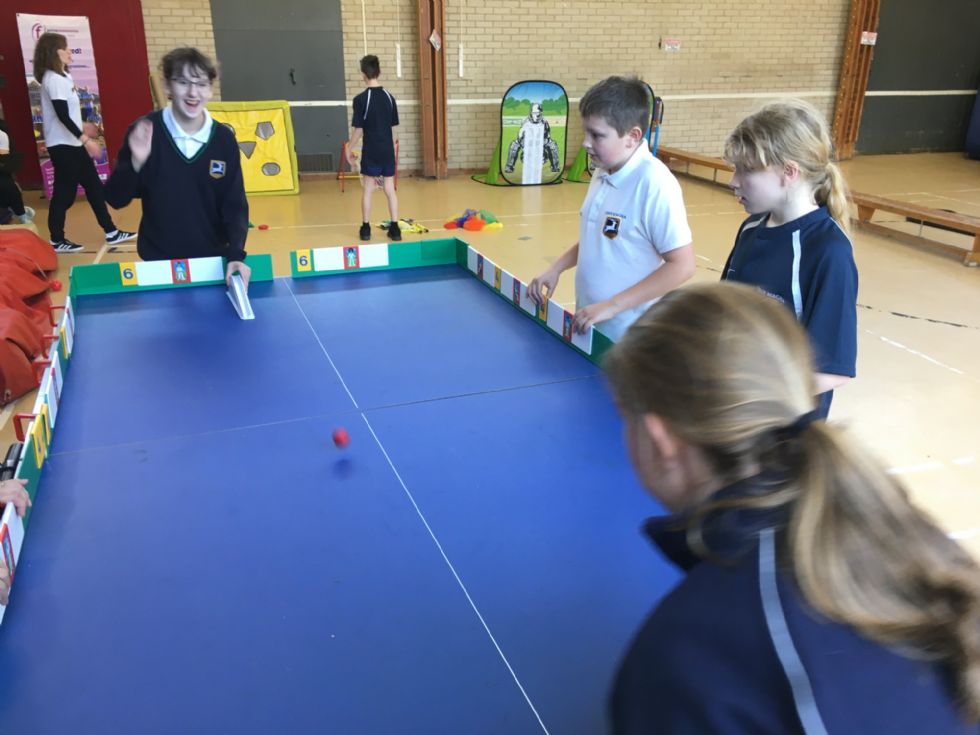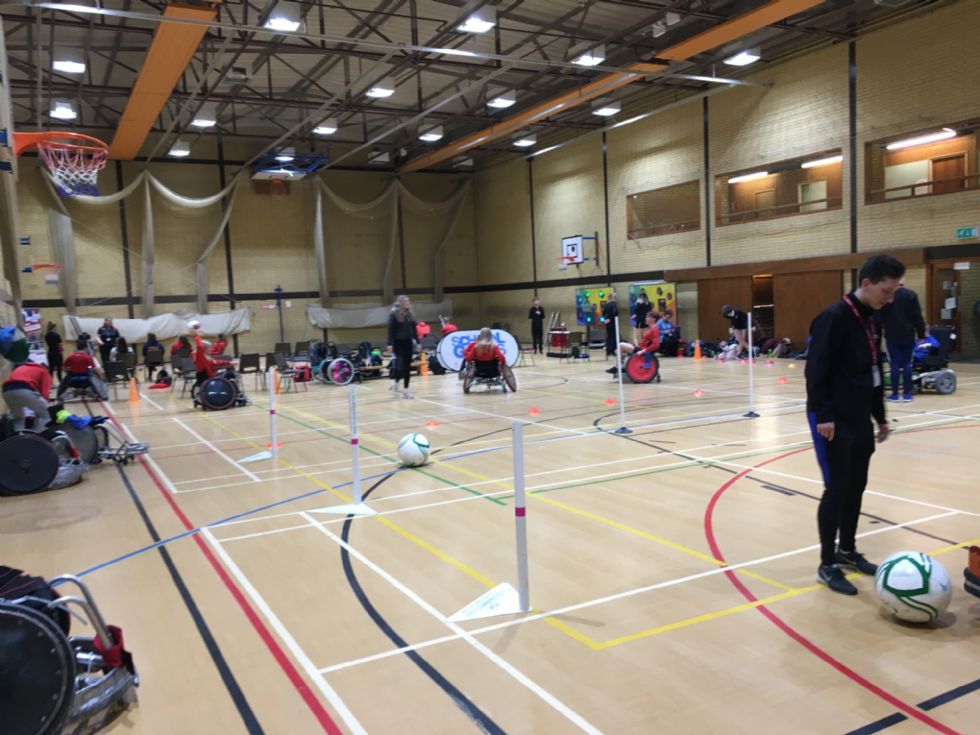 All Event Reviews 2019 -
Please click on the event below for more details.
Team Cross Country 2019
We had a fairly dry day up until the winner's ceremony to run our Steve Gooch Primary Cross Country Finals on Thursday 3 October on the field at Five Acres School. We had 20 schools sign up for this Forest Games' event and we would like to congratulate over 200 runners who took part in running the 1.2km course. We had some great support from the Five Acres PE Department and their sports leaders, so many thanks to them and for the support from the local District Council, Berry Hill Rugby Club and the teachers and parents/carers who attended.
This was a great event for the students to ready themselves for larger competitive events and hopefully keep that interest in running. We celebrated the highest placed teams with Matt Hatton from Steve Gooch Estate Agents who sponsored the event this year with Matt coming along to present the trophies and medals.
The top 3 girls' and boys' teams offered some incredibly low scores and I must mention the winners: Ann Cam Girls, who scored 26 for their top 4 runners in their team of 6. This score was outstanding. Highnam Boys delivered another superb low score of 32. This is such a team effort and should be seen as a positive engagement with young people with all the talk about inactive in the wider media.
Top 3 Team Results:
Girls:
1: Ann Cam Score 26
2: Hope Brook 72
3: Lydbrook 80
Boys:
1: Highnam Score 32
2: Coalway 75
3: Primrose Hill 93
Fastest Girls Run: 4.48:31 Lydbrook
Fastest Boys Run: 4.30:57 Primrose Hill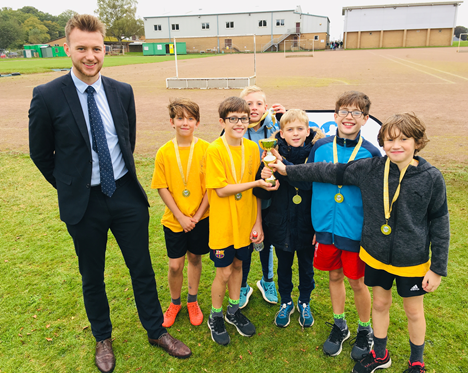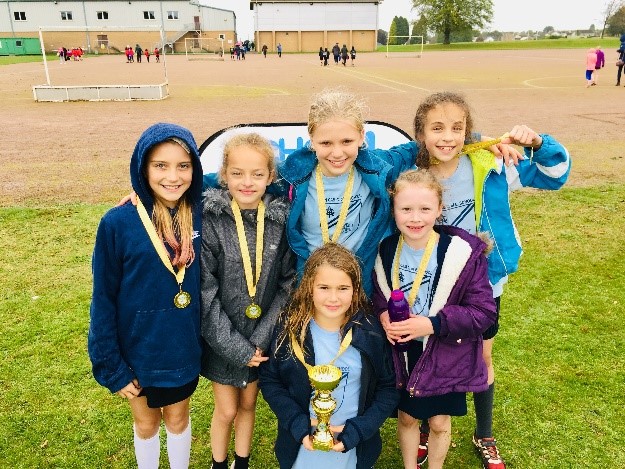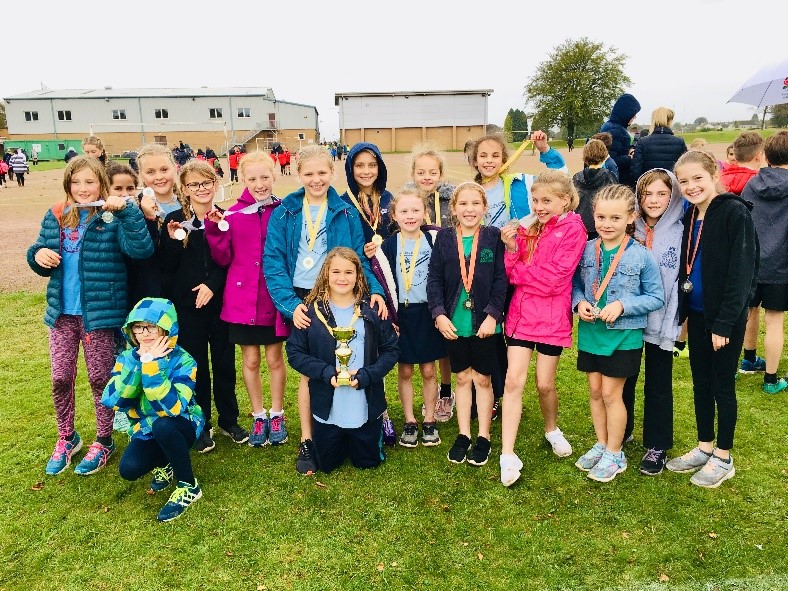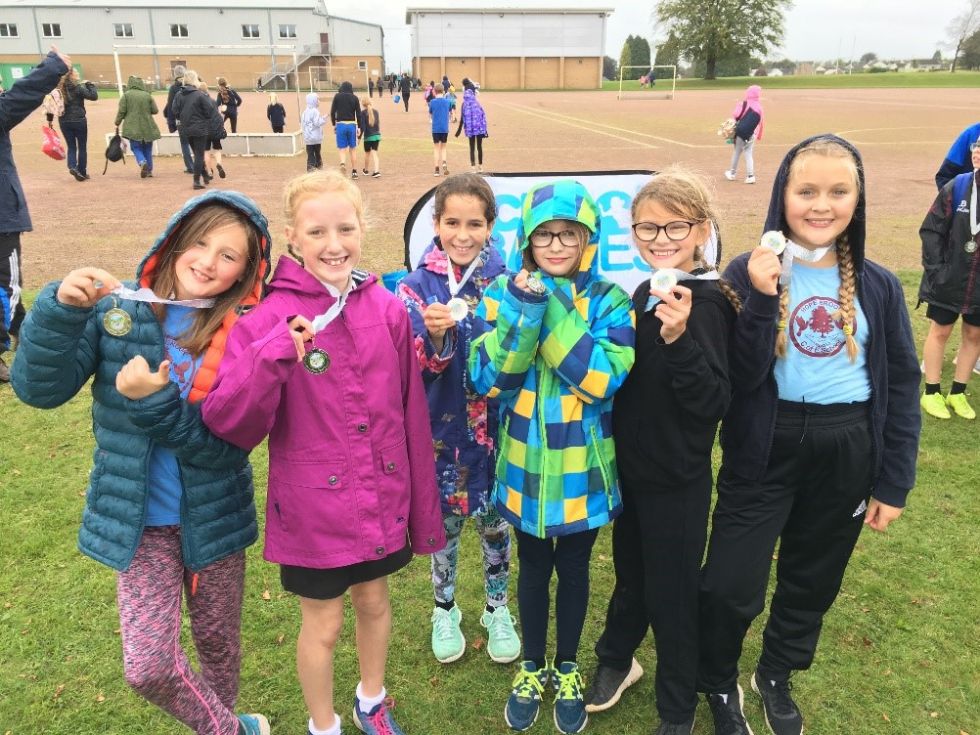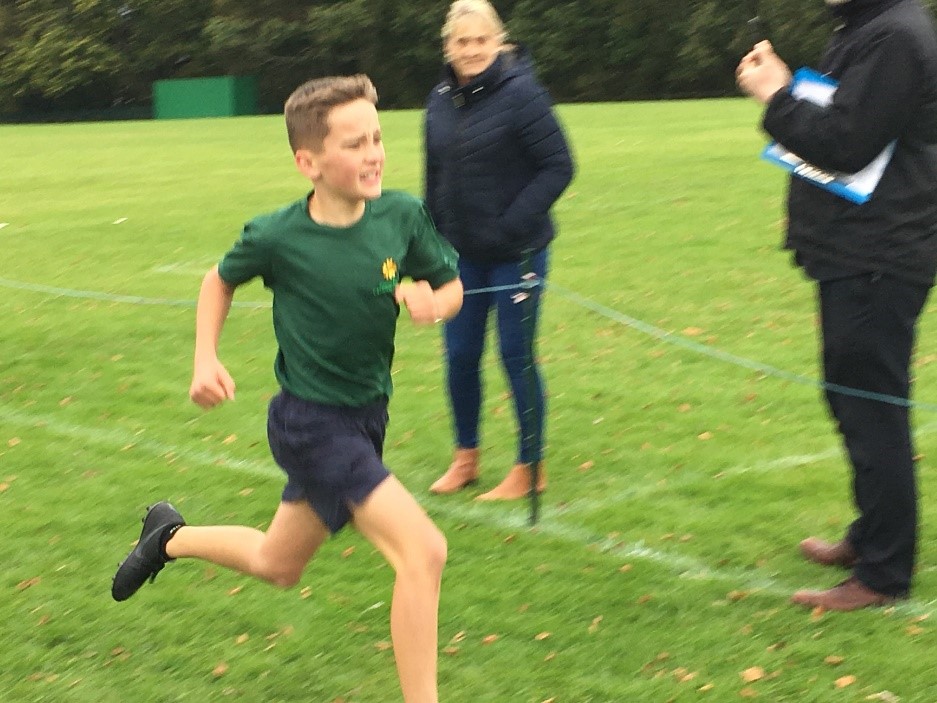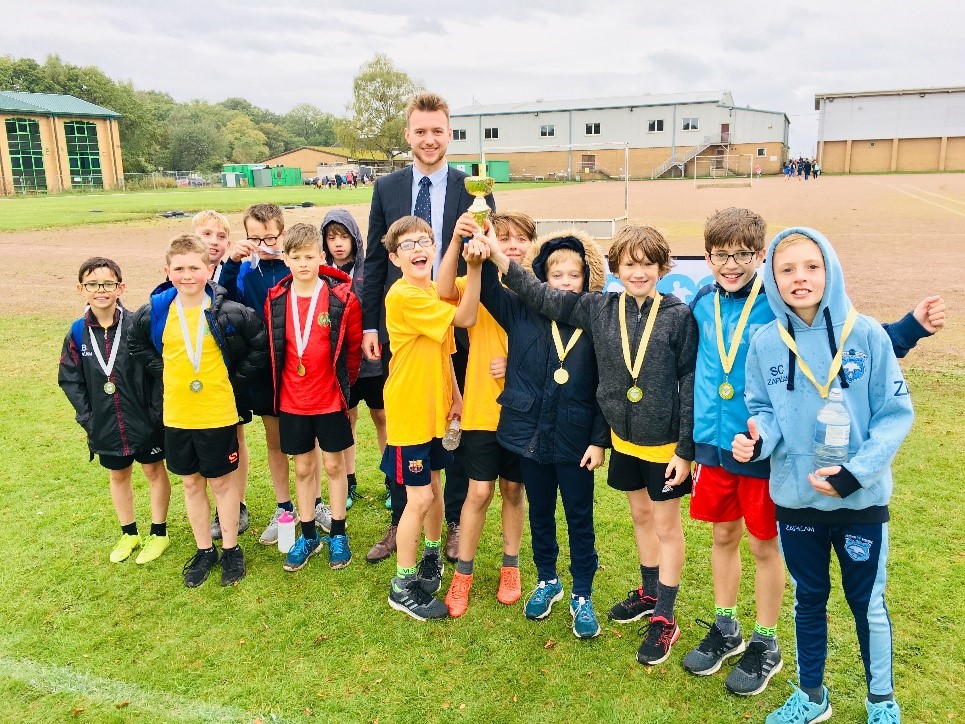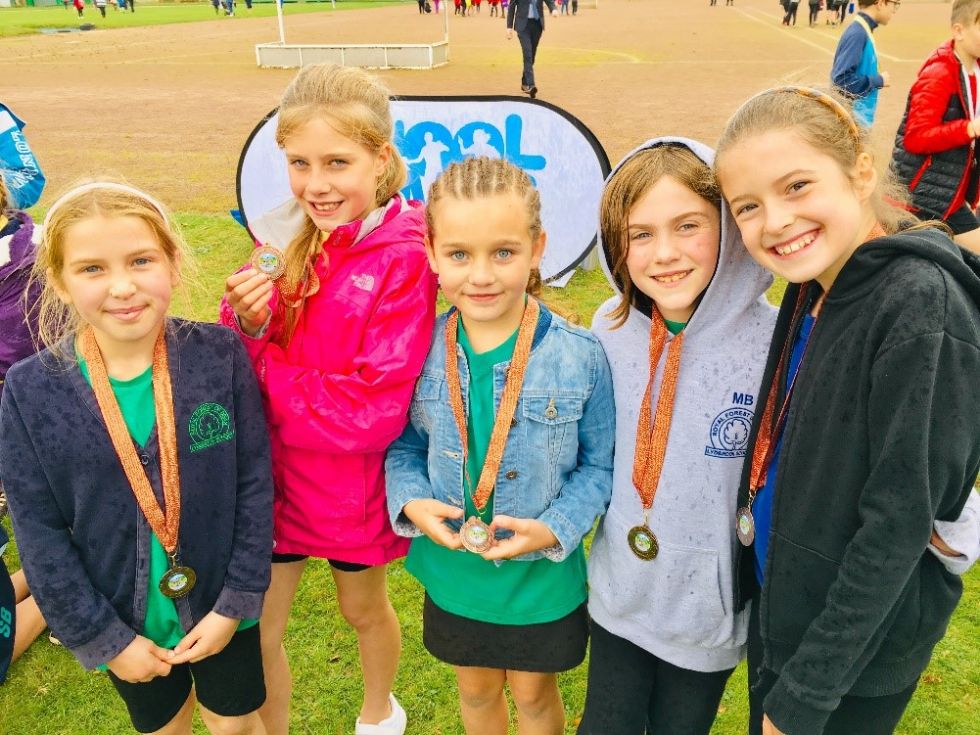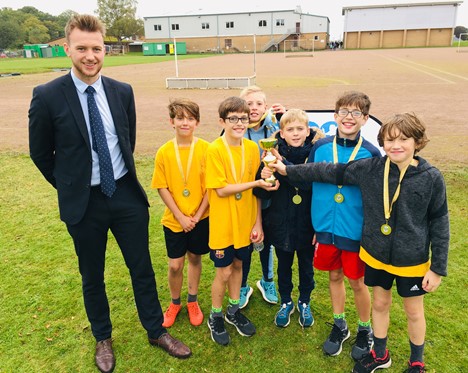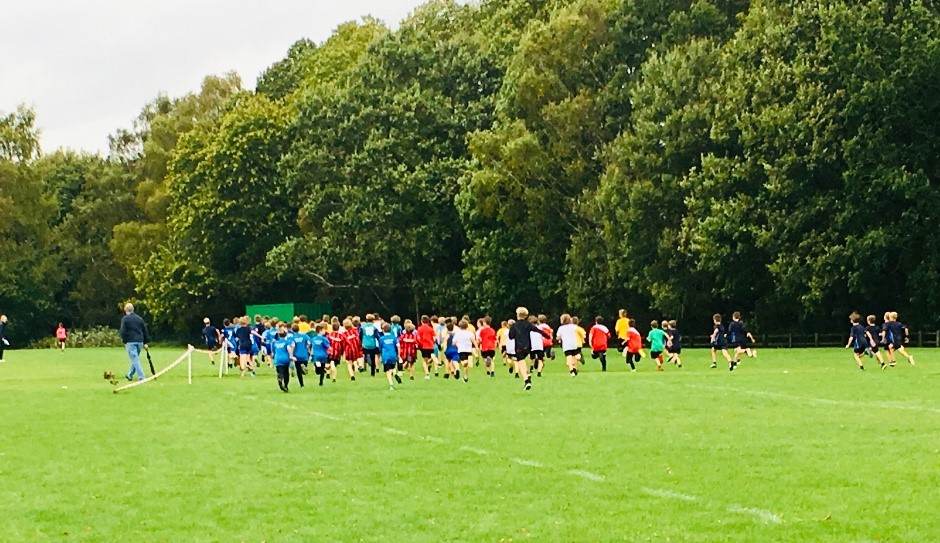 Active Maths: Continuing Professional Development 2019
Our School Games Organiser, Alan Beard, hosted a course for local primary teachers on Thursday 10 October 2019. The course was an introduction on how to engage students in Maths and English utilising physical activity within their lessons to stimulate and further engage student learning.
We had a good turn out of PE coordinators and teachers who attended from the following schools English Bicknor, Highnam, Mitcheldean, Coalway, Primrose Hill, Lydbrook, Berry Hill, Woolaston, Clearwell, Westbury and Hope Brook.
Big thanks to Active Maths tutor Kevin Barton and the enthusiasm from all staff who attended. It is great to support our Forest Schools with CPD opportunities at Dene Magna.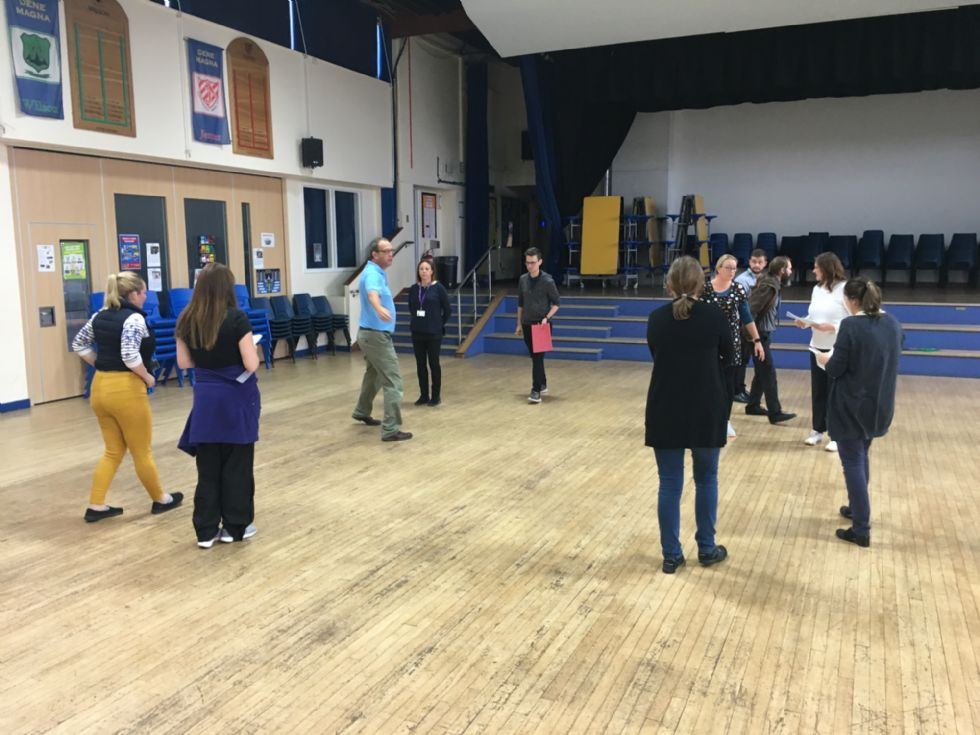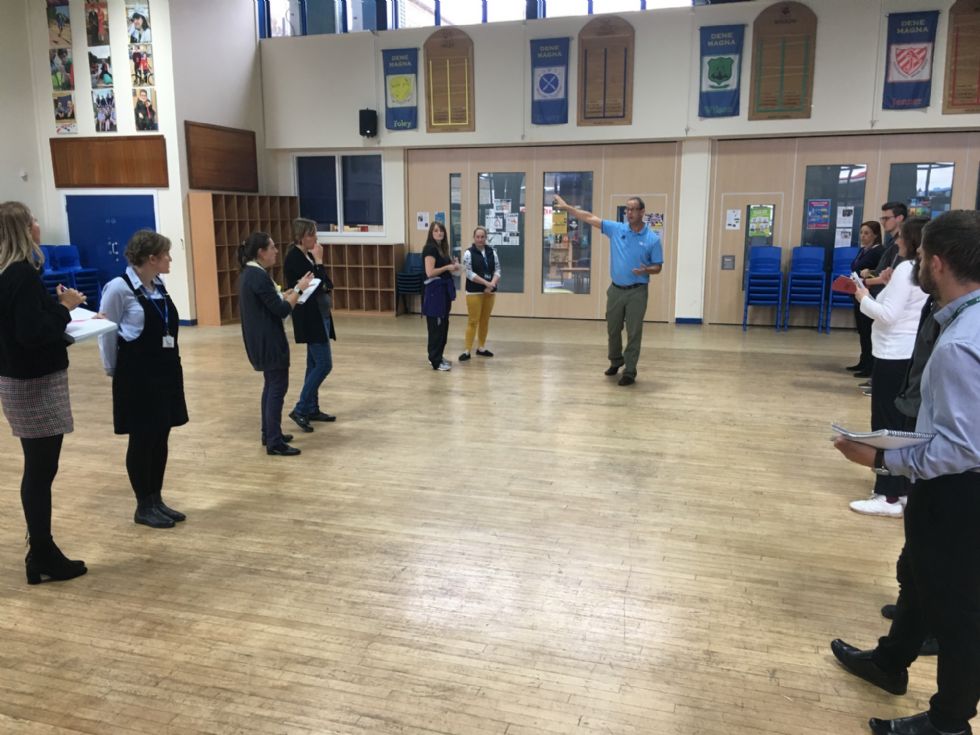 Primary Badminton Festival 2019
We ran our first Badminton festival for students from year 3 & 4 at various schools across our district on Wednesday 16th October 2019 at Newent School.
Campbell Wilson our Badminton national governing body relationship manager, FOD School Games Organiser Alan Beard and student sports leaders from Newent School ran a super engagement festival in the sports hall.
The students who attended really enjoyed the different activity stations for this Racket Pack Festival. They all tried out badminton related skills over the fun-packed afternoon, keenly assisted by the Newent sports leaders.
Many thanks to the Steve Edgell and the Newent PE team, Roger Stroud and Campbell for delivering this activity for interested schools. We look forward to keeping this on our Forest Games yearly calendar and we will be offering teachers further CPD to assist them within their school badminton.
Selection of photos: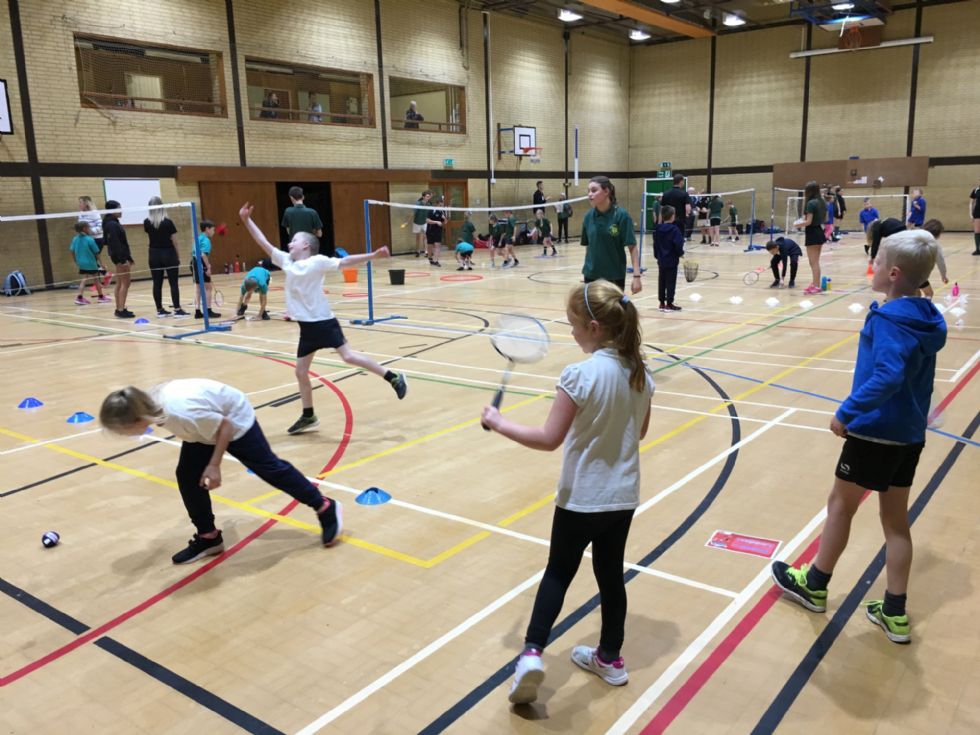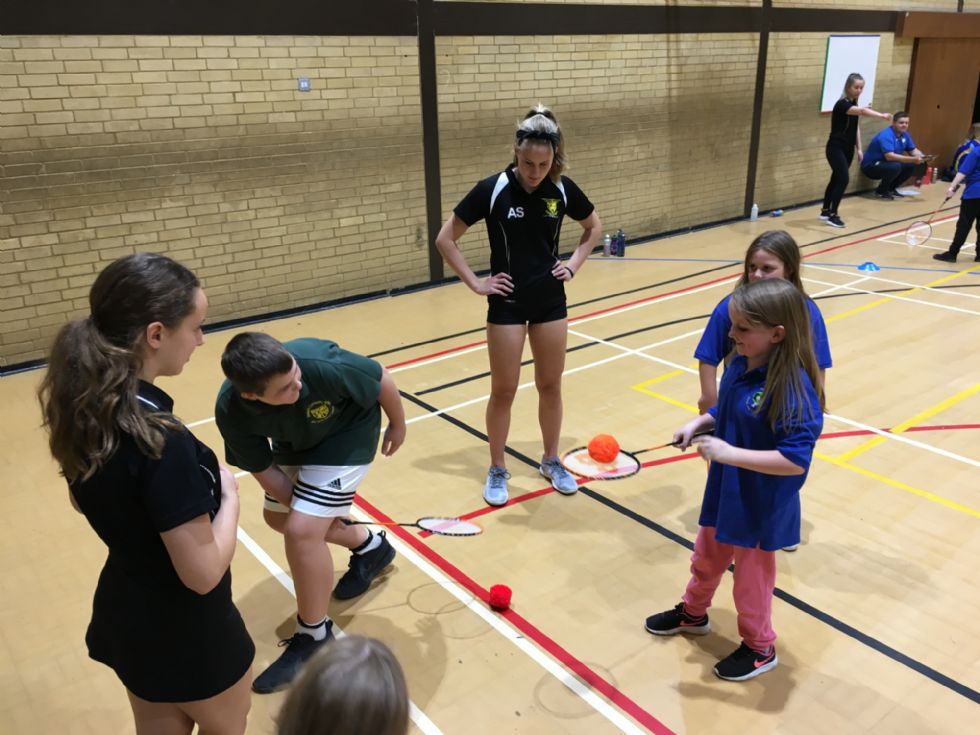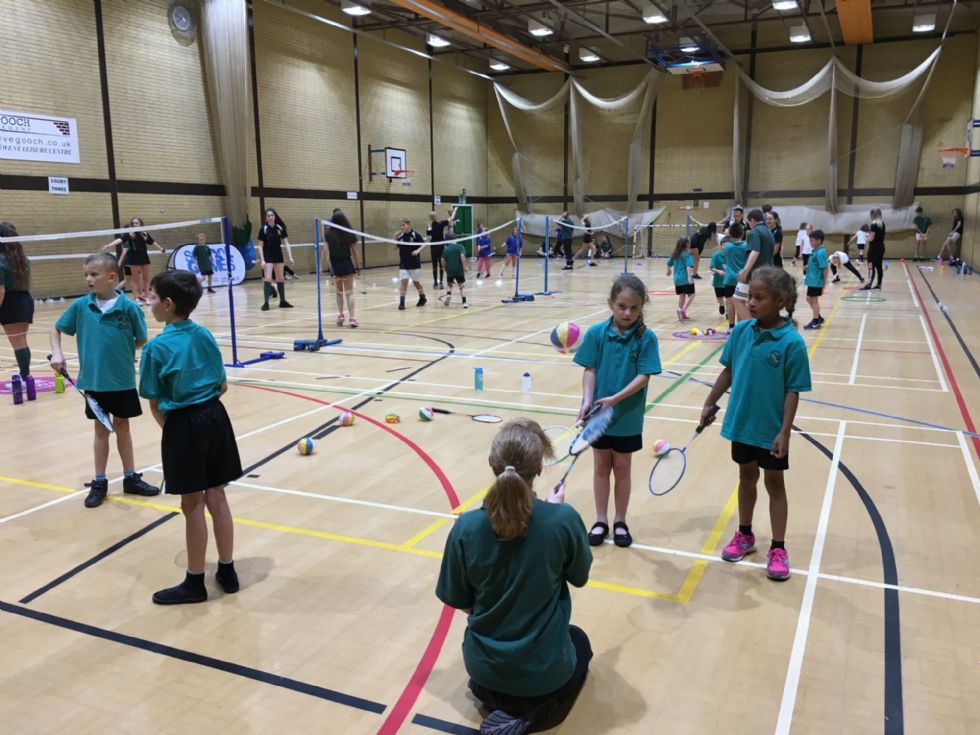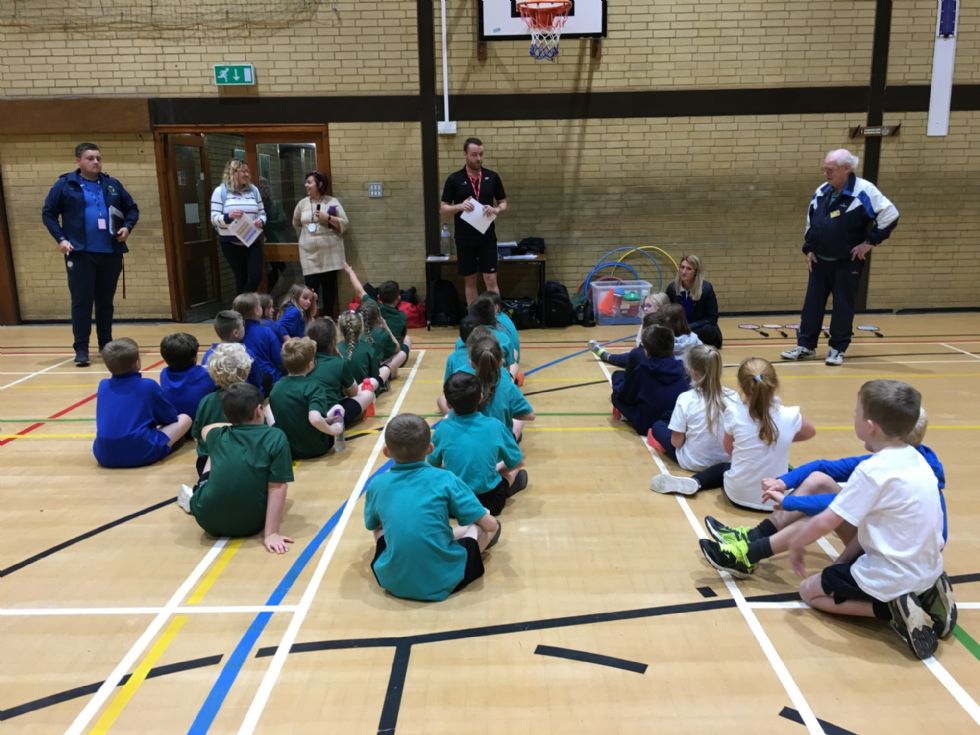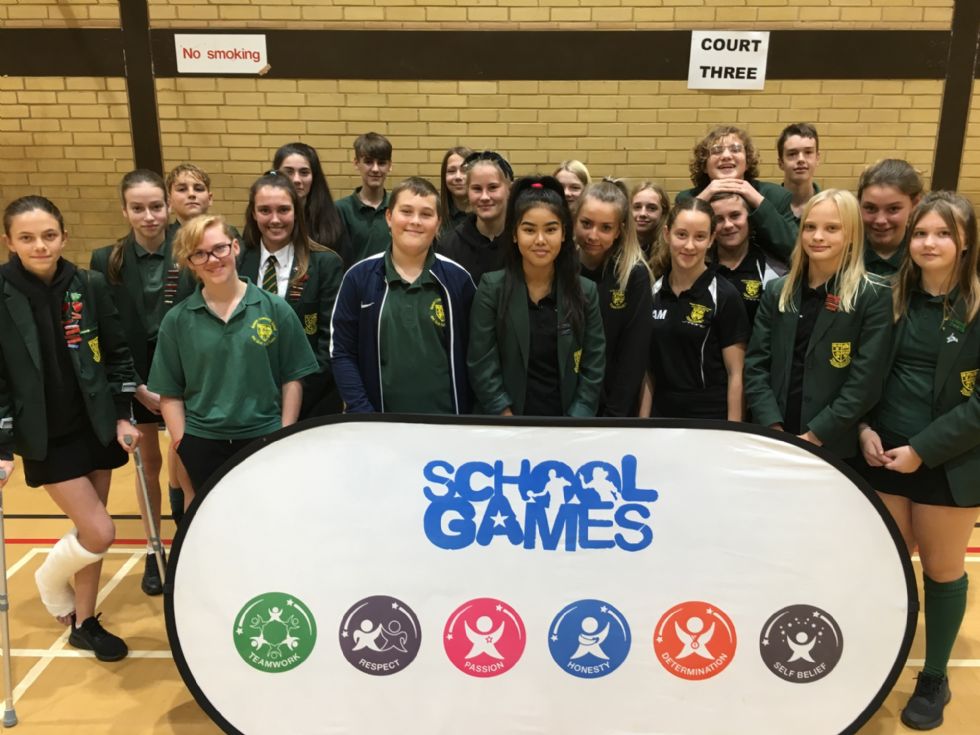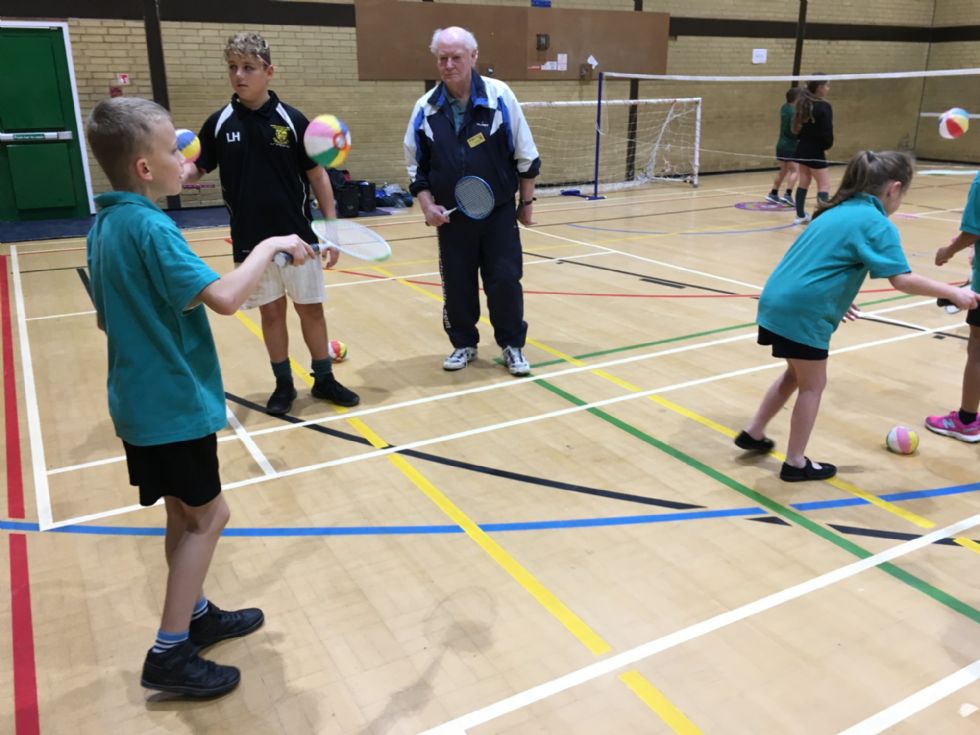 Primary Quick Sticks Hockey 2019
We held the North Area School Games Primary Quick Sticks Hockey Finals on Tuesday 12th November at Newent School.
My thanks you goes out to the Newent School Leaders who I feel did an outstanding job, it is not easy to see everything on the pitches and they looked after 43 matches during the event.
We were supported by Newent Hockey Club, especially Jane Price who helped the leaders and the standard of hockey improved as we progressed across the 17 rounds.
We got the eventual winners for the Lions Winners: Tibberton School who overcame Forest View in the Lions A teams finals 2-1.
The TIgers B teams were in 2 different pools with the pool winners St Whites B beating St Whites C team in a penalty shoot out
Well Done to the winning teams who go through to School Games County finals next year.
Hope Brook School came 3rd on points in both the Lions & Tigers combined groups.
The Pool Games points results:
Group A Lions
Tibberton 27 pts
Forest View 23 pts
Hope Brook 14 pts
Picklenash 13 pts
Newnham 12pts
St Whites 12pts
Ann Cam 9pts
Group 2 Tigers
St Whites B 20pts
Hope Brook 12pts
Ann Cam 9pts
Tibberton 9pts
Picklenash 8pts
Group 3 Tigers
St Whites C 20pts
Newnham 10pts
Soudley 10pts
Redmarley 7pts
Pauntley 5pts
Outstanding effort to all teams concerned.
Photos of Winners & Event:
Photos of the Event: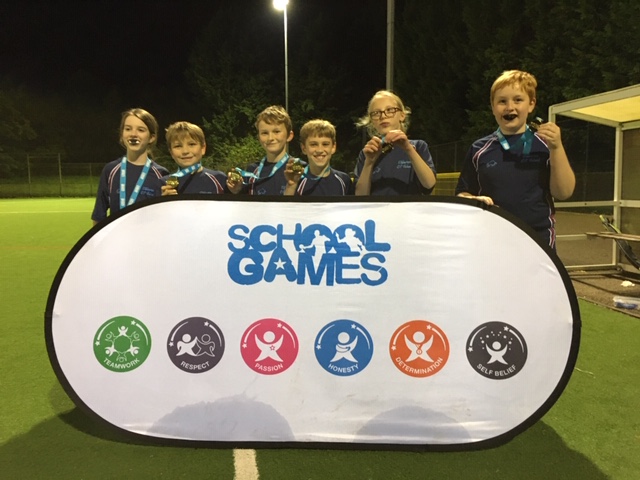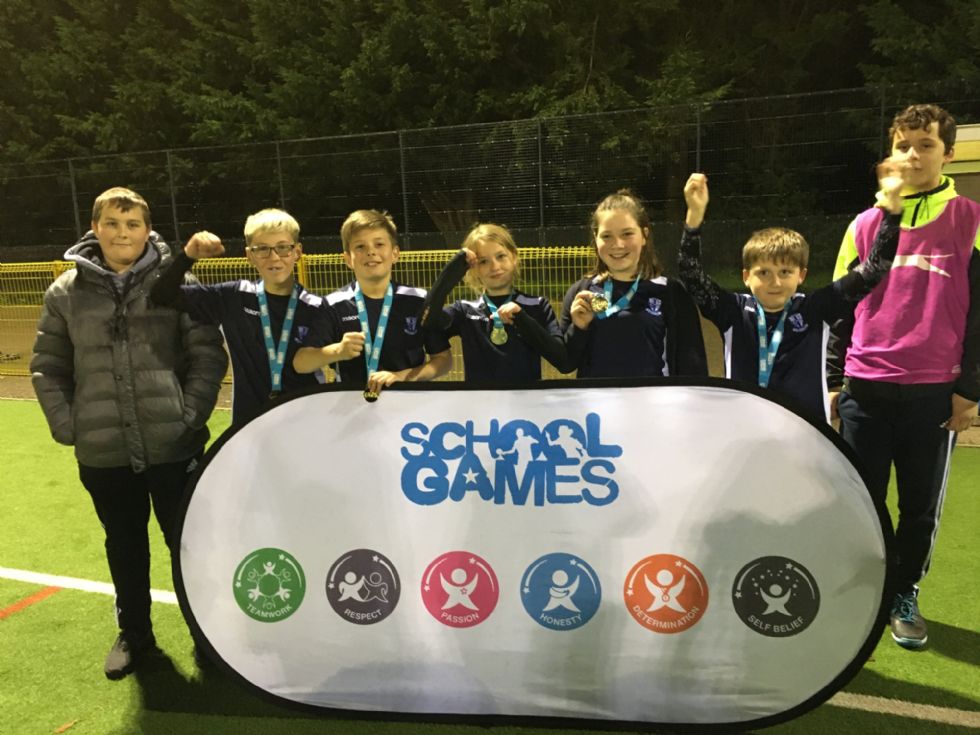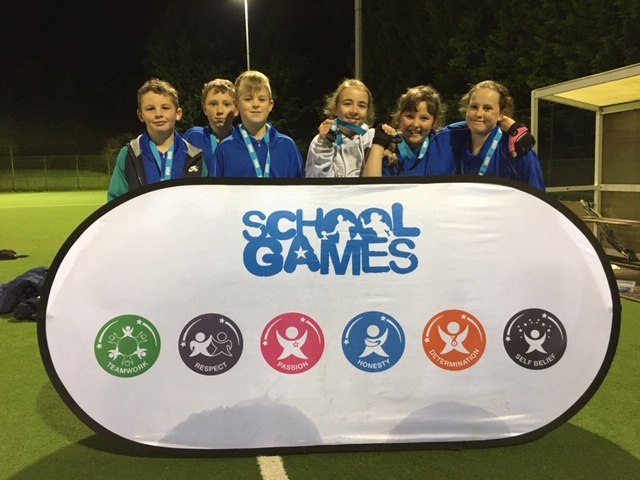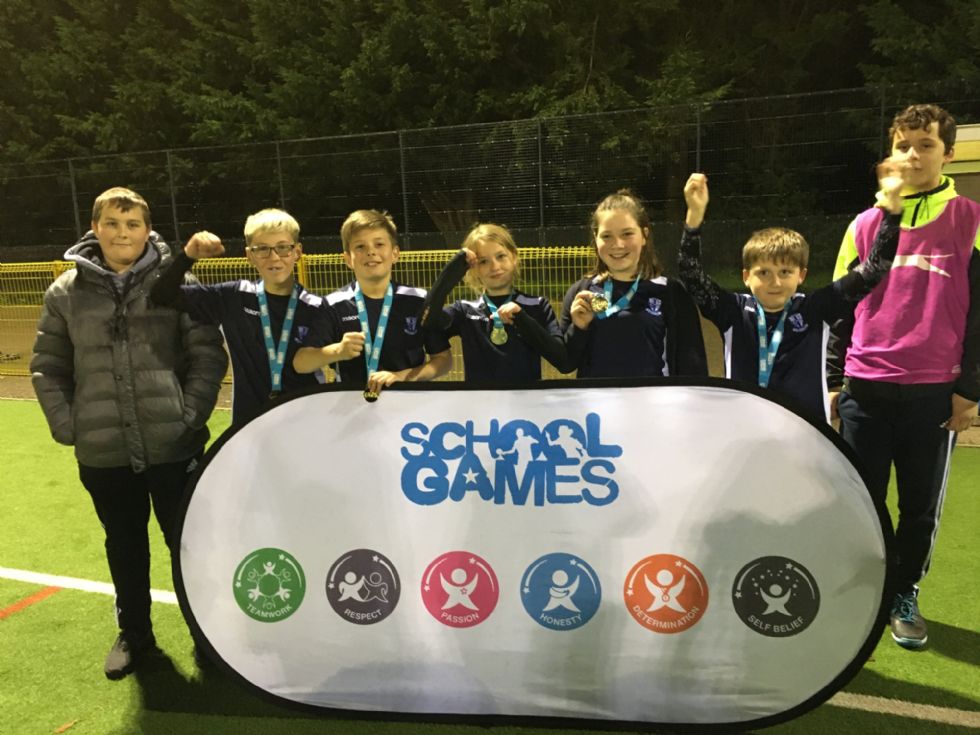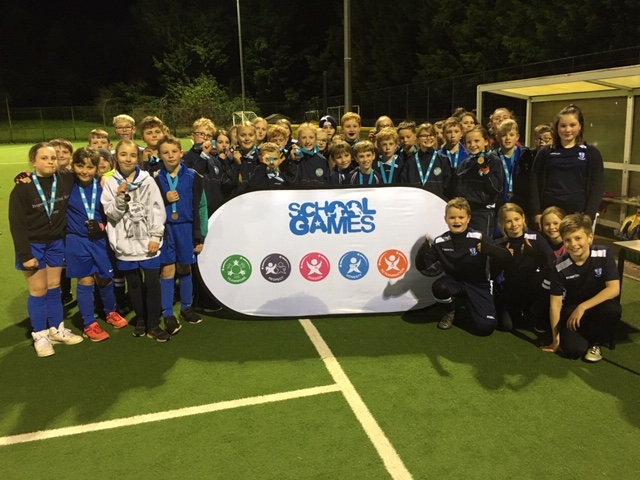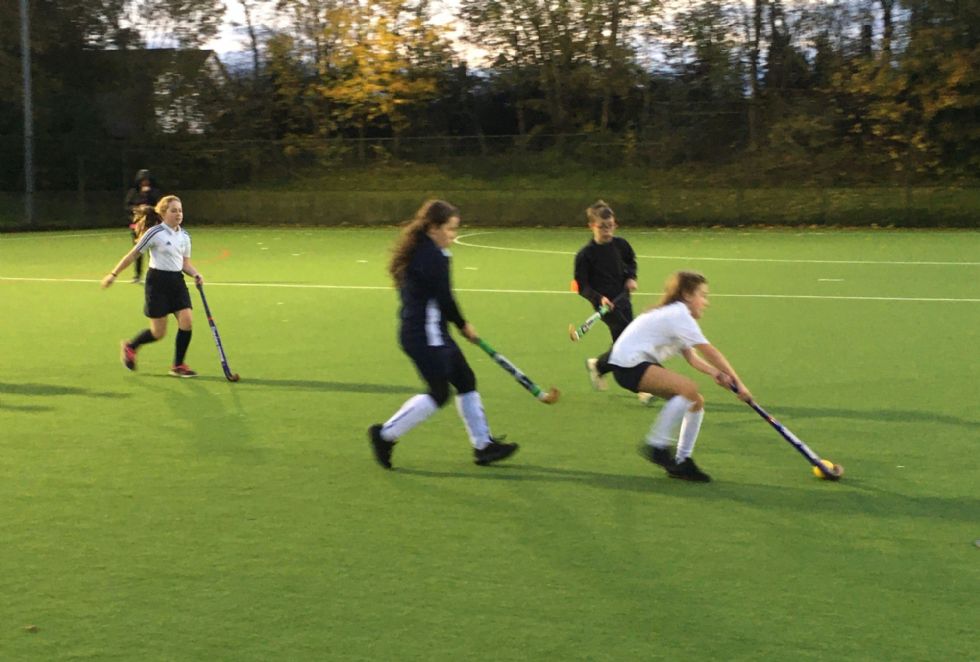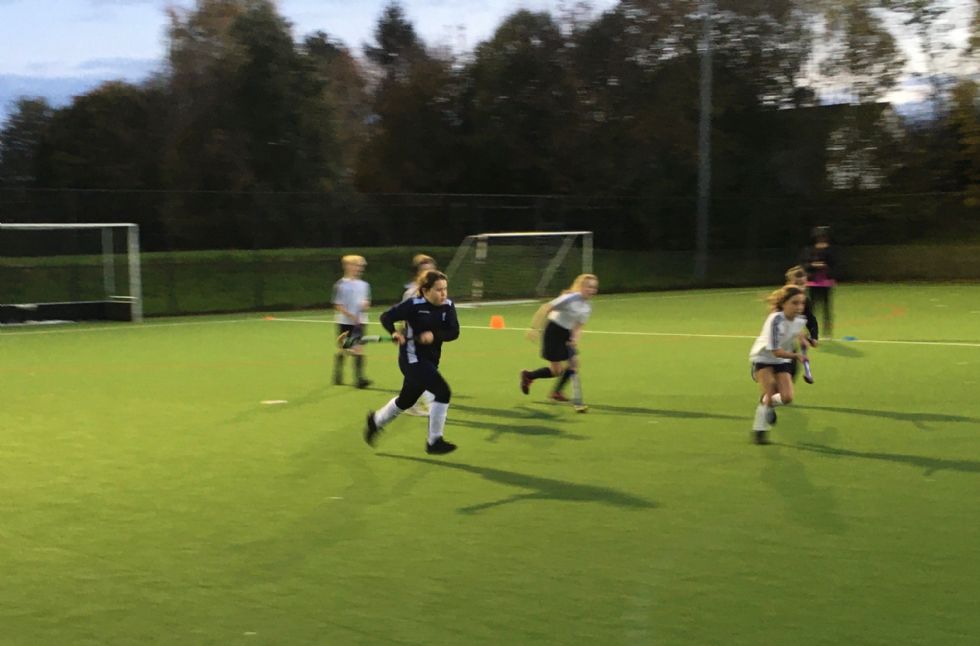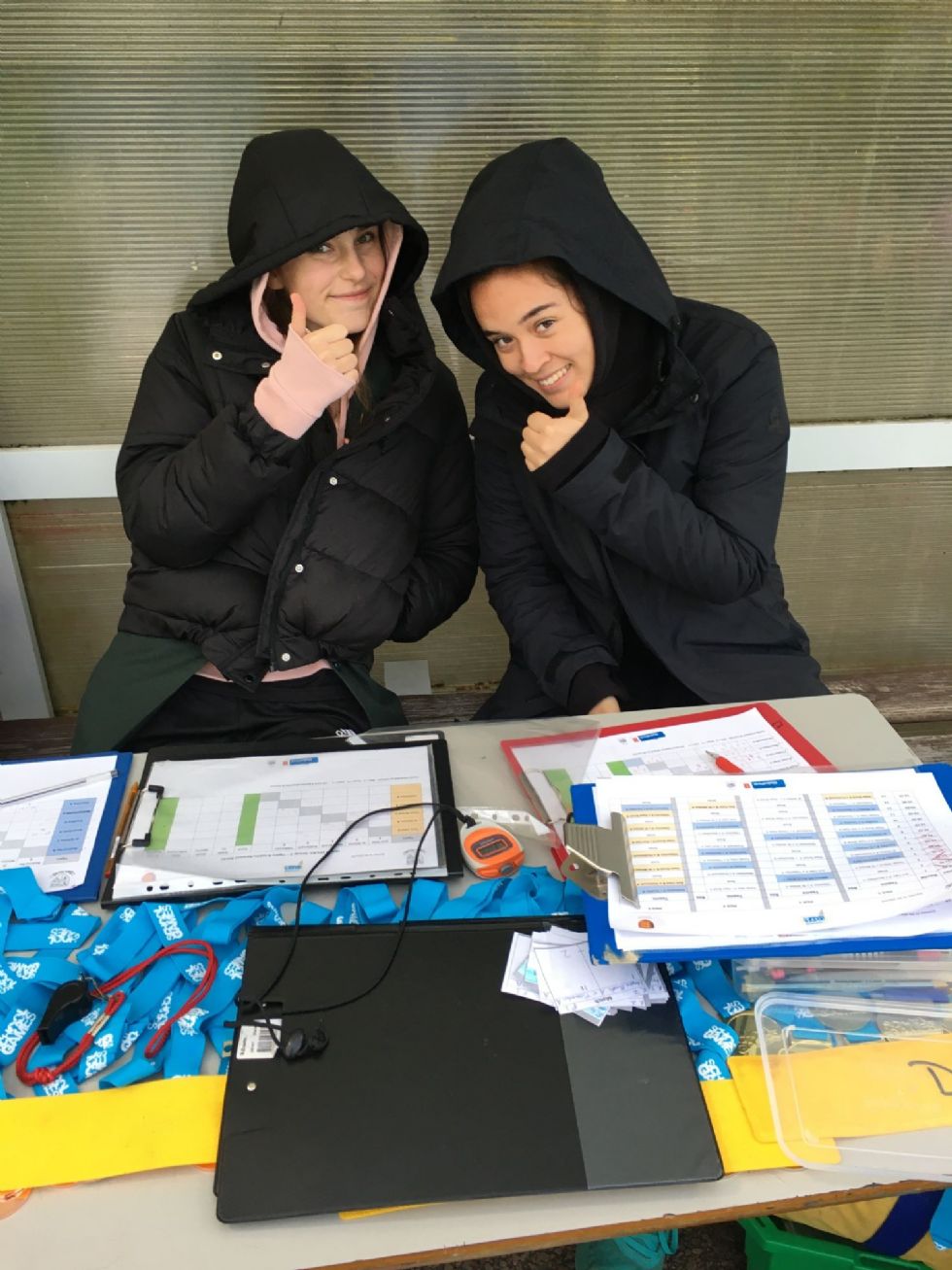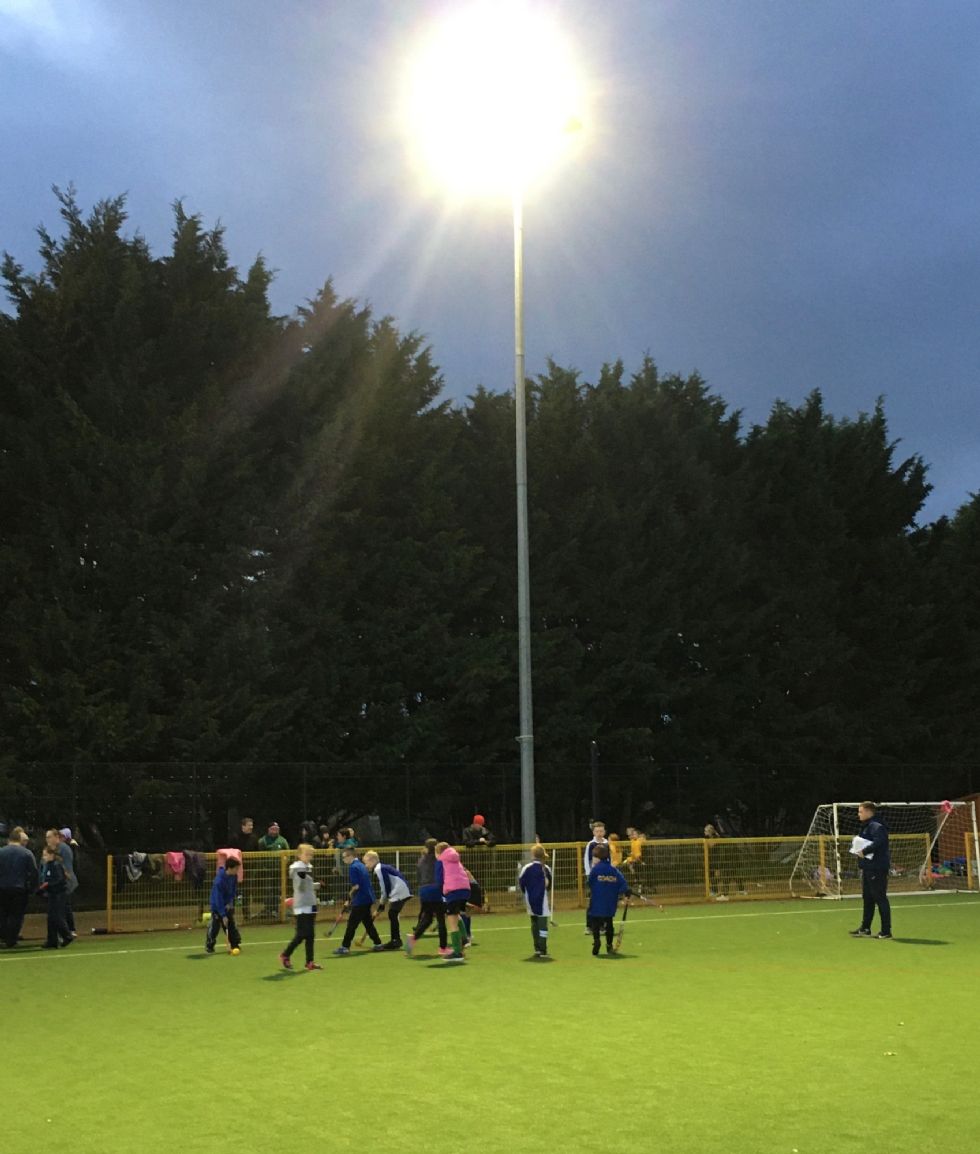 Primary South Gymnastics Jan 2020
We ran a South Area Primary Gymnastics on Wednesday 29th January at St Johns on the Hill for beginner Gymnasts. Big thanks go to the PE team at St Johns and Tracey from Welsh Gymnastics who offered their support so we ran a good School Games event in the south area. The scores were close this year with Yorkley and St Johns battling it out at the front.
My thanks to all the pupils who took part and all the help that was offered throughout the morning by all teachers.
The young Gymnast's showcase routine was outstanding.
The Results:
1: St Johns on the Hill (Cartwheels)
2: Yorkley
3: Lydney
4: Drybrook
5: St Johns on the Hill (Handstands)
6: Tutshill
7: Primrose Hill
8: St Briavels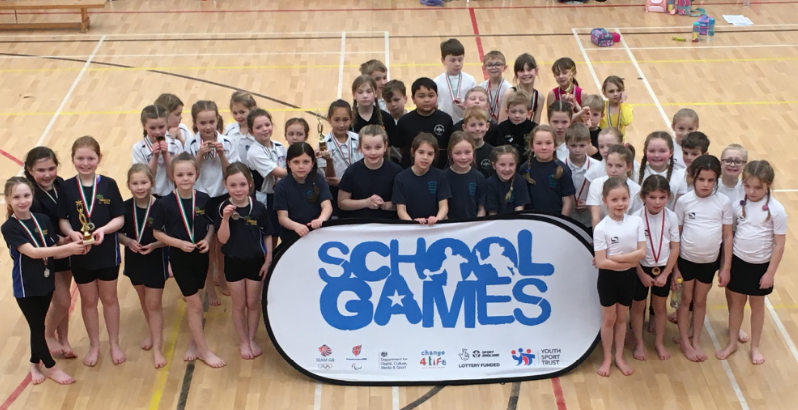 KS2 Girls Indoor Football March 2020
We held a North area KS2 Girls Indoor Football event at Newent School for the Forest Games. Our thanks goes out to Steve Edgell, head of PE and his Newent leaders Josie, Toby and Ruby who supported the event.. We saw some very good football and well done to Mitcheldean & Highnam, worthy finalists who go through to the Forest Finals in March against 2 teams form the south forest area on Thursday 26th March.
The North Results
Mitcheldean Points 20 1st
Highnam Points 13 2nd
Ann Cam Points 12 3rd
Picklenash Points 9 4th
Westbury Points 4 5th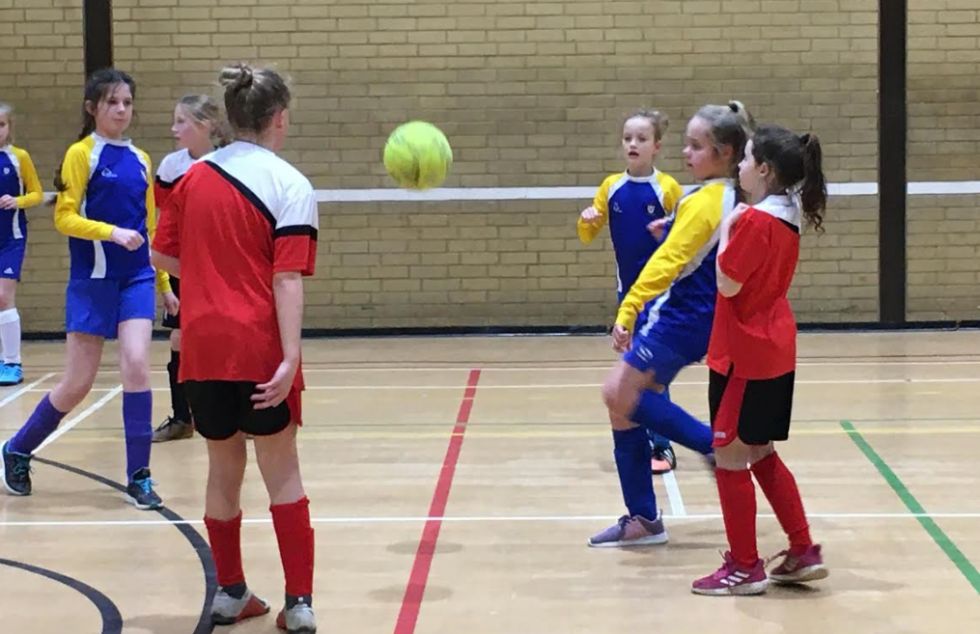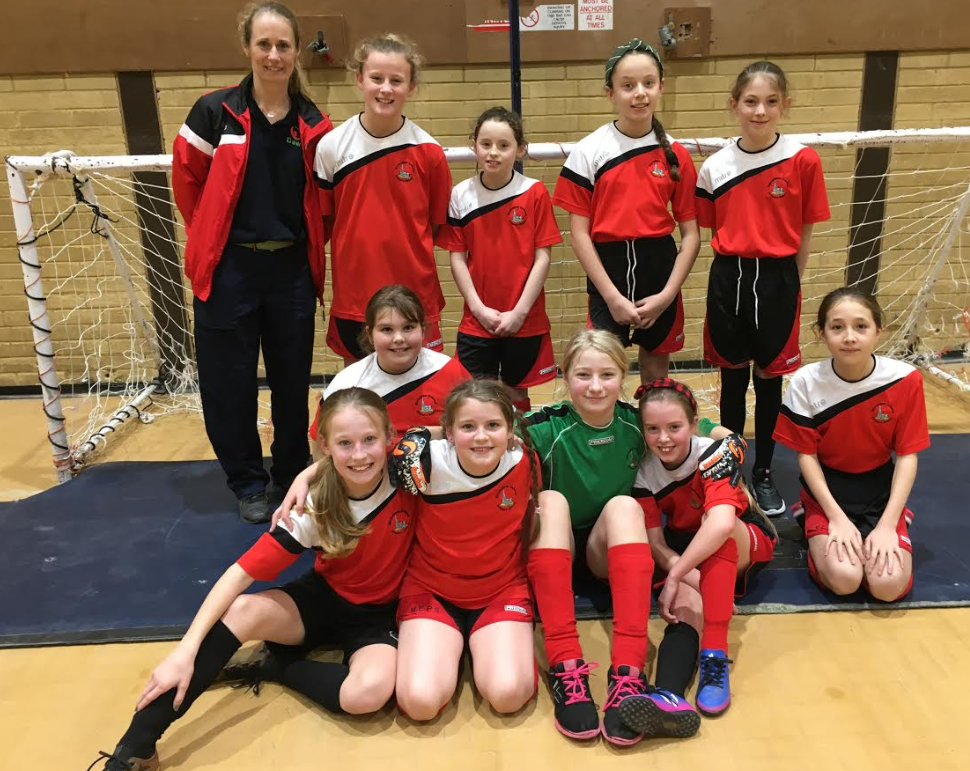 New Age Kurling Jan 2020
New Age Kurling 2020
We Held a Primary New Age Kurling Event at Newent School on Thursday 9th January. Many thanks for all the teams taking part, we had lots of teams, lots of games but all seemed to have some fun along the way. I wish we did not have to have winners for this type of event, however, it is a pathway School Games event, please thank all the participants and celebrate all their performances.
Thank you to all the people who made the event happen and thanks go to the Hartpury College and Newent School Students and Andy Wheeler for the table cricket.
Well done to the 3 winners from the 3 groups, Hope Brook, Tibberton and St Whites all with 21 points. Their final rounds the results:
Overall:
1: St Whites A 7
2: Hope Brook B 4
3: Tibberton 3
St Whites and Hope Brook will go onto the Finals on Thursday 23rd January at Cheltenham Ladies College.
Group Scores:
Group 1: Won Scores Position in Gp
Highnam 1 9 5
St Whites B 3 19 2
Ann Cam A 3 18 3
Hope Brook B 4 21 1
Yorkley A 2 9 6
Newnham A 1 10 4
Group Scores:
Group 2: Won Scores Position in Gp
St Whites A 4 21 1
Ann Cam B 1 11 5
Picklenash A 2 14 4
Primrose Hill 1 9 6
Drybrook B* 2 14 3
Tutshill A 2 15 2
Group Scores:
Group 3: Won Scores Position in Gp
Picklenash B 1 10 6
Hope Brook B 2 14 2
Tutshill B 1 12 5
Tibberton 4 21 1
Drybrook B 2 3 4
Yorkley B 2 14 3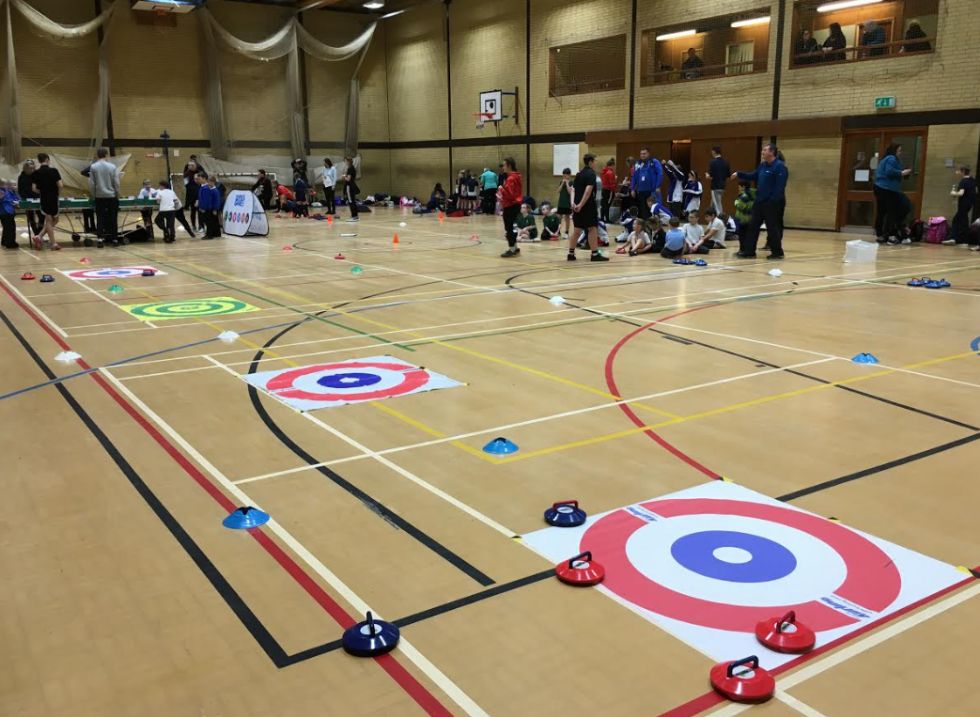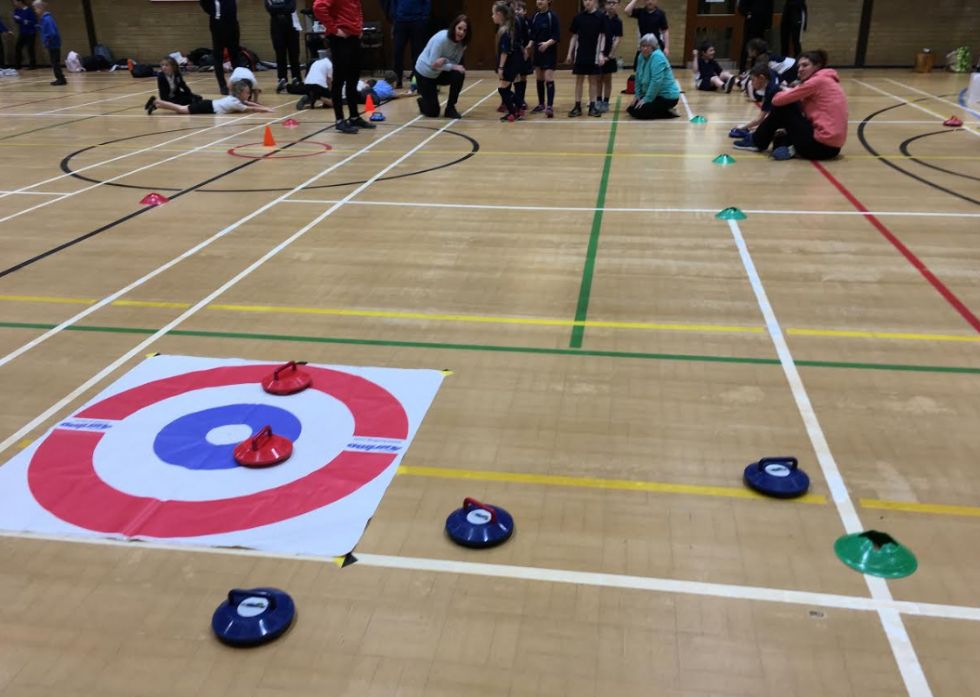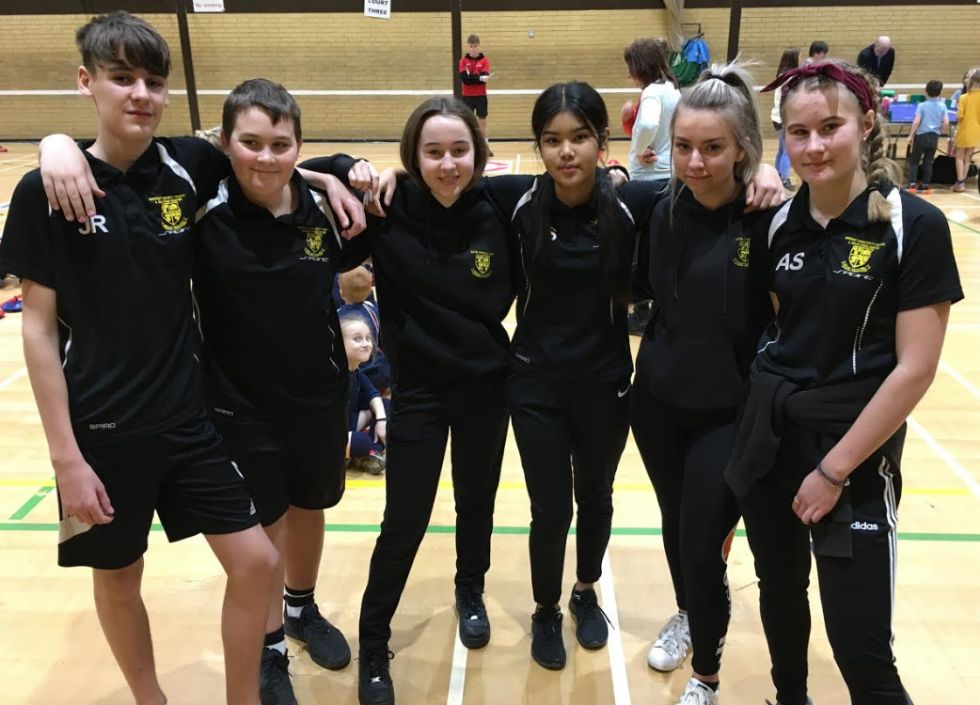 Sports Hall Athletics 2019
Sports Hall Athletics Large and Small Teams Forest of Dean Results 2019
We had 25 Schools attending Sports Hall Athletics at Forest High School on Thursday 12th December. What an effort by all the Small and Large Schools in the area.
Alan Beard the SGO would like to thank the Forest High School & Freedom Leisure, Adam & the leaders from Hartpury College & Dene Magna who all worked very hard over the whole day to make this a superb event.
Well done to all the teams who took part:
The top 3 Large teams this year:
1st Coalway
2nd Forest View
3rd Tutshill
The top 3 Small teams this year:
1st Hope Brook
2nd Lydbrook
3rd Primrose Hill
Coalway & Hope Brook will go through to the Games finals Thursday 23rd Jan at Cheltenham.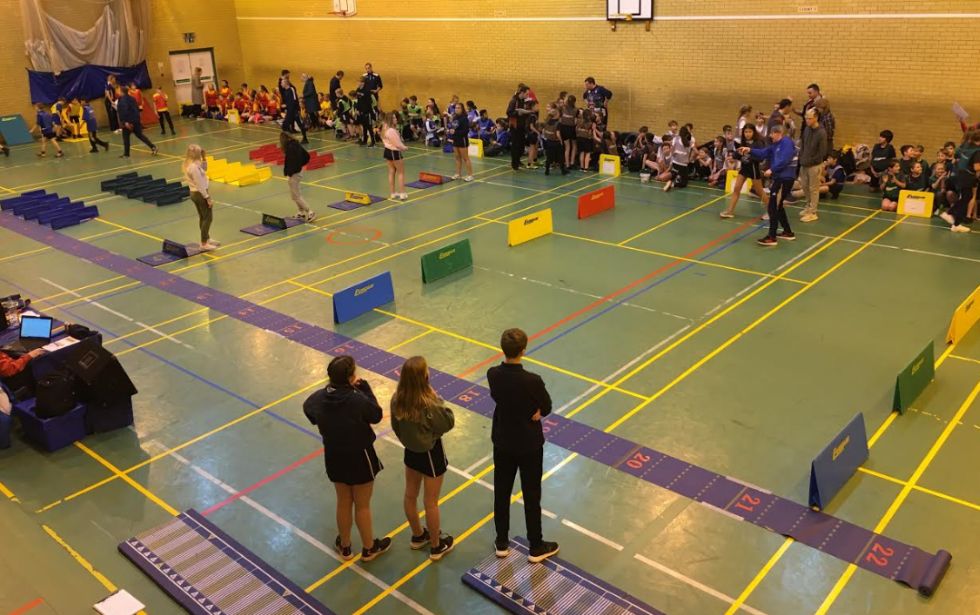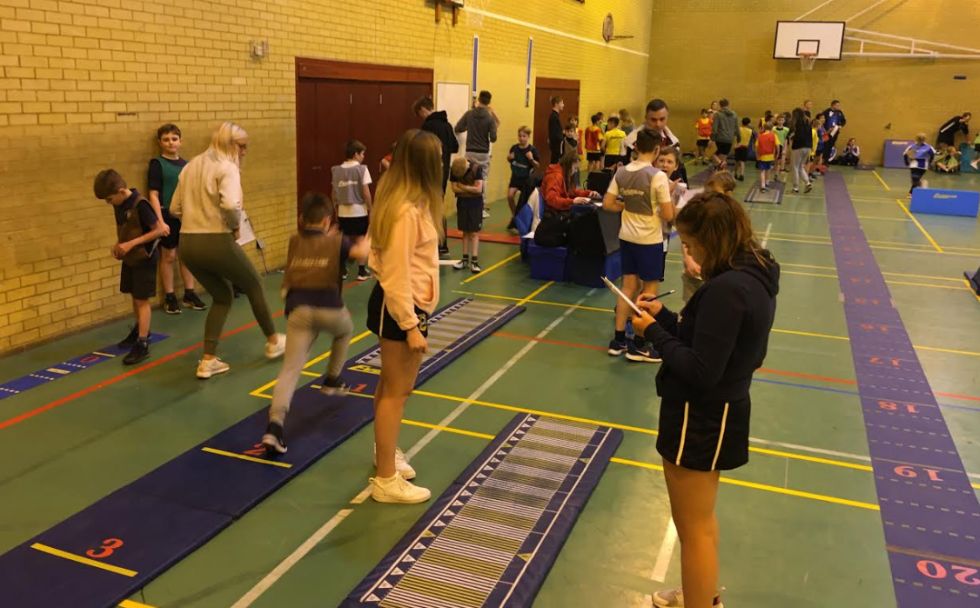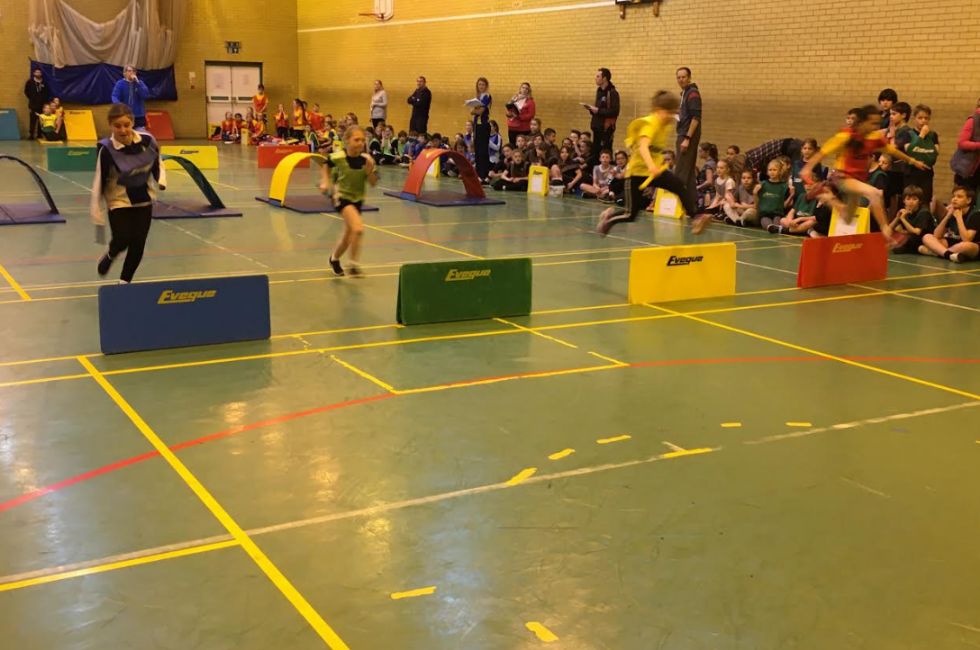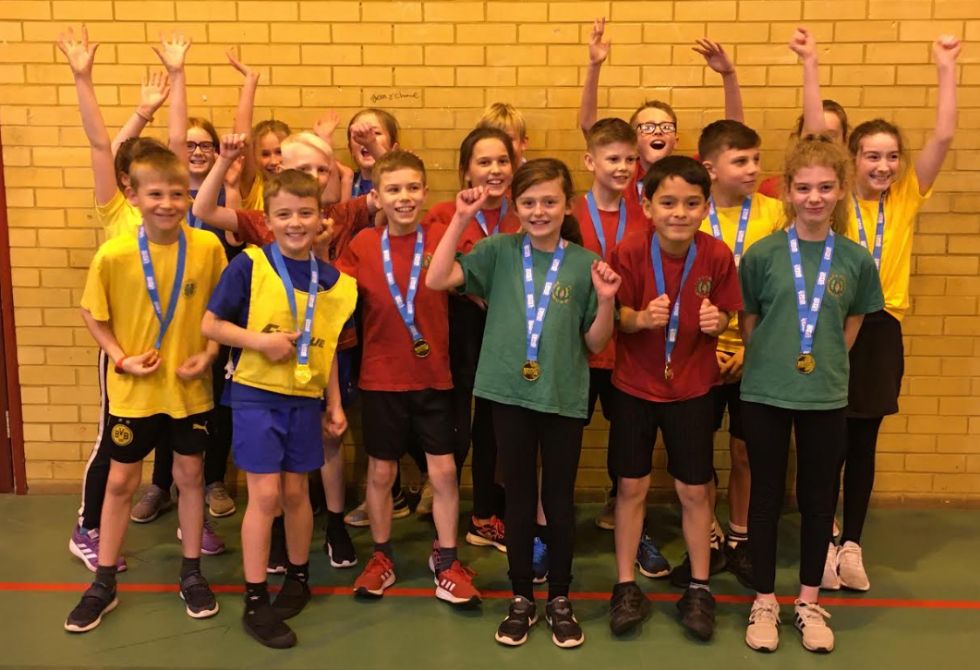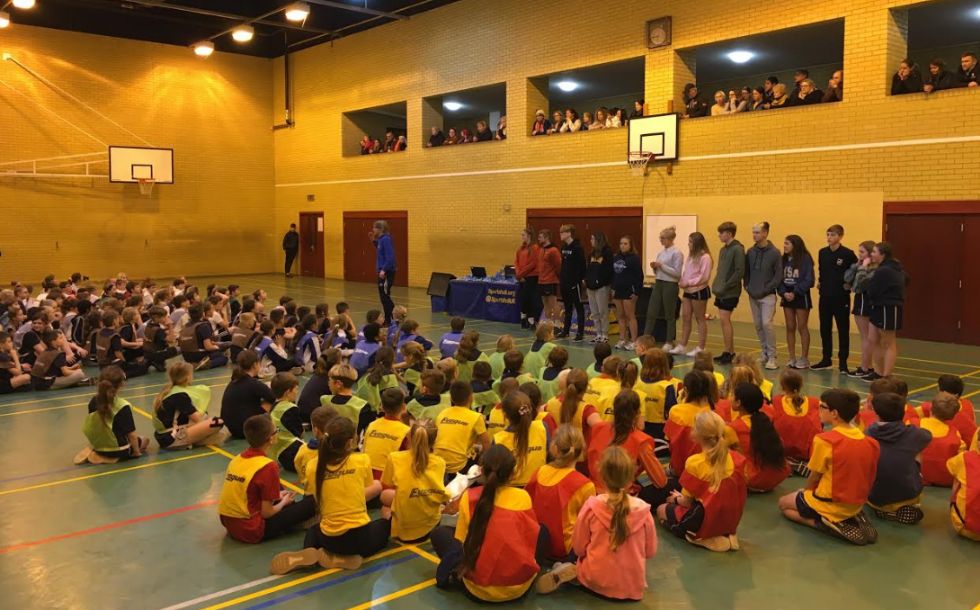 Individual Forest of Dean Primary Cross Country Feb 2020
We held the Forest of Dean Primary Cross Country Race to selection 40 runners to go through to the county finals in March.
The course was sent up at Newent School on Wednesday 22nd January with the support of marshalling from Newent students and we held 4 races with 10 runners being selected from each in the Yr 5 & Yr 6 Boys and Girls races. We had over 180 pupils attend from 18 Primary Schools.
It was very competitive and lively afternoon and the ground was very muddy which was a challenge for the runners.
The runners who advance from this race will join this year's Primary Cross Country County Championships at Katherine Lady Berkeley's School, Wotton-under-Edge on Saturday 29th February where Alan Beard our School Games Organiser will be the FOD team manager.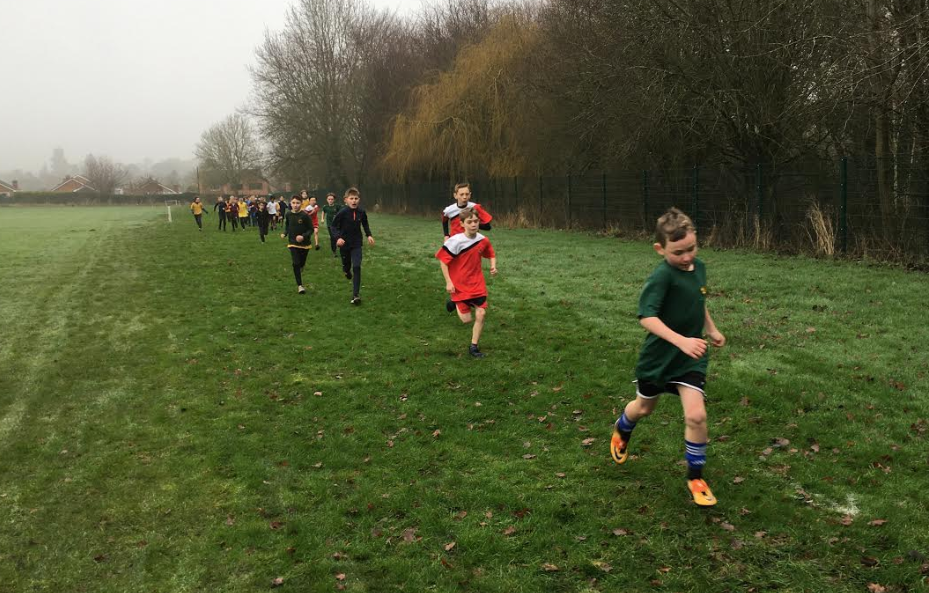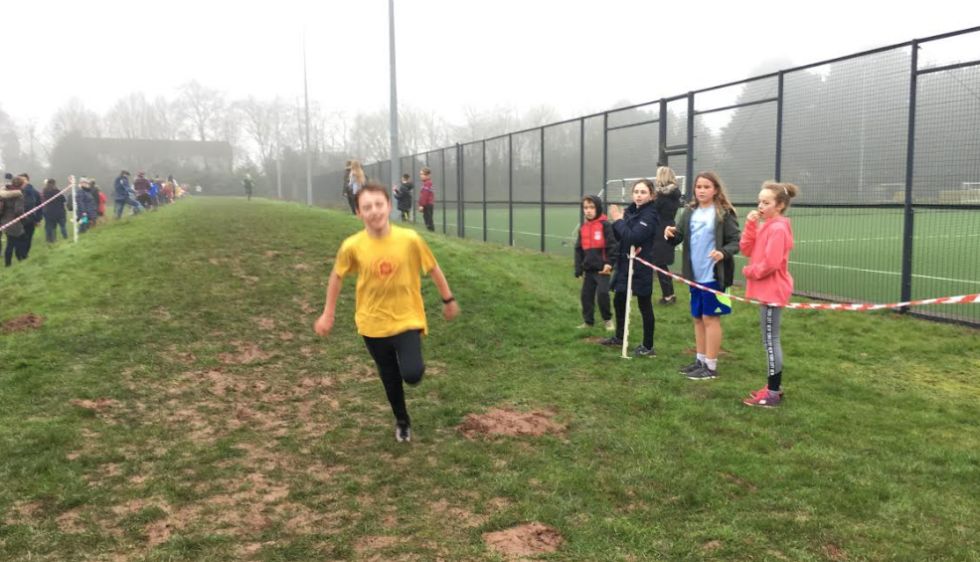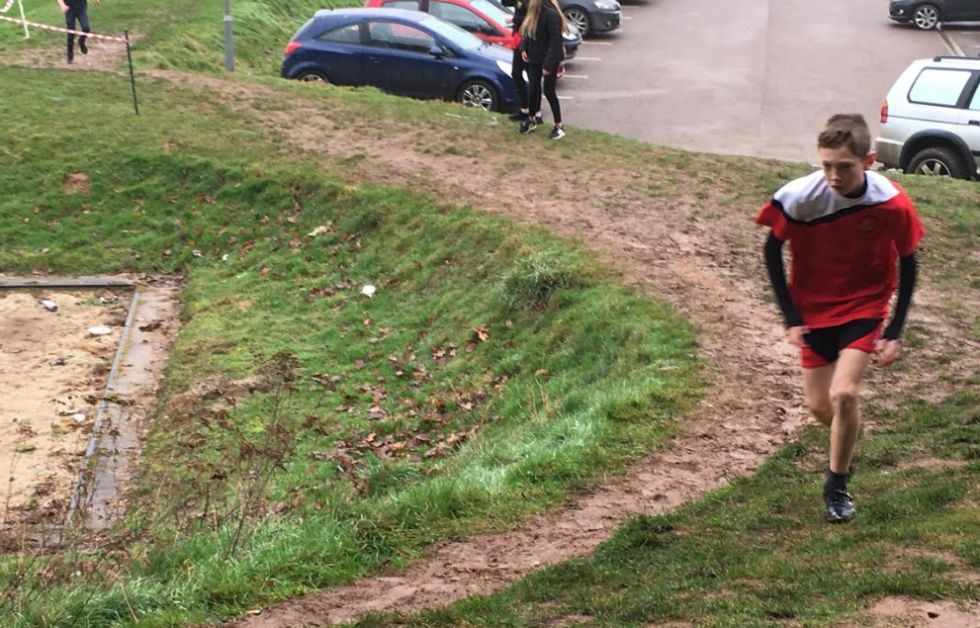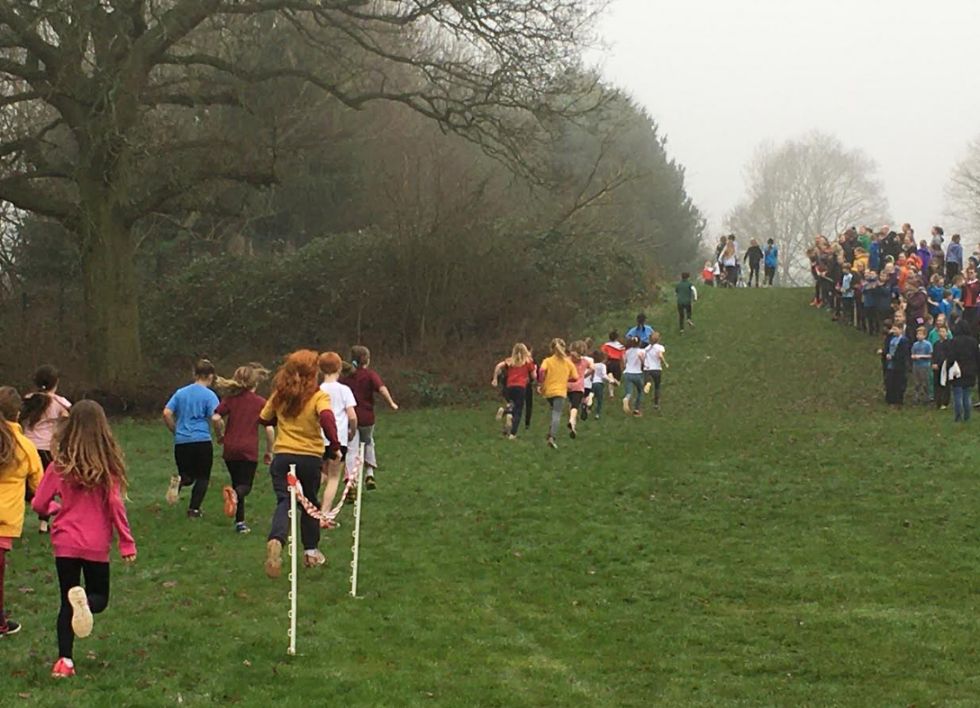 Secondary Table Cricket Finals Jan 2020
SEN Secondary Table Cricket at The University of Gloucestershire
Dene Magna sent a team to the county table cricket championships at the University of Gloucestershire on Monday 20th January.
The team played so well together and encouraged each other to play well against other schools across Gloucestershire. It was a close run result and Dene Magna came out on top, they were worthy winners with most runs scored as they now go forward to the regional finals at Edgbaston Cricket Centre in April.
Special thanks should go out to the students who took part for the school and the support staff, Mrs Berry, Mrs Greene, Miss Watkins, Miss Dews and Mr Sherwood & Mr Beard who supported them throughout.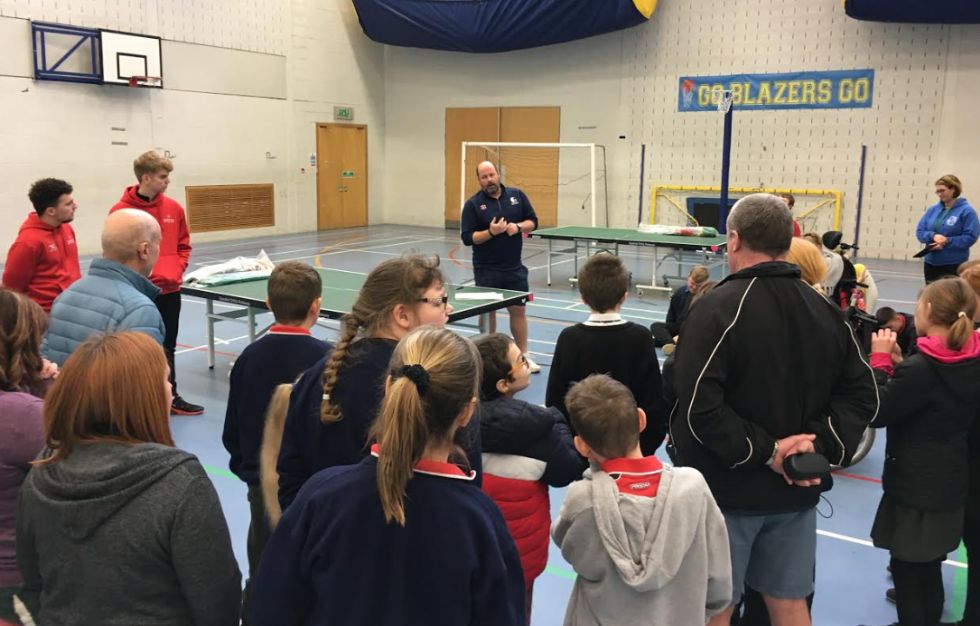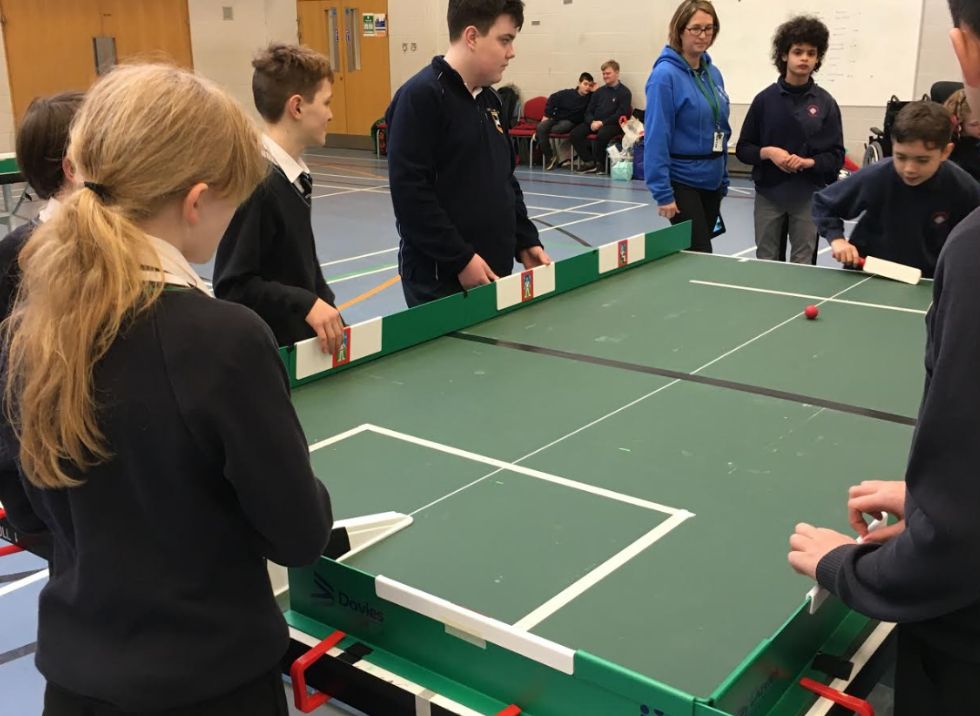 Dene Magna Receive Wheelchair Rugby Session Jan 2020
Gloucester Wheelchair Rugby Coming into Dene Magna
On Wednesday 29th January Matt Lydiard the Wheelchair Rugby Coordinator from Gloucester Rugby came into our School and brought over a van full of Wheelchair Rugby chairs after being invited in by our School Games Organiser.
Our Sports GCSE students and a few other lucky students took part in the engagement sessions with the PE Dept to try this former Paralympics sport. Gloucester now have a disability team called the Titans but also offer taster sessions in the community to show off the game and highlight their good work. Our students really enjoyed the game and the whole experience and we look forward to having them return in the near future.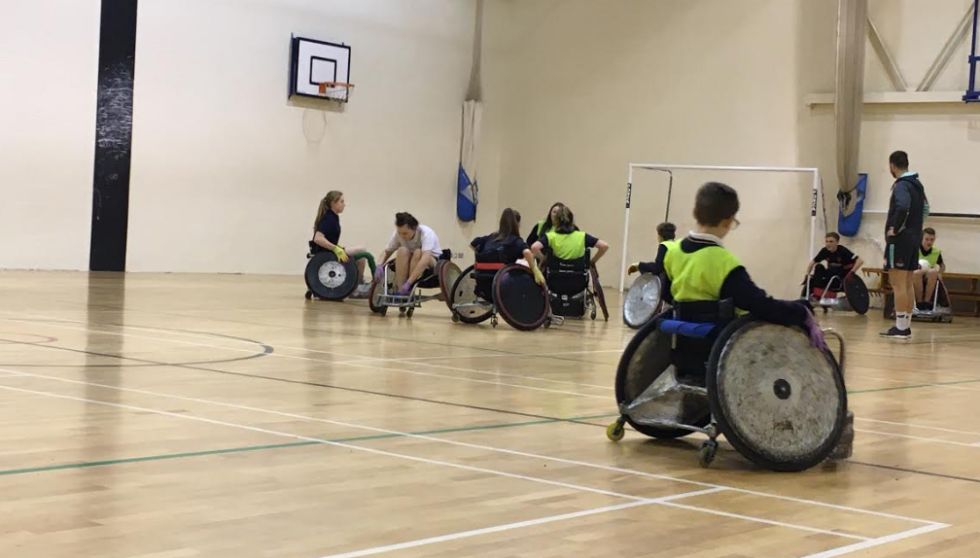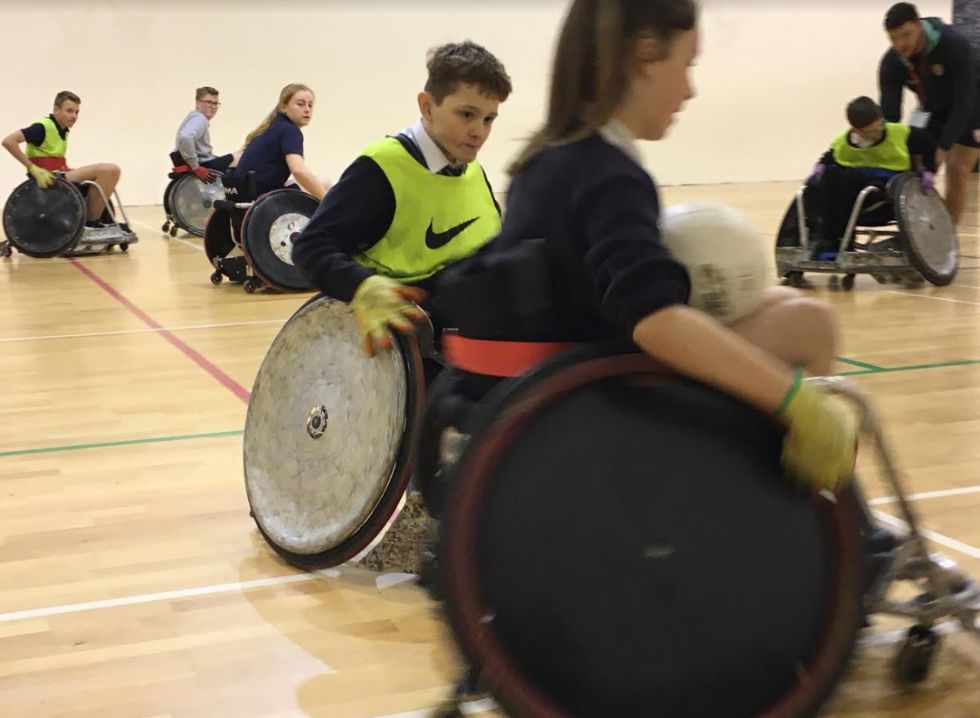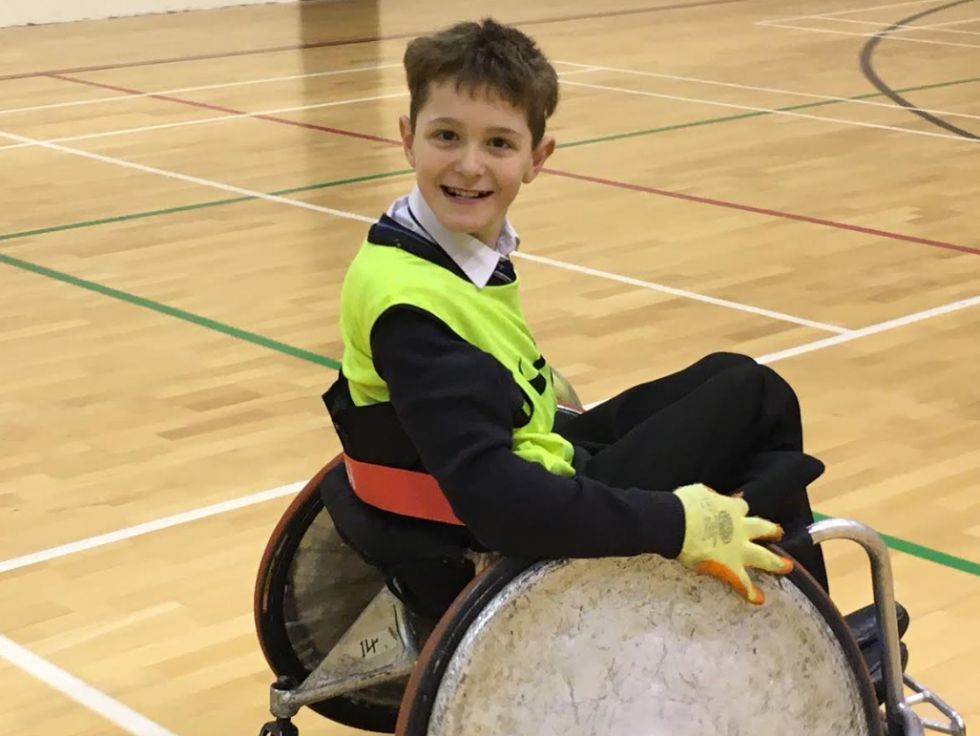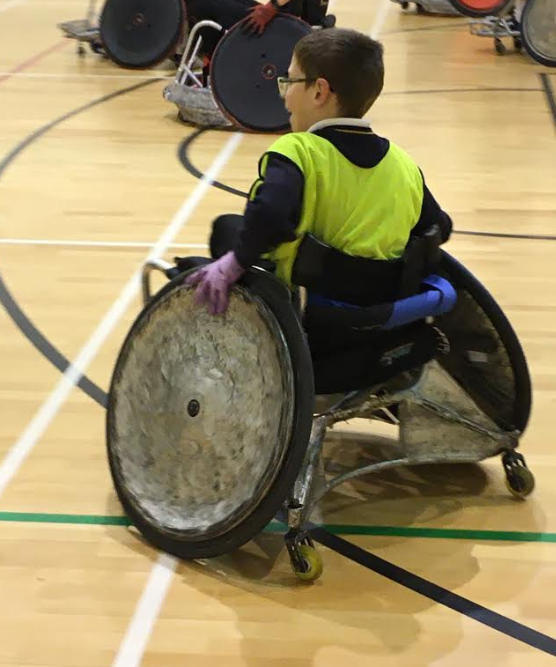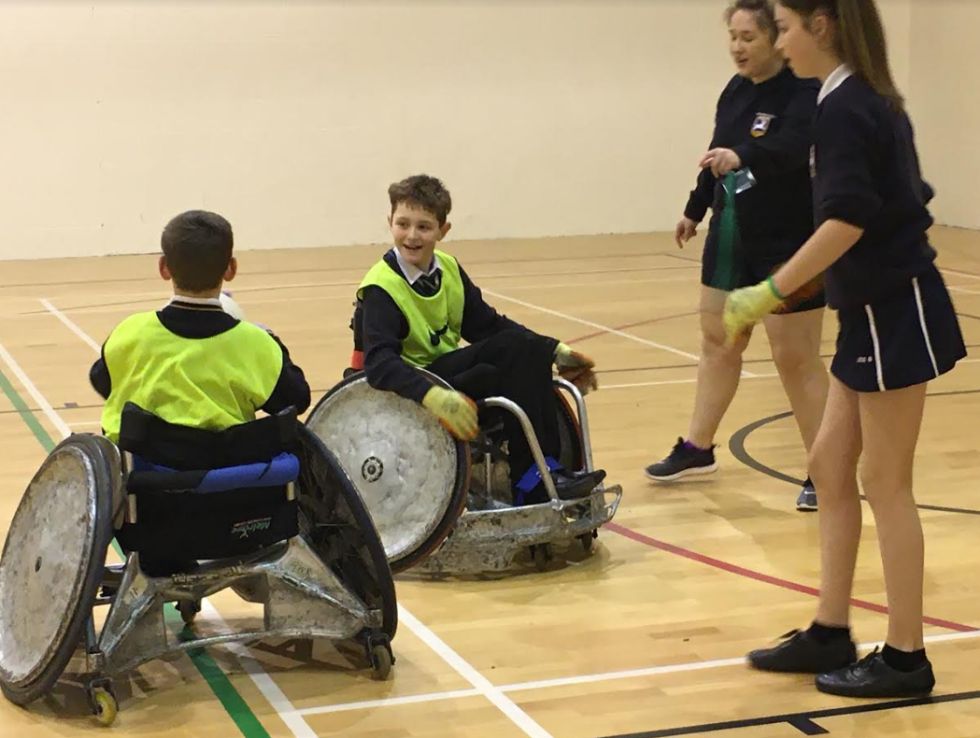 KS1 Cricket Festival Feb 2020
We held a KS1 Cricket World Cup Festival on the 5th February at Dene Magna School for 8 Primary School pupils. The event was run by Gloucestershire Cricket and supported by our SGO and Dene Magna students.
The pupils from Schools, Highnam, Pillowell, Blakeney, Forest View, Picklenash, Yorkley, Lydbrook and Mitcheldean were put through their paces trying cricket related activity in the Sports Hall. Great thanks to Gloucester Cricket and the Dene Magna student leaders.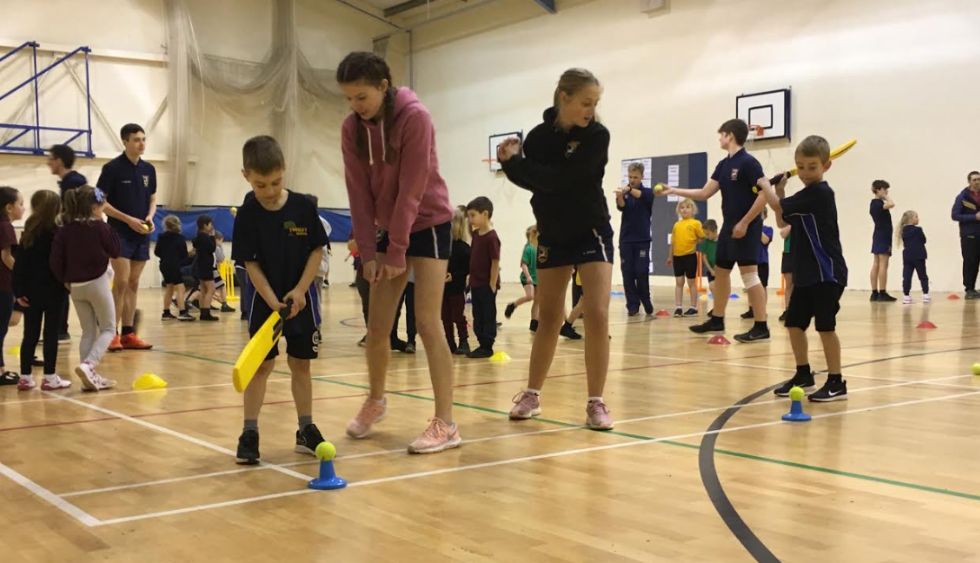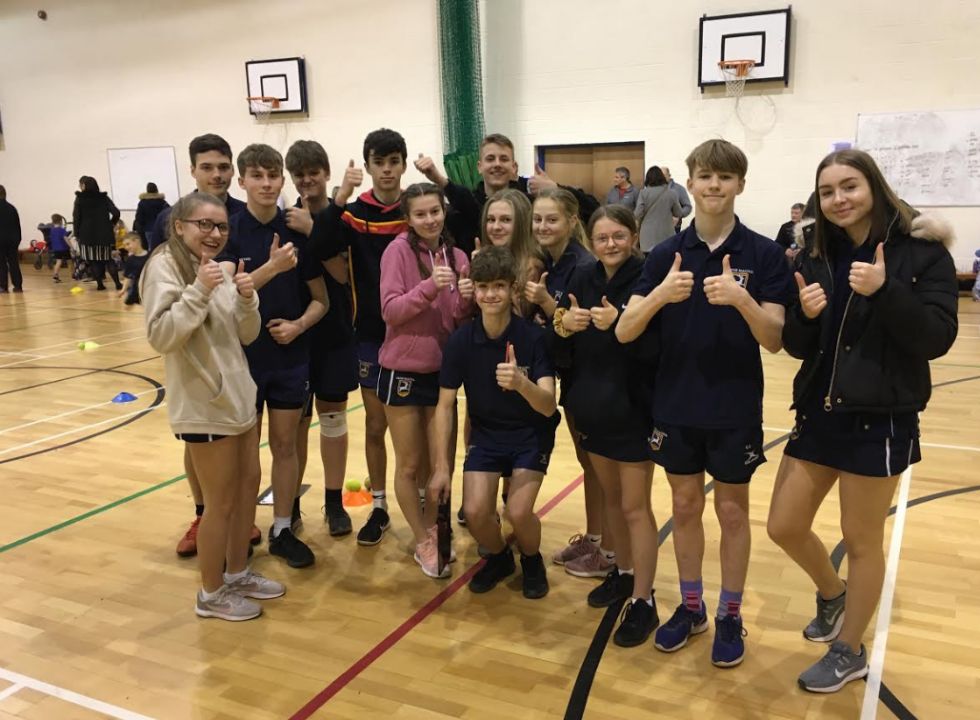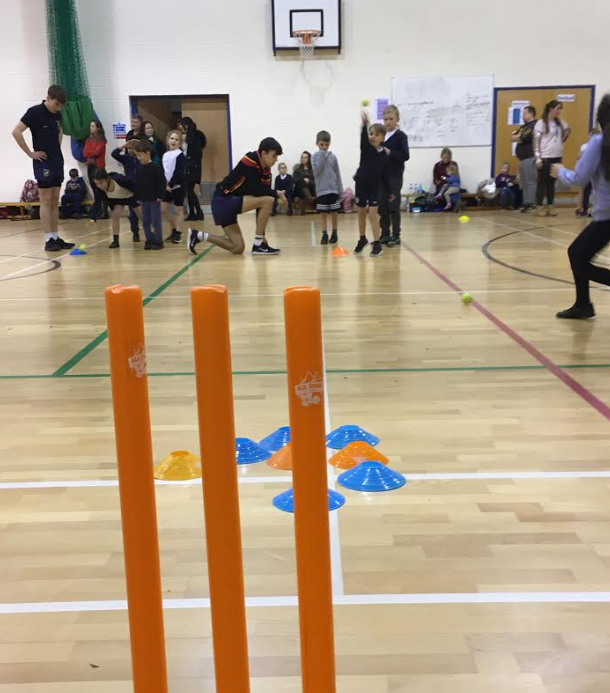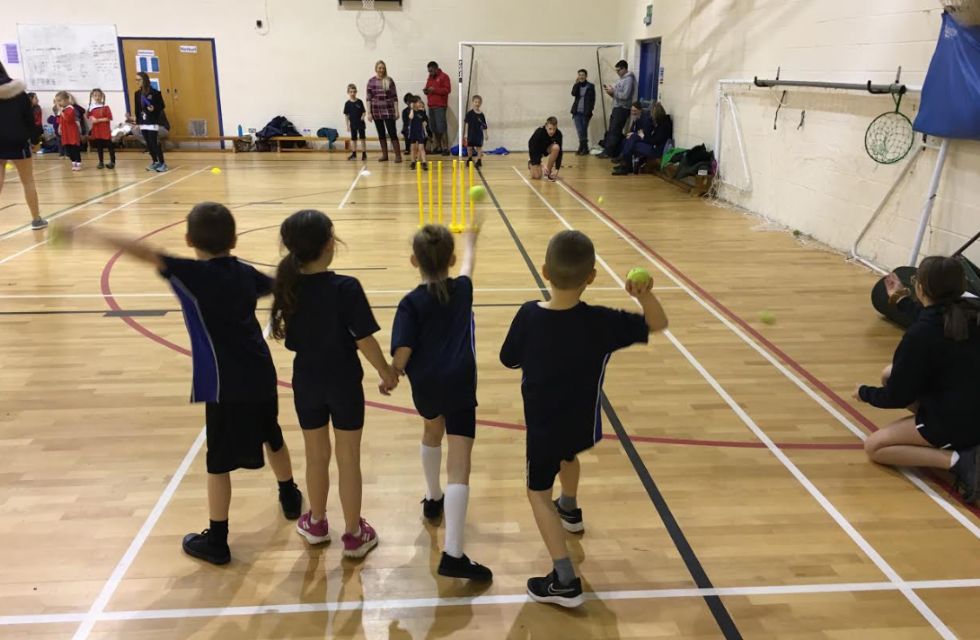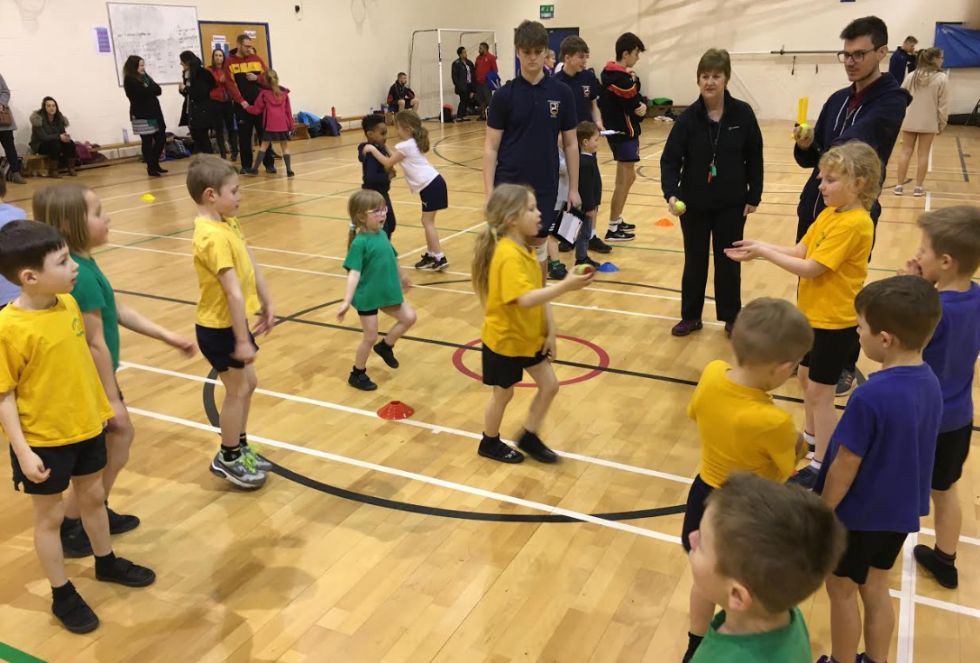 Football KS 2 high school Feb 2020
GPJ Primary KS2 Girls Football South Area
Many thanks to all the teams for putting in a brave effort in with the KS2 Indoor Football at Forest High School on the 11th February.
We saw some very good football and the best 4 teams slowly bubbled to the surface during the competition.
Thank you to all the teams and their staff, coaches, all did their schools and themselves proud.
Well done to Lydney & Yorkley who go forward from this event and will play at the GPJ Finals on Thursday 26th March.
Overall results:
Group A:
1st Forest View 12pts
2nd Lydbrook 9pts
3rd Drybrook 5pts
4th Pillowell 4pts
Group B:
1st Lydney 12pts
2nd Yorkley 11pts
3rd Blakeney 8pts
4th Severnbanks 3pts
Semi Finals:
Yorkey 0-0 Forest View (Yorkley win on penalties 1-0)
Lydney 3-0 Lydbrook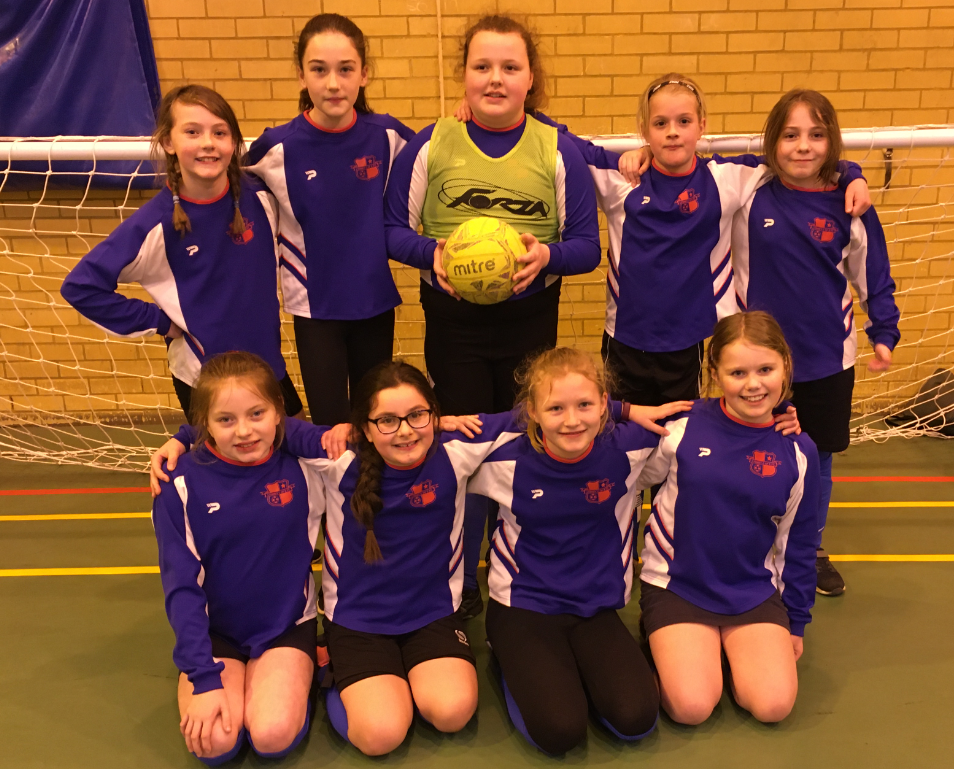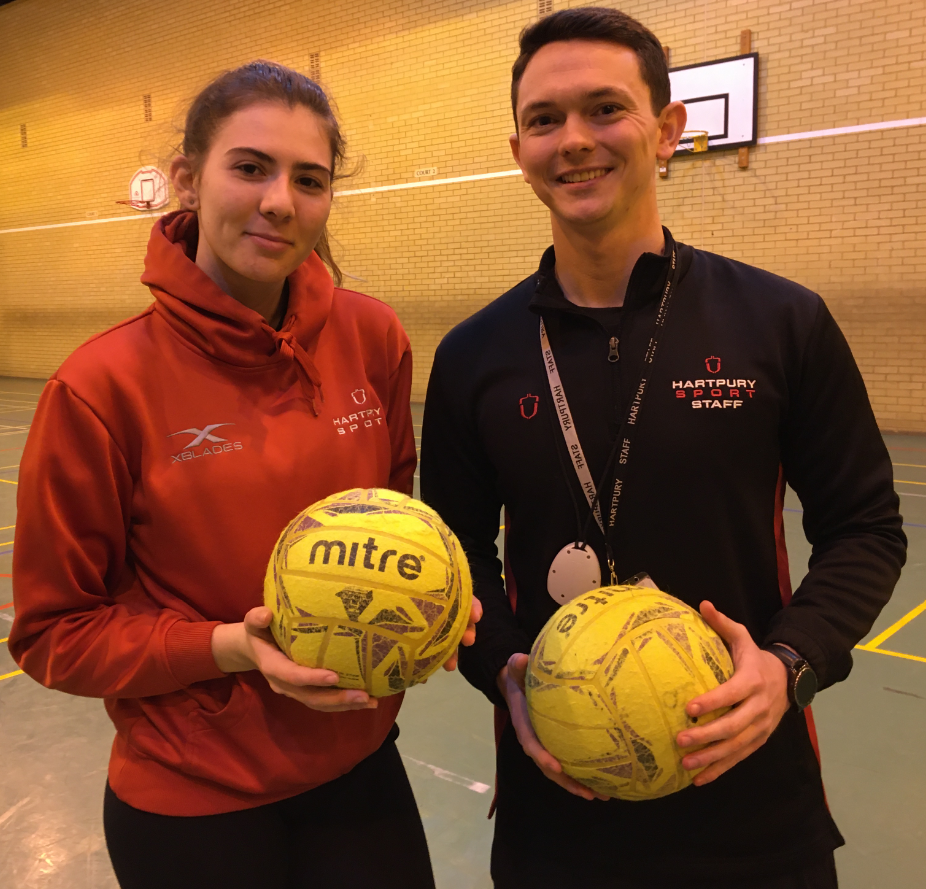 Primary School and Forest of Dean Games Calendar 2020-21
Main timetable for FOD Virtual Competitions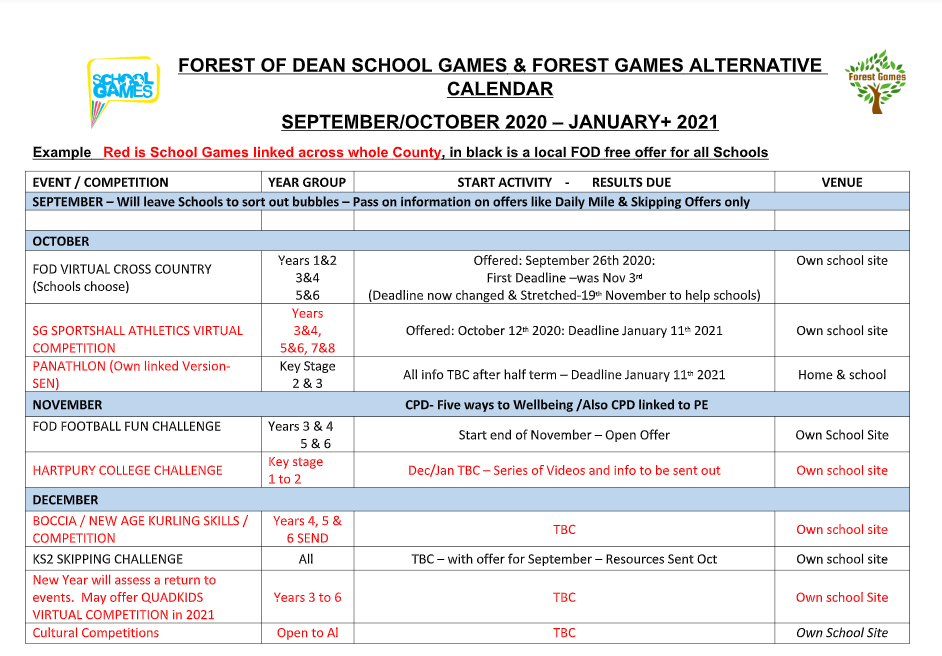 We plan to return to face to face events in 2021.
We will put up a full timetable as soon as we are allowed.
Secondary School and Forest of Dean Games Calendar 2020-21
Main timetable for FOD Virtual Competitions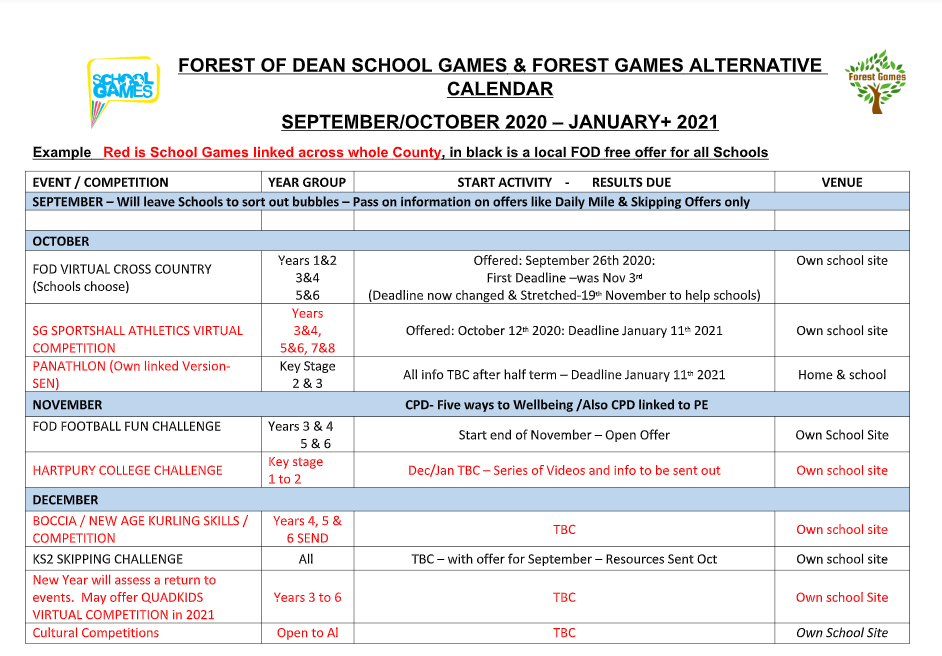 We plan to return to face to face events in 2021.
We will put up a full timetable as soon as we are allowed.